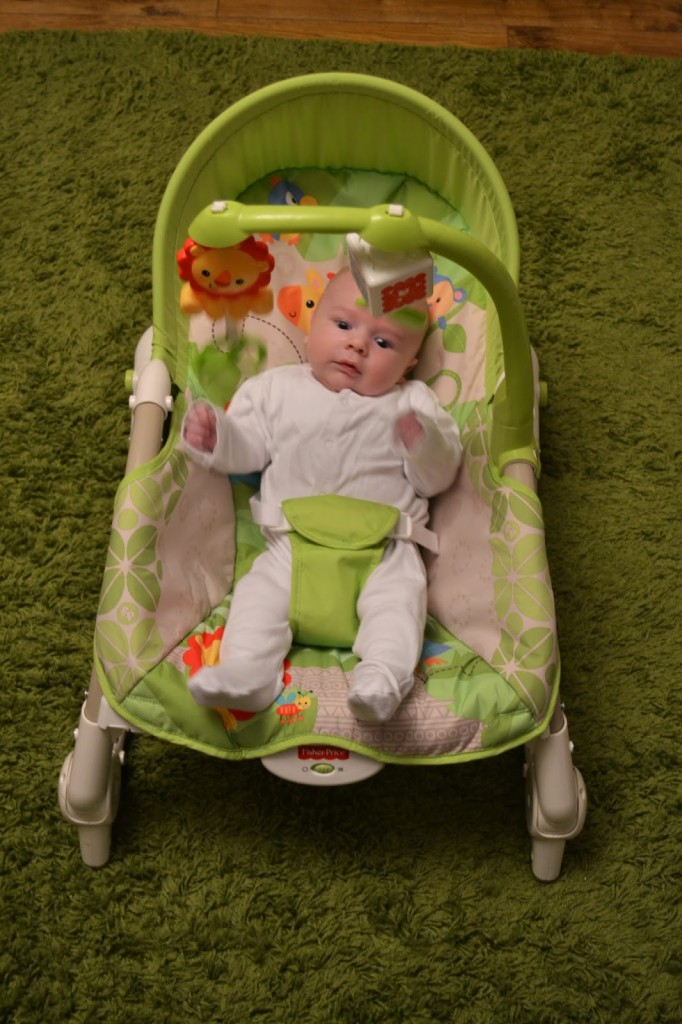 The Little Man is starting to become much more aware of his surroundings. He's much more than just a sleepy baby now. He's recently started to enjoy watching things, particularly anything brightly coloured, grabbing at things, playing (although that's probably an ambiguous description) and getting excited by anything that makes a noise.
I think it's important to stimulate a baby with play, encourage him to touch new textures, see new things and learn about his surroundings. It's also important to have somewhere safe for The Little Man when Mammy needs a shower/the loo/5 minutes without being covered in baby sick! Something that does all of the above is the Fisher Price Rainforest Infant to Toddler Rocker, which is a portable
baby seat
that will last your child from birth right up until toddler-hood!
It's another addition to the Fisher Price Rainforest range, the family the Jumperoo belongs too!
The Rocker is very simple to put together (even Mammy managed without Daddy's assistance!). There's a minimal amount of bits to put together, and only two screws which need to be screwed in to hold the footplate and the sides together. You will need to purchase your own batteries, as they are not included in the box.

The rocker consists of sturdy frame and brightly coloured deep seated area which has three different recline positions that are suitable for new-borns, infants, and toddlers. It can be used right up until your child is 18 kg (40 lbs!). The bright rainforest pattern on the rocker is eye catching, and I can imagine when The Little Man is a little older he'll enjoy pointing out the animals that are featured on it.
The Little Man is still only 8 weeks old, so we've only tried the lowest setting so far but the other positions are easy to change between and I think it's a great idea that the rocker grows with your little person. You won't have to keep buying similar toys when the original is outgrown.
The rocker can go from a stationery seat to rocker by pulling out the little kick stands at the back of the rocker.
The rocker has a simple to fasten three point safety harness which ensures your little person doesn't fall out, regardless of how excited they get! The harness is quite narrow between The Little Mans legs which looks more comfortable than some similar toys I've seen. He's able to sit at his leisure which his little legs being forced apart.

The green button on the footplate turns the vibrate mode on and off. The Little Man enjoys the rocker whether the vibrate mode is on or off, when it's on vibrate he tends to nod off more easily though.
Above the rocker is a detachable arm which has two toys attached to encourage interactive play. The arm is easily removed simply by lifting the edge. It's nice to see the arm is low enough for The Little Man to actually reach and grab at.
The seat pad is easy to remove and is safe to both machine wash and dry in the dryer, which is essential when you have a little person who gets so excited by some toys he makes himself sick.
The rocker has become Mammy's newest friend! It means I can have a decent shower on a morning without a barrage of shouts and screams. He'll happily sit in the rocker, reaching for his toys, or if I'm very lucky, he'll have a little nap, which means I can get shower, get dressed and even do my hair with ease!
Pros:
Good value for money as it lasts from newborn to toddler
Vibration function can aid with sleep
Easy to wash and dry
Foldable for storage and portability
Reachable toys
Safe and comfortable
Bright, eye-catching design
Cons:
The toy arm has to be removed to get baby out easily, I think it would be better if the arm was bendy or flexible so it wouldn't have to be removed to lift baby out.
It's a silent toy – I think a music option would be a great addition, especially when it's in rocker mode.
*I was sent the item free of charge for the purpose of this
review however all thoughts and opinions are my own.*
—