Scalextric is the biggest brand in slot racing and has been a household name since the 1950's! They're still going strong and have a huge range of products for all ages.
We were recently sent the My First Scalextric set which is the perfect introduction the world of Scalextric. It's aimed at children 3 and above and has become a huge hit with my car obsessed little man.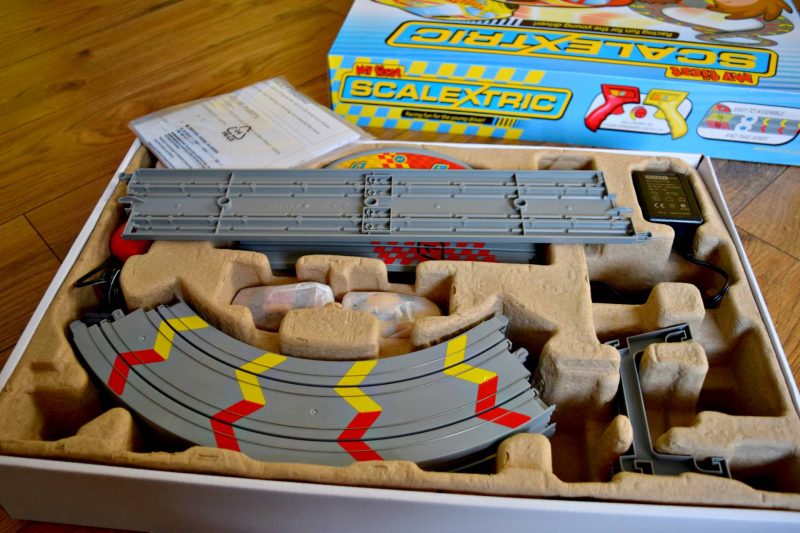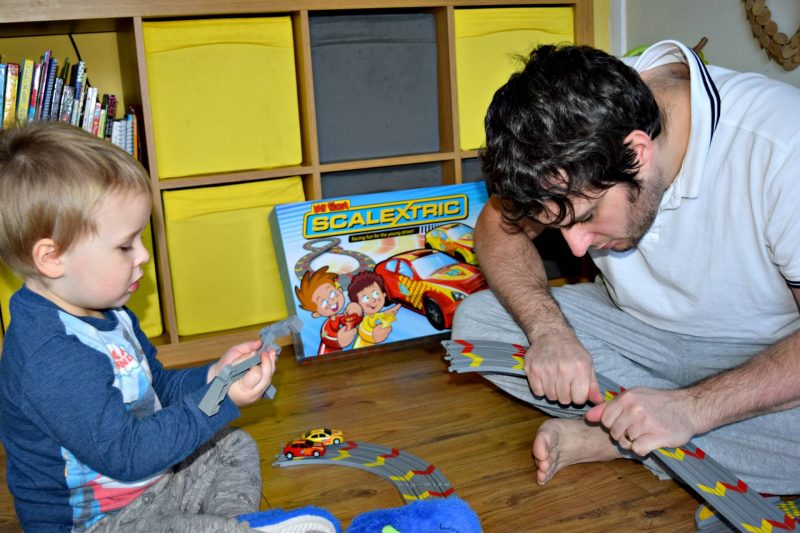 Setting up is really quick, even with the help of an over enthusiastic toddler. The pieces are easily slotted together and taken apart, it's much easier to put together than any other Scalextric sets I've used.
As the track layout is pretty compact, storage is also much easier than with larger Scalextric sets. It fits nicely back into the box and the box slides under our sofa out of sight when not in use.
My First Scalextric is at 1:64 scale and features a figure of 8 track which is 108cm x 61cm so doesn't require a huge floor space.
The set includes two rally cars ( one red and one yellow), two speed-adjustable hand controllers and the track itself.
It's simple design is easy for younger racers to follow and the colour coordinated hand held controllers are easy to hold and control ( the cars and the controllers also match the coloured chevrons on the track). It definitely has the younger racer in mind.
The set is durable and robust, even when younger children are let loose. As the set uses strong magnets to help keep the vehicles on the track it means your child will be able to play for longer without becoming frustrated by a short race time. I also like the addition of speed limiters on the hand controls, they're a great idea if you are playing with younger kids.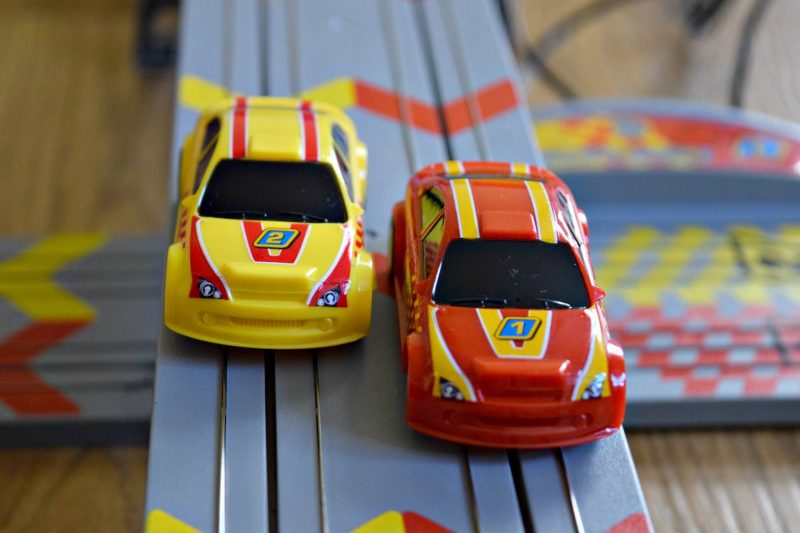 The set is mains powered so you simply plug it into the wall and you're ready to go. Anything that doesn't require batteries is usually a hit with me.
When we first set the set up, I thought after a while, the little man would become bored with the simple figure of 8 shape but I quickly realised the track is compatible with the Micro Scalextric range of cars and track which means you can expand your track and add in extra cars. .
The My First Scalextric set has been a huge hit since it arrived at our house. The little man loves helping to set it up and has quickly perfected the art of racing round the track without coming off. The set retails at £39.99 but is currently on offer at £28.99 which I think is a total steal. It'd make a great gift for any car obsessed toddler, boy or girl.
* We were sent the set in return for an honest review.