Over the weekend we had had a slightly impromptu camping trip to North Yorkshire. After finding a campsite we trawled Tripadvisor to find some activities to do while we were in the area.
On the Sunday we decided to pay a visit to The Forbidden Corner in Leyburn, North Yorkshire.
What is the Forbidden Corner?
Imagine a Secret Garden crossed with something from Alice in Wonderland, throw in some mice and erratic jets of water and you're almost there.
The Forbidden Corner was originally a private folly set in 4 acres of grounds and created by a man called Mr C. R. Armstrong. He originally built it for entertainment purposes for his friends and family but due to public demand it was opened to the public in 1994 to allow others to enjoy it.
It consists of walled gardens, winding paths and mazes, great views down the Coverdale valley, wooded areas and an array of winding tunnels and hideaways for the whole family to explore.
Entrance is gained via an open mouth. Guests walking across the stone tongue trying to avoid the dangling Uvula and loud burping noise. The little man loved it but I imagine younger children may find a little scary so it's handy that you can nip passed it if you like.
And that's how it starts.
A maze and mixture of bizarre sculptures, random legs poking through the wall, surprising squirting water ( take a change of clothes if you have kids), spooky pitch black tunnels and an odd astronaut underground, it really is a unique experience.
Moving through the Forbidden Corner you'll find a tricky maze, a glass pyramid sparking in the sunshine, tiny doors ( don't even try it if you're over the age of 5) and a revolving floor. You'll need to pay attention to the checklist you're given upon entry as it's really easy to miss parts of the grounds and you really won't want to do that!
I don't really want to share too many photo's of what to expect in this post as it'd spoil it for you if you're planning to visit.
Who is it suitable for?
The Forbidden Corner is suitable for both kids and adults though not really suitable for those with mobility problems or children in pushchairs. If you're taking a younger child then either take a carrier or sling or expect to carry them for some of it. There are lots of uneven footpaths, prickly plants and steep steps to climb … as well as some very dark winding tunnels to work your way through so it's worth thinking about this before deciding whether it's suitable for your child.
How much does it cost?
Adult tickets are £12 each, senior citizens £11.00, children aged 4 to 15 are £10.00 and children under 4 years are free of charge and don't require a ticket. You can also buy a family ticket comprising of two adults and two children for £42.00. Tickets must be booked online or by phone prior to attendance, I wouldn't recommend just turning up for the Forbidden Corner.
What facilities are there?
Corner Cafe is in the entrance and gift shop area of the Forbidden Corner and the food is really good! We ordered food for the three of us while we were there and were all impressed with the quality of it and the price.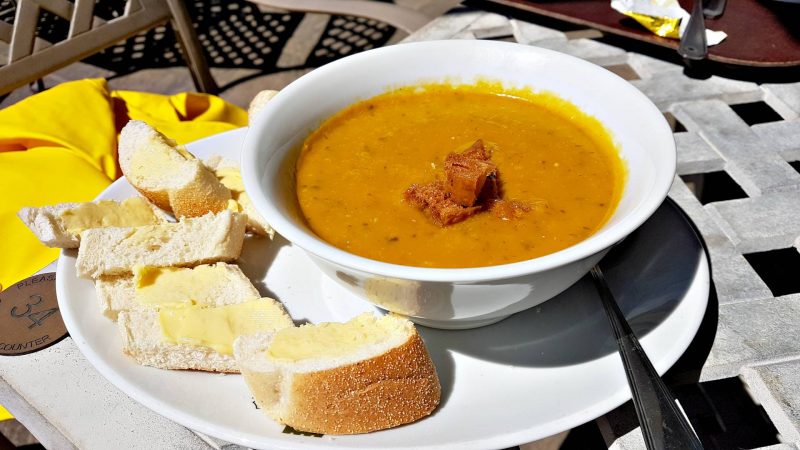 I had home made carrot and butternut squash soup with bread for just £4, Hubby had a Cornish pasty with mushy peas and gravy and the little man had a ham sandwich with chips. Food and a drink for the three of us only cost £14.90 which I was pretty pleased with.
There's also the Saddle Room near the entrance which looks like it might be a slightly posher restaurant, we didn't go in though so I can't comment on it.
There are clean toilets at the entrance area area to the Forbidden corner but there is a distinct lack of them around the grounds. We came across one whilst we were walking round and couldn't find any others which isn't really ideal for a children.
Whilst I might be in the minority, I was pleased to see that dogs aren't allowed at the Forbidden Corner.
It's worth noting that exit from the Forbidden Corner is via the gift shop. You can quite easily steer kids away from the the shelves but be mindful of the calls of 'I want'. The gift shop does however have quite a a good selection of pocket money friendly treats. The little man chose a £2 munching dinosaur which didn't break the bank.
Is it fun?
Kids will either love it or hate it. The little man loved it but he is a bit of an explorer and thinks he's 30 not three. We did see quite a few kids moaning about the tunnels and refusing to go through certain parts. Obviously you know your own child and whether it's something you think they'd enjoy.
We had a lovely afternoon. We spent three hours there and managed to see everything. Once your in you can stay as long as you like but I think three hours will see you round the grounds slowly. It may take you longer if you have smaller children or children than want to repeat certain areas.
I would definitely recommend visiting over the Summer if you have little adventurers.
Tips
Take a change of clothing if you have kids who will make a beeline for the spraying water.
Try and book for a warm day. Both times we've been, we've been lucky with the weather but I don't think it'd be quite as fun if it was wet or cold.
Don't take a pushchair or wheelchair.
Don't bother with a picnic as there's no where to sit and eat around the grounds. The Corner Cafe is well priced and the food is yummy.
Make sure your camera and phone are in something waterproof.
Keep hold of the hands of younger children who are likely to run off at all times.