We cruised with Norwegian Cruise Lines a little while ago and found very limited information on the cabins on the ship. It was hard to get a proper ideas of the size and layout of the cabins so I thought sharing our experience may help those looking to book.
We sailed on the Norwegian Epic which is an absolutely huge ship with a range of cabin types and 20 dining options. It's like a massive hotel in the sea.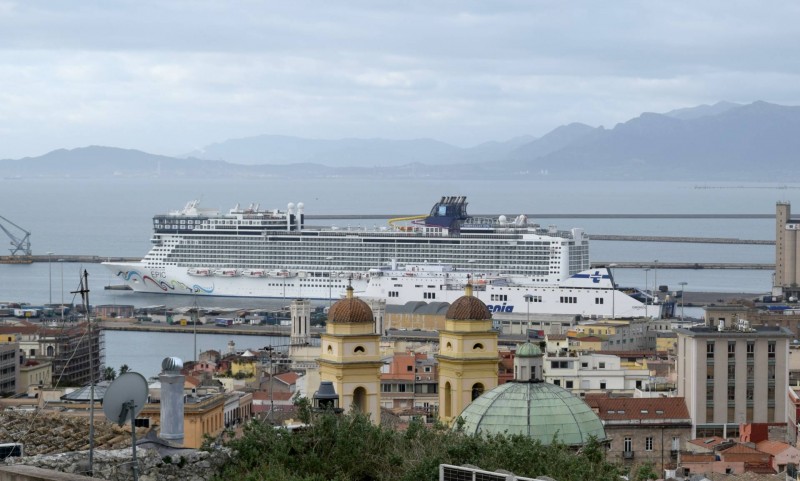 We were accommodated in an inside family stateroom which is one of the more basic rooms on the ship and doesn't include a window.
Our room was located on the 13th deck forward (the front of the ship) and was pretty high up for accommodation, with only one deck of standard accommodation and one deck featuring The Haven accommodation (the uber fancy staterooms) above. It may be worth noting that the higher rooms are prone to much more movement if the sea is rough during your journey, so do consider this when choosing your room location.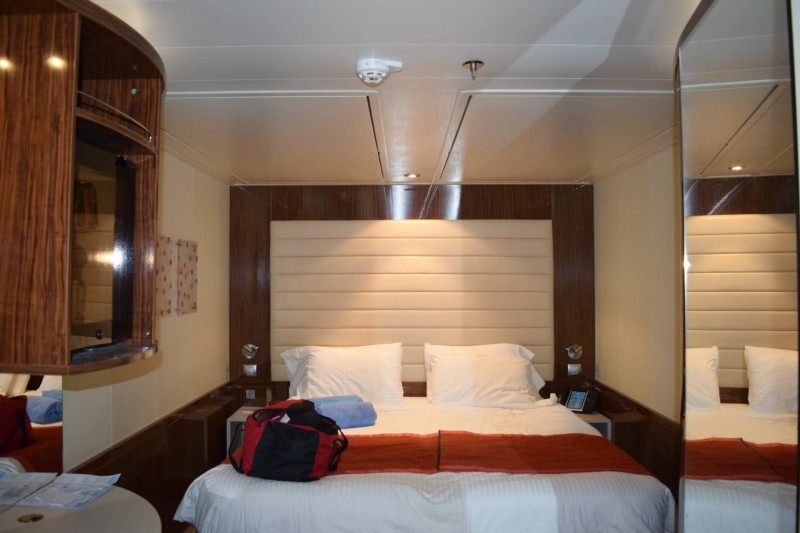 We were allocated room 13002 which was located at the end of a corridor, with another family inside stateroom to one side and the cleaning cupboard and storage area to the other.
If I'm honest I was quite shocked by the size of the room when we checked in. At just 128 square feet, to say it was large would be a lie. With three large cases and two cabin bags I had no idea how we'd manage to spend 11 days in the room.
The room is primarily the sleeping area as the bed takes up a lot of space. Our room had twin beds which had been made up into a rather generous double and two additional beds are stored in the ceiling of the room which can be released and made up if you wish. This in essence would make two sets of bunk beds. We opted to let the little man sleep in with us as I really didn't want beds above us as I felt it would make the room feel even smaller.
There's a small bedside table at either side of the bed, both with lights and one with a simple to use phone which also features a clock and a light.
The toilet and shower are near the doorway and are quite strangely designed. Both have sliding glass doors that leave little to the imagination and don't really feel separate from the main room at all. A curtain can be pulled across to hide your modesty if you wish but there's no getting away from the fact the person you're sharing your room with will know exactly when you're having a poo!
The shower was pretty good and quite powerful. It was a good size and comfortably fit an adult and a toddler in together. We had no issues with hot water for the duration of our stay and had an abundance of fluffy white towels in a range of sizes from our room attendant. The shower also has complimentary body wash and shampoo and conditioner on wall mounted which was handy and smelled nice.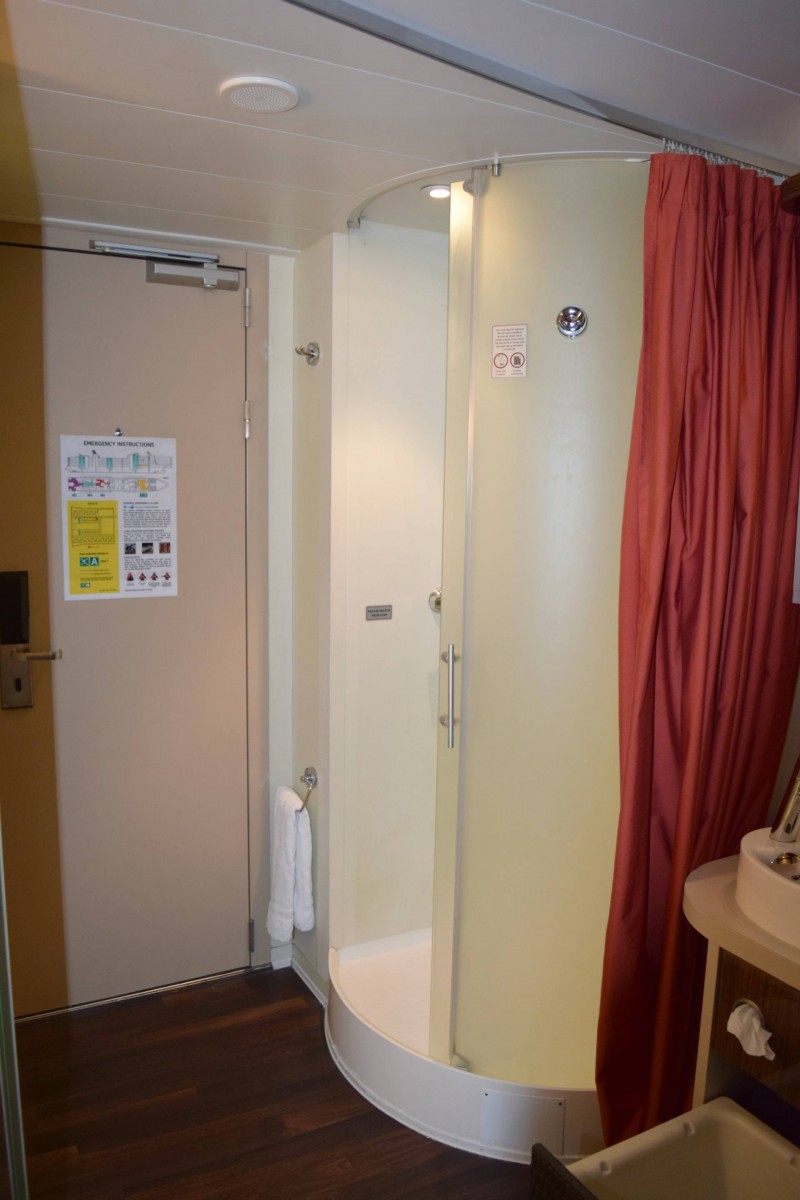 The sink area is separate to the toilet and shower and is actually located in quite an awkward spot. It's plonked on the desk/vanity unit area and is very shallow. Be warned – don't turn the taps on fast or anything you'd got nearby will be completely soaked.
The vanity unit is home to your bathroom storage. There's a mirrored cabinet which was big enough to store all of our products and had lots of little shelves on either side. Next to the mirror cabinet is the mini bar – stocked with a range of soft and alcoholic drinks which were priced the same as drinks elsewhere on the boat. To give you an idea – a small can of soft drink was $2.95 and a litre bottle of still water cost $5.50.
You can request that your mini bar is emptied, which we did. We had no intention of drinking anything alcoholic in our room so our room attendant happily removed most of the products, leaving us with just water and space to house milk for the little man and some fruit.
To the right side of the mini bar there's a very small TV, an ice bucket and glasses and some more shelves where you can store your belongings. The TV is easy to use but seems much to small for the room, the channels are very limited too but there is a handy navigational channel which tells you about your journey and gives you details about the state of the sea.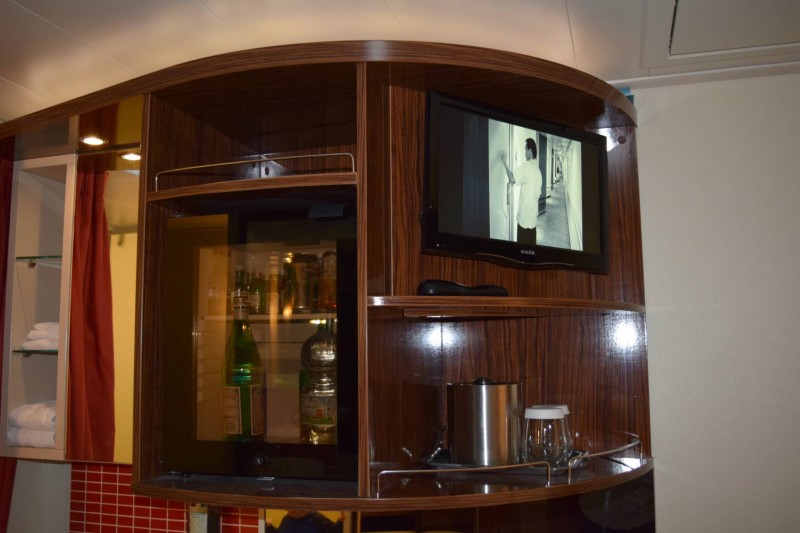 On the opposite side of the room is the cupboard area (for some reason this picture has disappeared from my camera roll), which is curved in shape. The outer doors are completely mirrored and inside is home to a hanging rail, 3 wire baskets and 5 shelves. Your life jackets are also stored in this cupboard, so you'll probably need to try to find an alternate home to allow more storage space for your clothes.
I was actually really surprised by how much storage space there was, despite my initial reaction. We managed to unpack all three bags, fit all of our belongings into the storage areas in the room and then store the empty bags underneath the bed which is quite raised.
There's no getting away from the fact the room is small and the toilet and bathroom are very badly designed but the storage space is actually pretty good.
Things I liked about the room
The bed is extremely comfortable
The complimentary shower products are very handy
The air conditioning and light are easy to navigate
The room attendants are very helpful and never far away
Storage is surprisingly effective and we easily managed to unpack our things
Things I disliked about the room
The general size of the room is small, especially if you need to spend any length of time in it i.e if a member of your party is ill.
There is a distinct lack of privacy when using the shower and toilet. Whilst it didn't matter too much to us, I think it would be quite awkward if you were travelling with a friend rather than family member.
The lighting in the room is very poor. Although there are quite a few lights, the are quite dim and the lack of window means everything looks quite dark.
There's are no tea or coffee making facilities in the standard rooms which I thought was disappointing.
Overall I found the inside family stateroom on the Norweigan Epic average. It has both positive and negative aspects but it wasn't as bad as I initially thought on check in. I wouldn't choose to stay in the same style of room if we cruise again but we did manage to survive the 11 days without too many issues.