Saturday 9th September sees the start of Sunderland's third Restaurant Week, a whole week of Sunderland food and drink establishments showcasing what they have to offer at a reduced price.
Various eateries in the Sunderland area are taking part and will be offering diners two courses for £10 or three courses for £15 as well as some cafes offering £5 day time deals. You can check out the full list of participating venues on the Sunderland BID website.
Last week I was lucky enough to be invited along to try out four of the eateries that are taking part in this years Restaurant Week; – The Prosecco Bar, Asiana, Port of Call tipi's and Serendipity Tea and Trinkets.
Prosecco Bar
First on our safari supper expedition was The Prosecco Bar. Located in the old Mowbray Park Hotel, the ultra glam venue showcases a great range of Italian Prosecco. It's Sunderland's only Prosecco bar and the opulent decor is perfect for the 30+ market.
We started the evening with a glass of rose Prosecco which complimented the light and crispy onion bhajis and tasty Masala fries on each table.
The bar is a great laid back but stylish vibe and it's somewhere I'll most definitely be returning too on a date night with Hubby.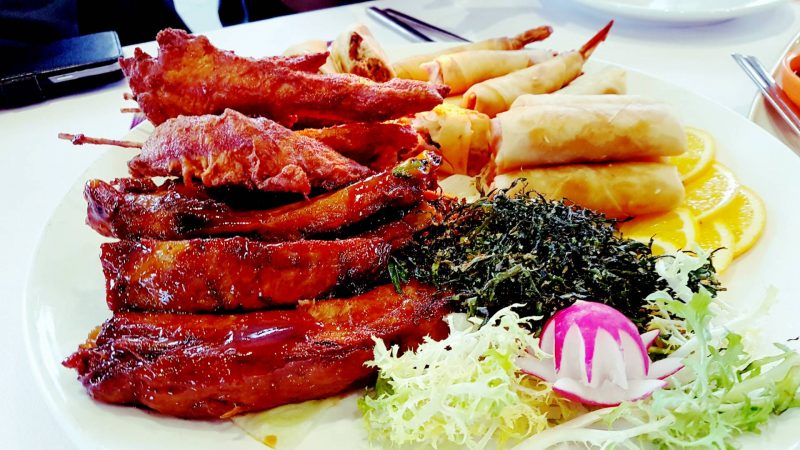 Asiana Fusion
Located on the ground floor of the Echo 24 building, our next venue was Asiana Fusion. The restaurant offers stunning panoramic views of the Wearmouth Bridge and River Wear and I would absolutely recommend eating at sunset if you can as the views are breathtaking.
After being seated in the light and airy restaurant we were brought platters piled high with a range of Asian starters. The aromatic duck parcels drizzled with Hoisin sauce really stood out. The rich, tender meat carefully enclosed in a crisp parcel was an alternate way to eat duck. I usually opt for duck with pancakes but the parcel variation is a great idea. I was also really impressed with the melt in the mouth Peking ribs. Quite possibly the nicest ribs I've eaten. The meat was extremely tender and tasted amazing with the rich, sticky Peking sauce.
Asiana Fusion say "You'll delight in our fusion of the many regional cultures and influences to be found in Asian food – the style and delicacy of Thai and Malaysian cooking, the famous culinary heritage of China, the diversity of tastes from the islands of Indonesia and the freshness and simplicity of Vietnamese dishes.". If you love Asian food then this is definitely one to add to your list for Restaurant Week.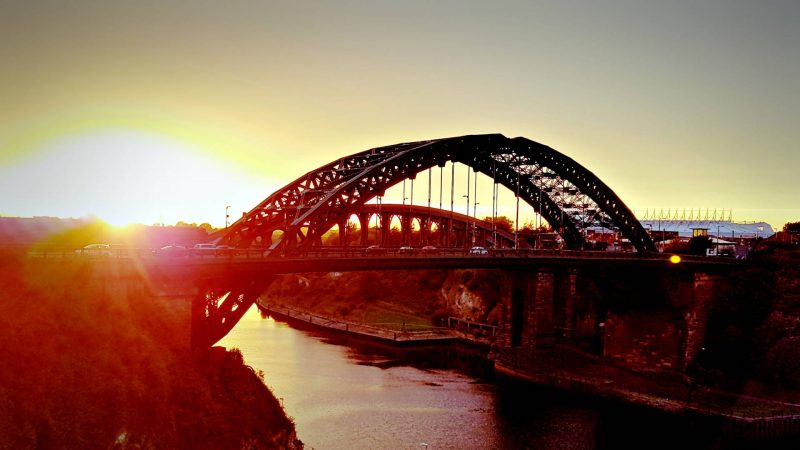 Once we'd finished ogling the beautiful sunset outside Asiana we were kindly transported by Station Taxi's, (the main sponsors of this years Restaurant Week) to the other side of town. They're offering you £5 off your first journey when you download and use the Station Taxis App. Simply download the Station Taxis App, register your details, then use the code 'RWSund17' and receive £5 off your fare.
Port of Call tipi's
Next up was Port of Call on Park Lane who have recently expanded their floor space with some wonderfully atmospheric tipi's. With twinkling lights and their own well stocked bars, they'll make a wonderful venue for the festive period and beyond.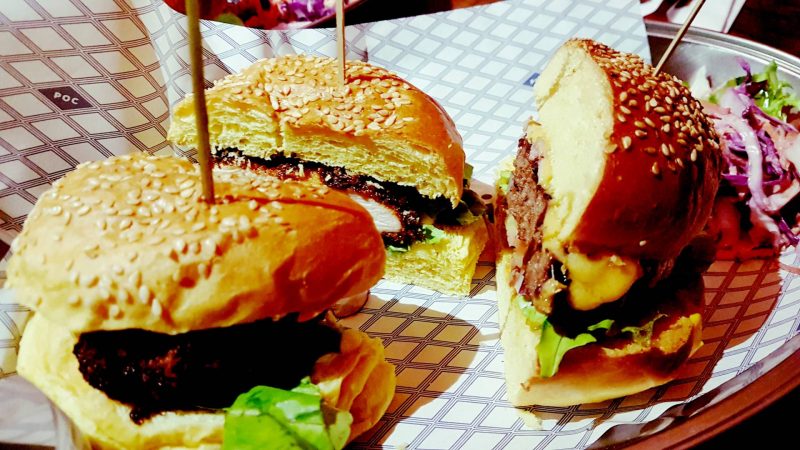 In Port of Call we were brought a plethora of meat including huge chunky beef burgers, spicy chicken wings, mouthwatering ribs and pulled pork. Lighter options included topped flat breads and American-style Mac N' Cheese, all of which were delicious and the ideal meal for the chilly Autumn nights that have already set in.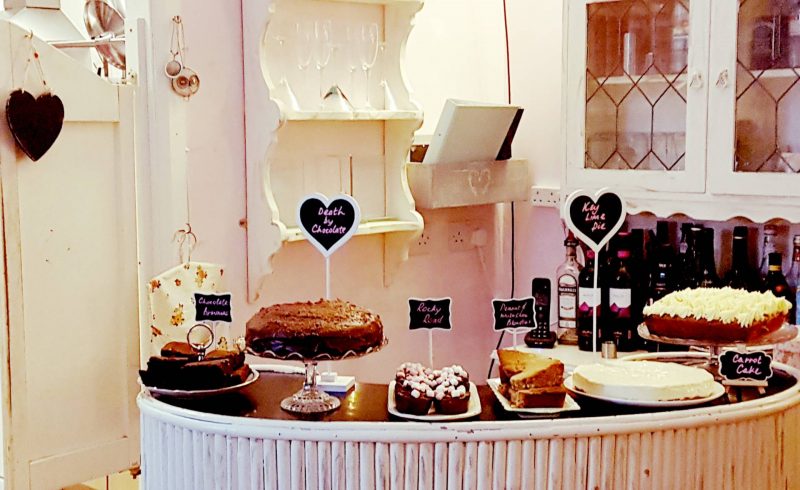 Serendipity Tea and Trinkets
Our last stop of the evening took us to Frederick Street to satisfy our sweet tooth. Serendipity Tea and Trinkets is already a firm favourite of mine and I'll definitely be taking advantage of the £5 Restaurant Week offers this week. If you don't believe me, check out their amazing reviews on TripAdvisor.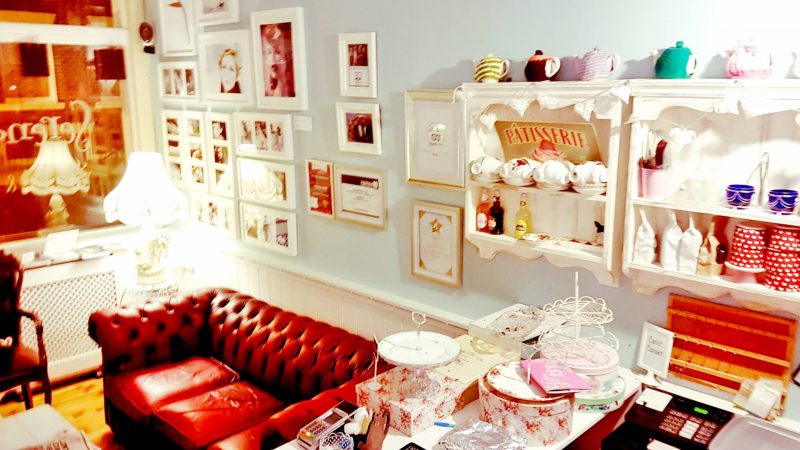 Opting for a slice of the homemade 'Death by Chocolate' and a coffee from a dainty china mug, my evening was finished off perfectly.
Serendipity is such a gorgeous venue. It's a must see for fans of all things shabby chic and kitsch. It's also a lovely venue for afternoon tea, baby showers or just a cuppa and a cake.
Make sure you check out the hashtag #EatDrinkSunderland on social media if you visit any of the restaurants, that way you can show of your own meals and take inspiration for your next destination.
Sunderland Restaurant Week is running Saturday September 9 to Sunday September 17 so you've got plenty of time to try out some of the wonderful eateries on offer in Sunderland.
* I was invited along to try out some of the restaurants for Restaurant Week free of charge. Opinions are my own.