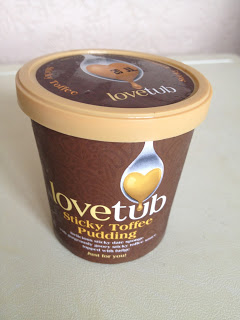 Love Tubs desserts are little tubs of sweet luxury and come in three tasty flavours – chocolate, caramel and sticky toffee. They're available in two sizes – 100g individual pots that are perfect for one and bigger 300g pots that are great to share with someone you like.
The pots are made from thick paper/cardboard with a strong plastic lid that needs to be removed prior to heating.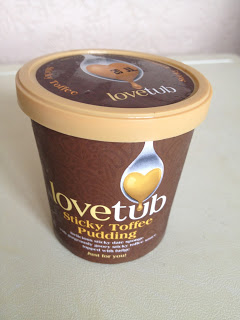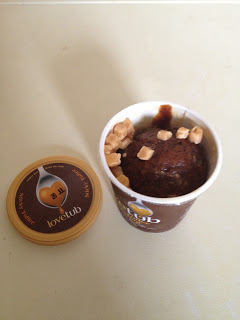 Love Tubs desserts can be frozen when purchased and stored for up to one month, unless you're like me and you scoff them as soon as you buy them.
Heating is simple, a quick 30 second blast in the microwave and you're ready to indulge yourself. The smell is amazing when they're ready. The smell exactly like pudding!.
After they come out of the microwave they smell amazing – just like a real hot pudding. So sweet and mouth watering! The little pieces of toffee melt into a oozing sauce which mixes in with the pudding itself.
I was quite shocked with the taste. It's amazing. The consistency is just right, nice and moist, with lots of flavour and utterly delicious. Each pot has plenty of sauce too, there's definitely no scrimping there.
I was extremely impressed with Love Tubs and would definitely purchase them again, if you want to give them a try you can find them in the chilled desserts section in several UK supermarkets; including Budgens, Coop, Tesco, Sainsbury's and Waitrose, they cost, on average £1.29 for a 100g pot, £2.99 for a 300g pot which I don't think is too bad for the occasional treat. I think they make a great alternative to ice cream whilst cuddling up on the sofa with a film. They're not the healthiest of treat, but they my current favourite and definitely worth looking out for.