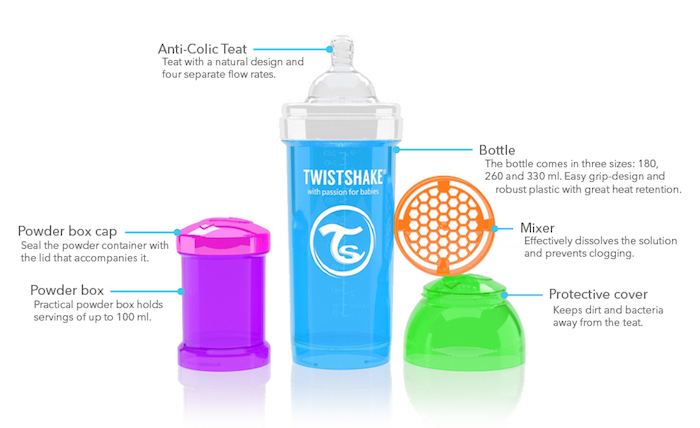 TwistShake
is an Swedish designed baby bottle that's been made to help combat lumps forming in formula at feeding time. Since the launch in April this year they've sold so well, they're now distributing across 13 countries worldwide and have also been nominated for Baby Product of the Year 2015 by the Swedish Toy and Baby branch.
Each bottle is made from BPA-free polypropylene plastic and come with an anti-colic nipple. The bottles are quite chunky and are great for little hands. They're available in bright and vibrant colours and look completely different to any other baby bottles on the market.
There has been no leakage whatsoever with the bottle since we started using it and it's easy to put together, easy to use and visually so unique. The simple design means the bottles are very easy to take apart and clean. There are no unnecessary ridges or crevices so washing and drying is simple.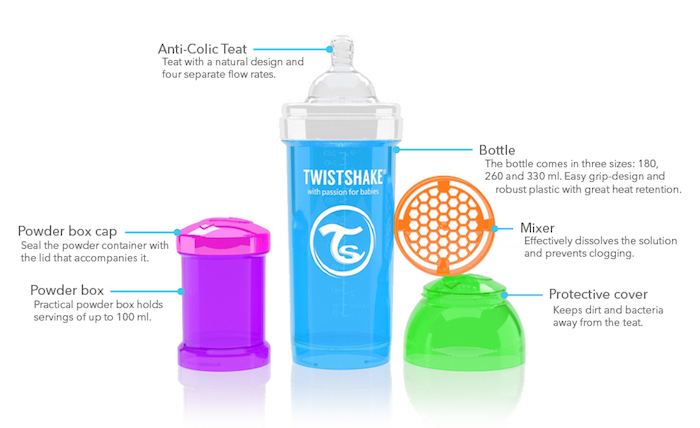 The little man still likes a bottle of milk on an evening and seems happy using the Twistshake bottle. I think he's drawn to the bright green colour and slim design and because it looks more like a drinks beaker he feels like a big boy.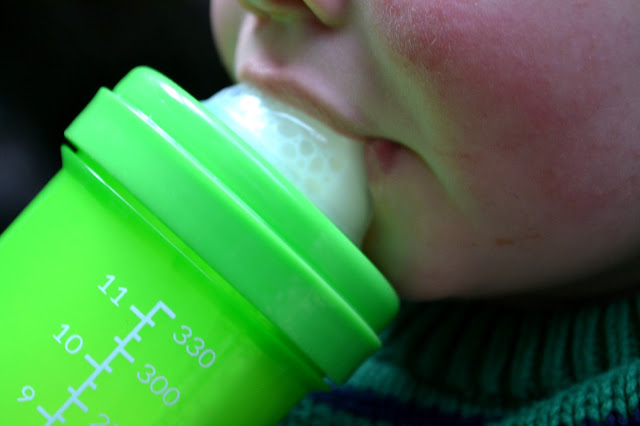 The bottles are available in three different sizes – 180ml, 260ml and 330ml ( we tried out the 330ml size) and a variety of colours including orange, green and pink.
Overall I'm really impressed. I love the design and the bright colours and will definitely consider using these with our next child.
Great things about the TwistShake bottle :-
It's made using BPA FREE polypropylene plastic so is safe for use with young children.
It comes with an anti-colic teat
The mixer inside means lumps are easily removed from formula.
The design is really unique and means it's easy for babies to grip and hold.
They're available to buy in several bright and fun colours
One of my blog readers has the chance to win a TwistShake bottle with the super-mixer and powder box. To enter, please complete the rafflecopter form below.
Terms and Conditions
UK only – delivery cannot be guaranteed before Christmas and New Year
A winner will be chosen randomly via Rafflecopter
The winner will be notified via email and Twitter (if you leave your handle)
ALL entries are checked and if any of your entries are found to be fake ALL of your entries will be disqualified.
Fake entries/automated entries will be disqualified.
You will have 28 days to respond to the winning notification, if you don't a new winner will be chosen.