Products sent in return for an honest review
Peppa Pig and her chums were loved immensely by my 7 year old and my 2 year old has followed suit. In fact, I think Little E is Peppa's number 1 fan.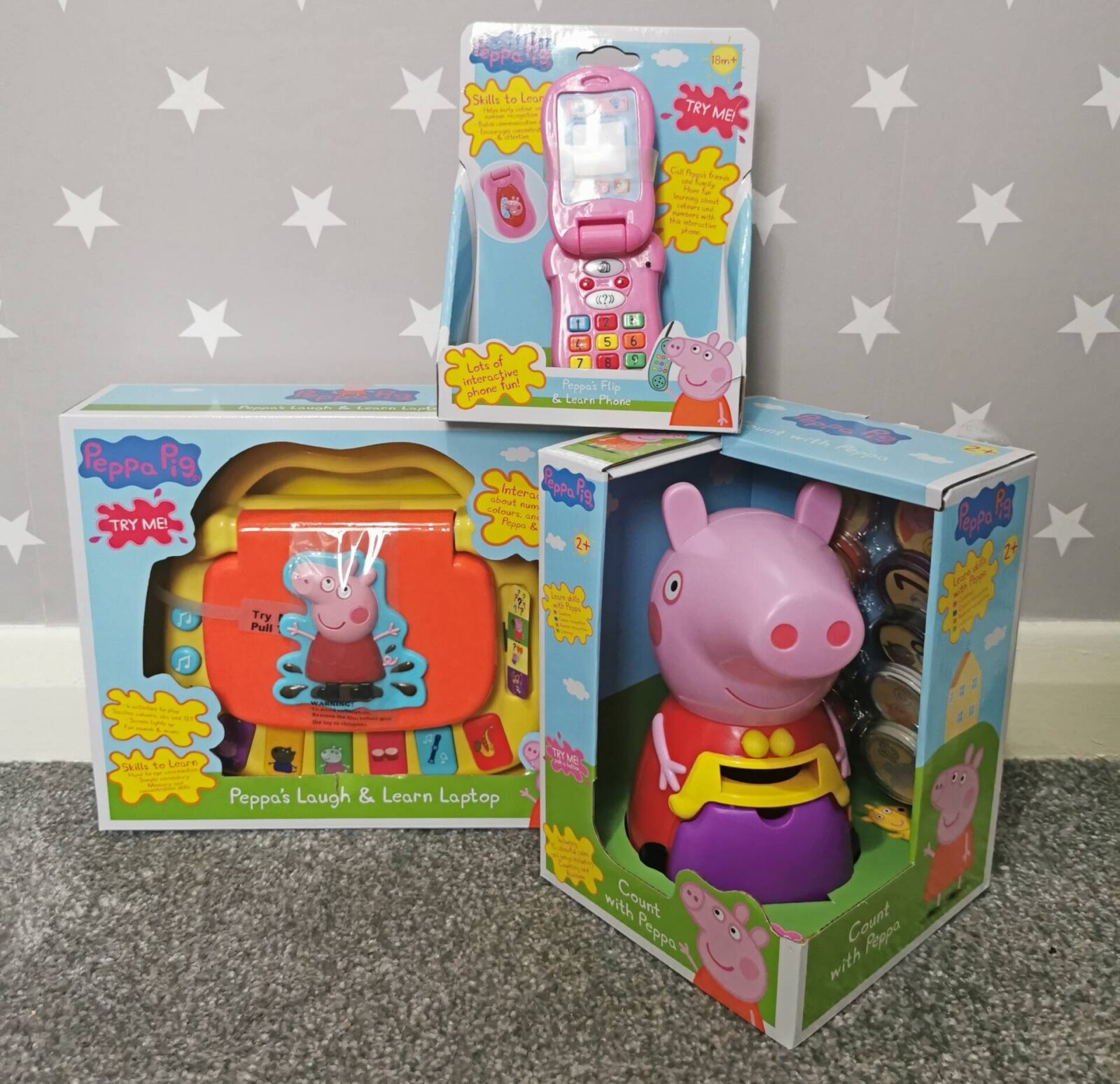 The lovely people from Trends UK recently sent Little E some Peppa Pig toys to try out and he was so excited when they arrived. He's thoroughly enjoyed playing with them, and was so impressed to see some of his favourite characters from the TV in his home.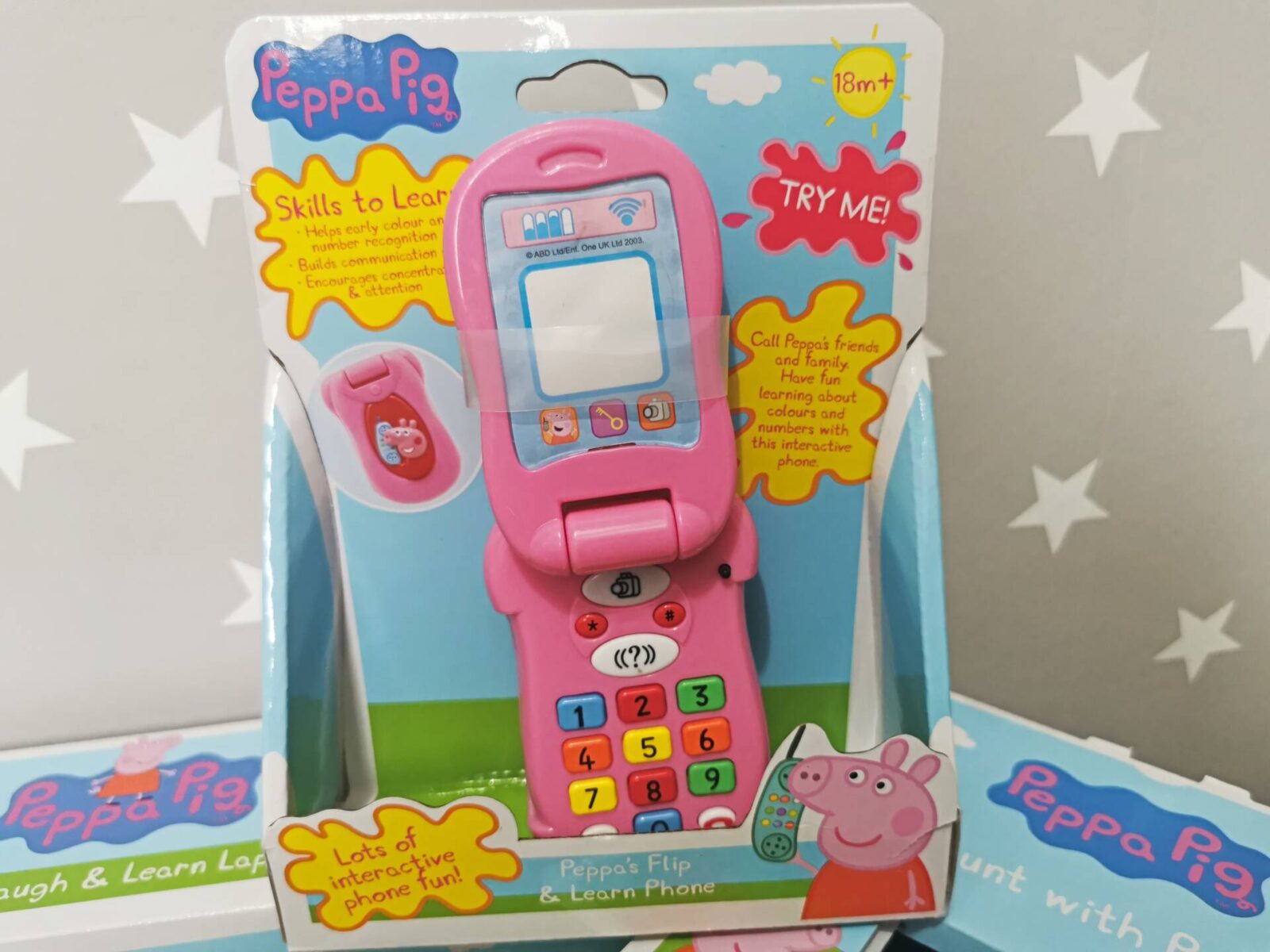 (Available from Amazon)
The brightly coloured, chunky flip phone has been a huge hit in our house. The phone features coloured, numbered buttons and a light up screen just like a real phone. Kids can press to listen to Peppa and various other characters from the show including Rebecca Rabbit, Suzy Sheep and Candy Cat.
The phone is pretty robust and its chucky design means its ideal for toddler hands. It has a simple quiz which children press the number keys to answer.
Little E thinks he's very cool, walking round with his phone, and can even pretend to take photographs with the phone – just like Mammy!
(Available from Amazon)
Count with Peppa helps to encourage learning and fine motor skills for younger children. Peppa is quite a good size and comes with 10 interactive play coins which are inserted into a slot in Peppa's stomach ( her purse).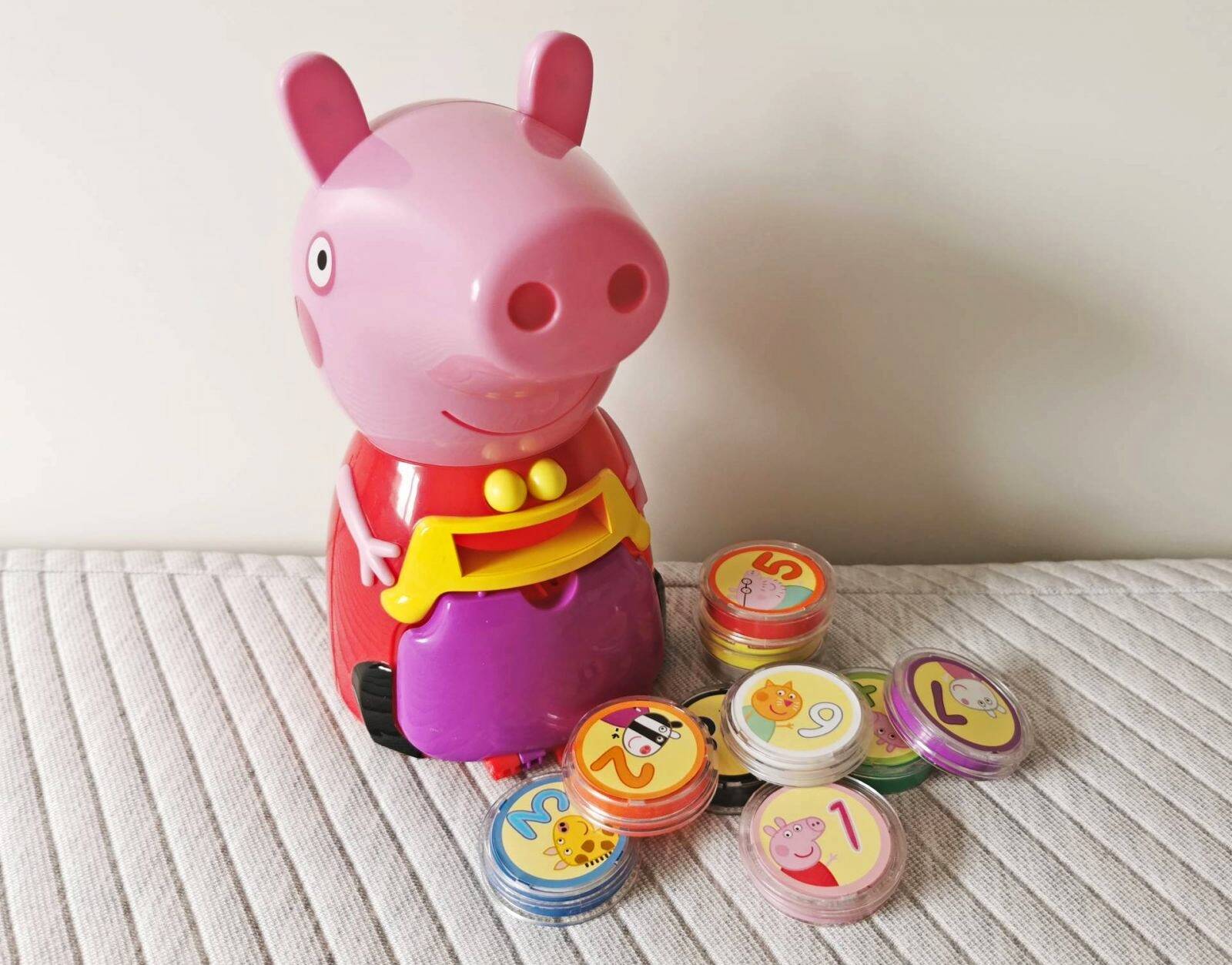 Count with Peppa is a great toy to encourage counting skills, colour identification and picture recognition also plays 3 different songs that are instantly identifiable from the Peppa Pig TV series, they're catchy and little ones are bound to recognise them.
She features 8 different activities that encourage children to look for different numbers, colours and pictures.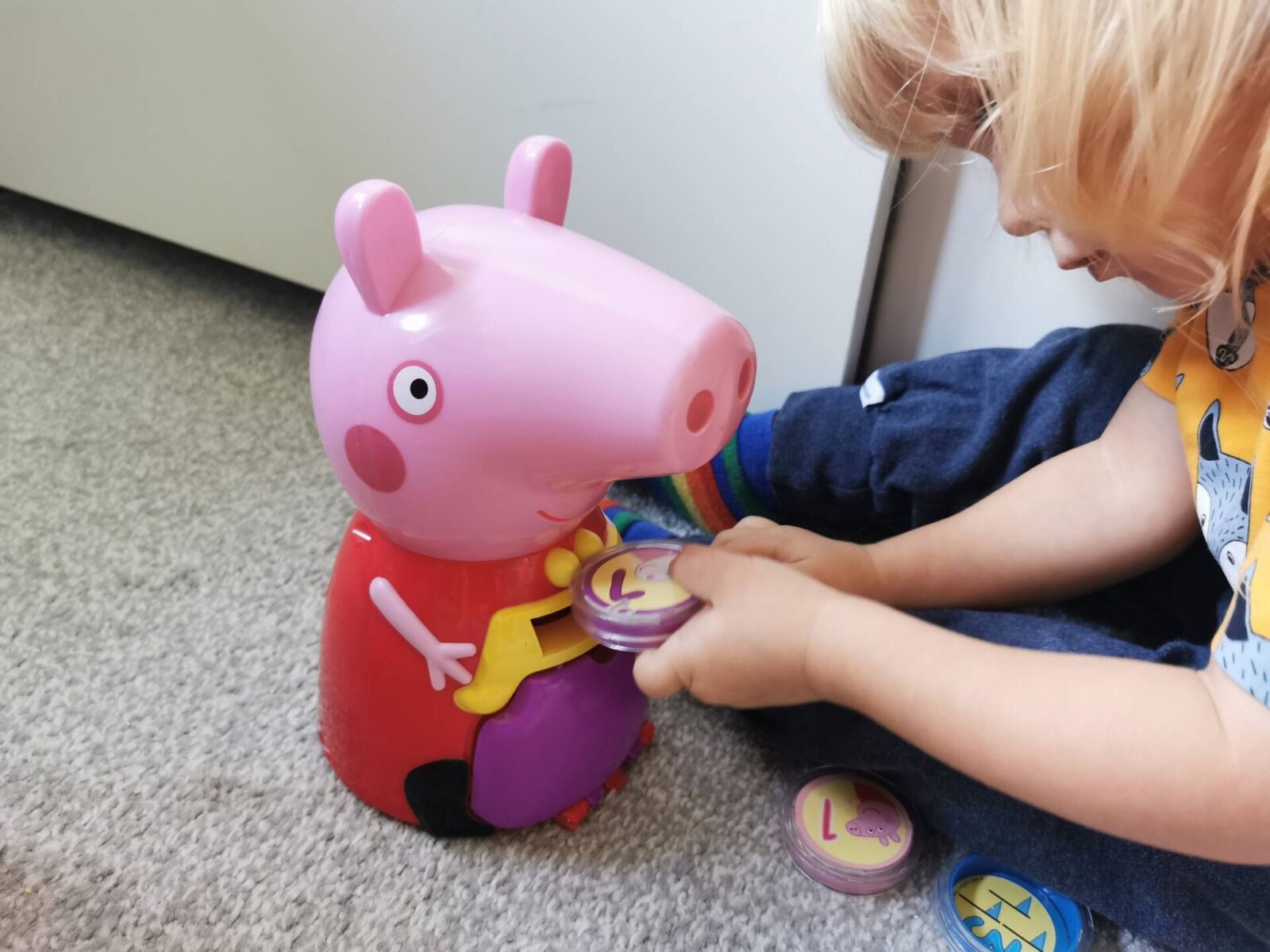 Peppa reacts to each coin that is posted into the slot on her purse and responds accordingly.
When Peppa's purse is full, you can simply open the flap at the front and remove the interactive play coins and continue playing or when your child is finished, the coins will stay safe and secure in the purse so they're ready and waiting for next time.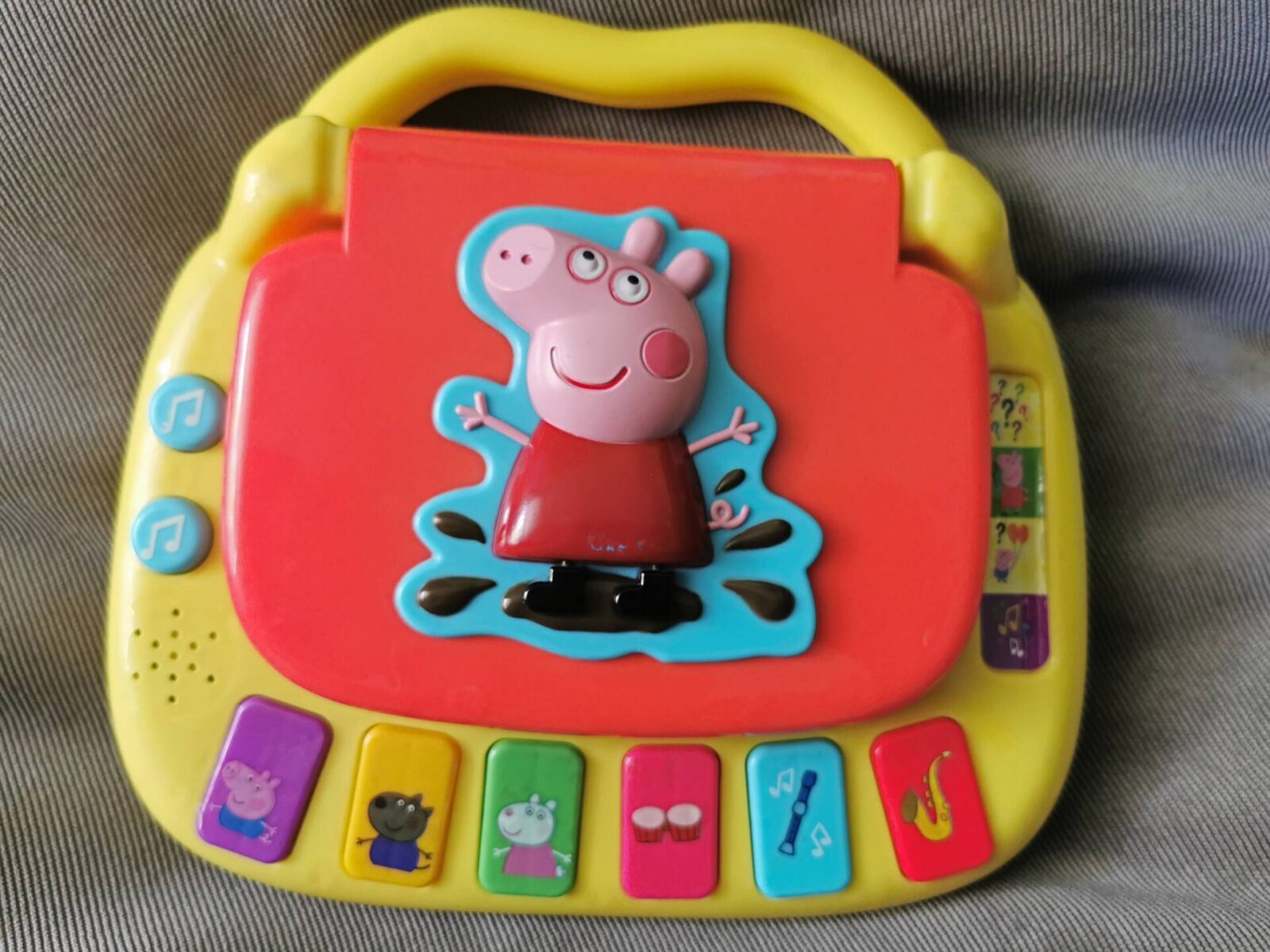 (Available from Amazon)
The laptop has been Little E's favourite toy of the three that he was sent. It's keep his attention daily and he asks to take it everywhere.
The laptop is light weight with a portable carry handle and is brightly coloured making it very eye catching for small people. It has a large chunky light-up screen that can be flipped up just like a real laptop and big buttons which make it easy for small hands to press.
Children can explore letters, numbers, objects, musical instruments and colours with Peppa and her friends. They can also listen to 6 fun tunes, funny sounds and piano notes in the song mode and there are so many other fun sounds and activities to choose from.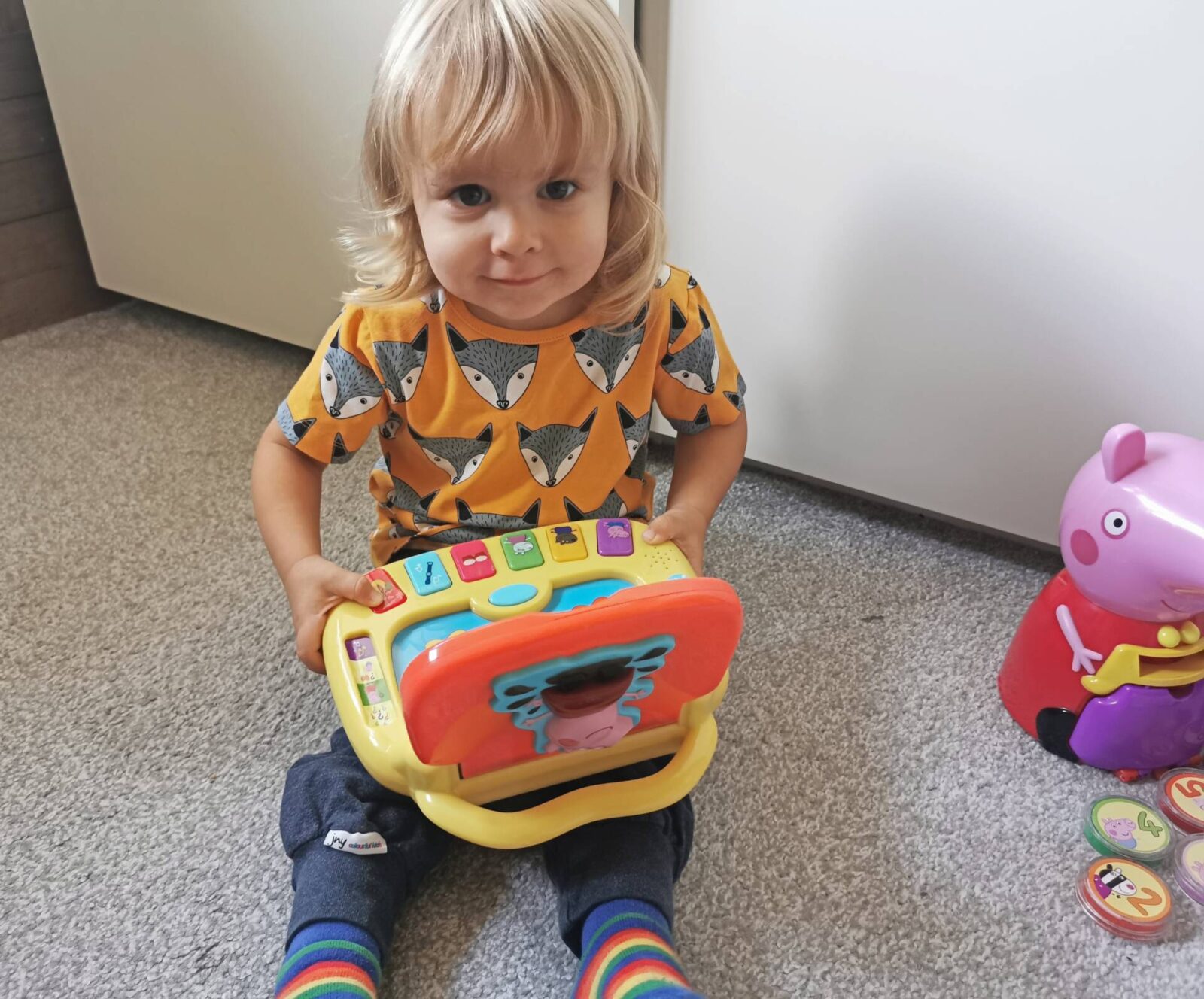 Little E absolutely loves playing with his 'puter' and doing his 'important work'. The laptop has been a massive hit and his little face lights up when he flips up the screen.
The Peppa Pig toys are all available to purchase on Amazon and will help encourage your little people to #LearnwithPeppa while playing.