We were sent the Connetix set in return for an honest review
As the boys get older, it's harder to find toys that they can play with together. My eldest wants to play on his console or create complicated constructions whereas my youngest prefers playing with cars or Lego. I love it when I find a toy that allows open ended play that they can play with together.
We were recently introduced to the world of Connetix Magnetic Tiles and their Rainbow Transport Pack. They've quickly become a huge hit for both boys and I'm really impressed with the quality.
Connetix were launched in 2019 by two families who wanted to create magnetic tiles that "were strong and safe while offering clearer refractions" than other tiles in the market. Their magnetic tiles are available in rainbow and pastel colours as well as a clear range. Each of the tiles are transparent and the coloured ones look amazing when the sun shines through them.
If you're new to Connetix I would thoroughly recommend the Rainbow Transport Pack as a starter kit. It contains plenty of coloured, magnetic tiles in a range of different shapes as well as 2 two clear wheeled bases and a reversible grey transport base with rubber wheels.
You can create lots of different vehicles with the Transport Pack but there's also plenty of tiles to create smaller objects and buildings, or even buildings on wheels!
The Transport Pack comes with a concise inspiration booklet that will help start your child off with some ideas. Some of the fancier, more intricate designs will likely need extra tiles to complete.
Although Connetix tiles are lots of fun, they're also a great way to introduce STEAM learning concepts to younger children. Connetix can help children learn about magnetism, shapes, and colours whilst allowing them to design and make their own objects.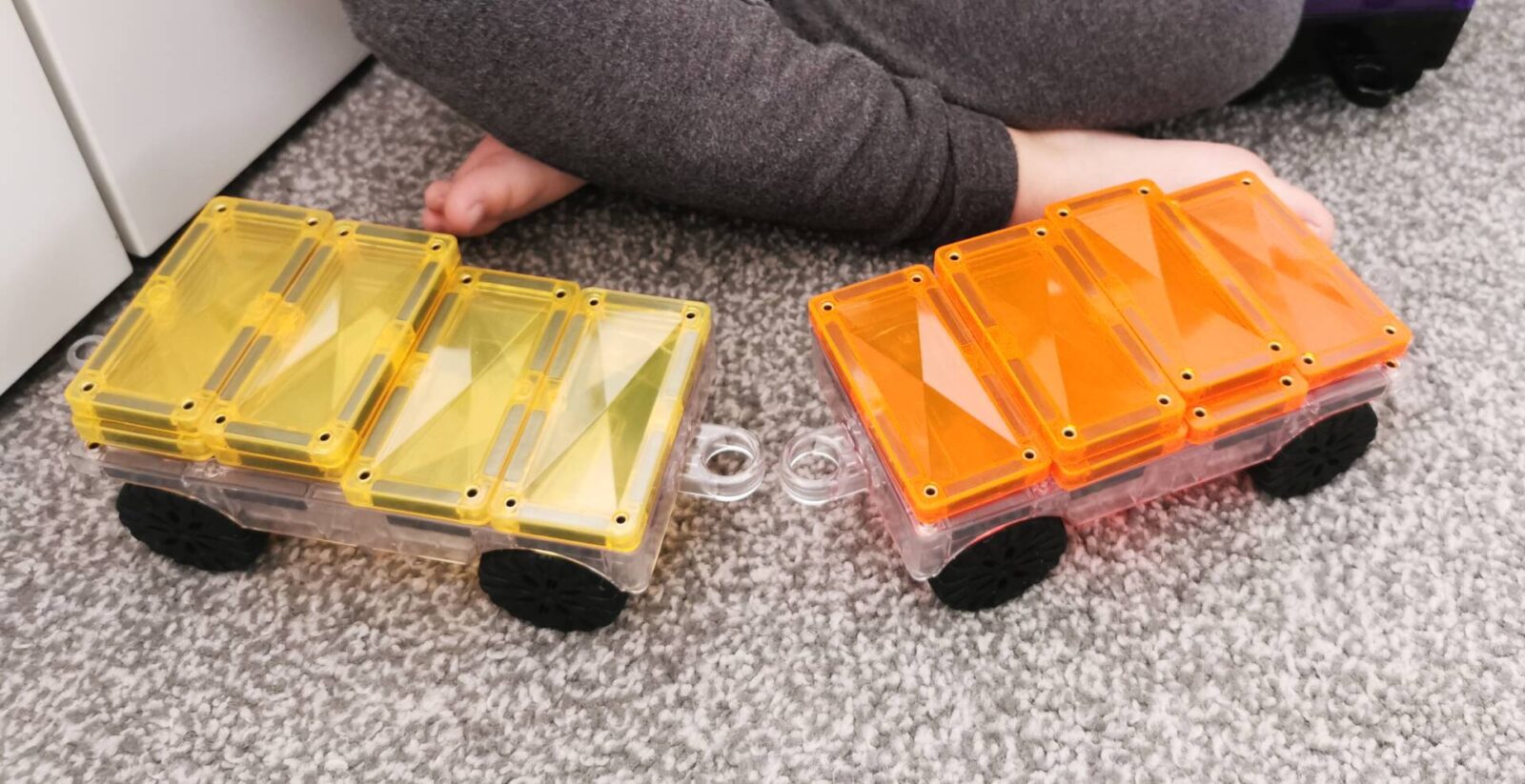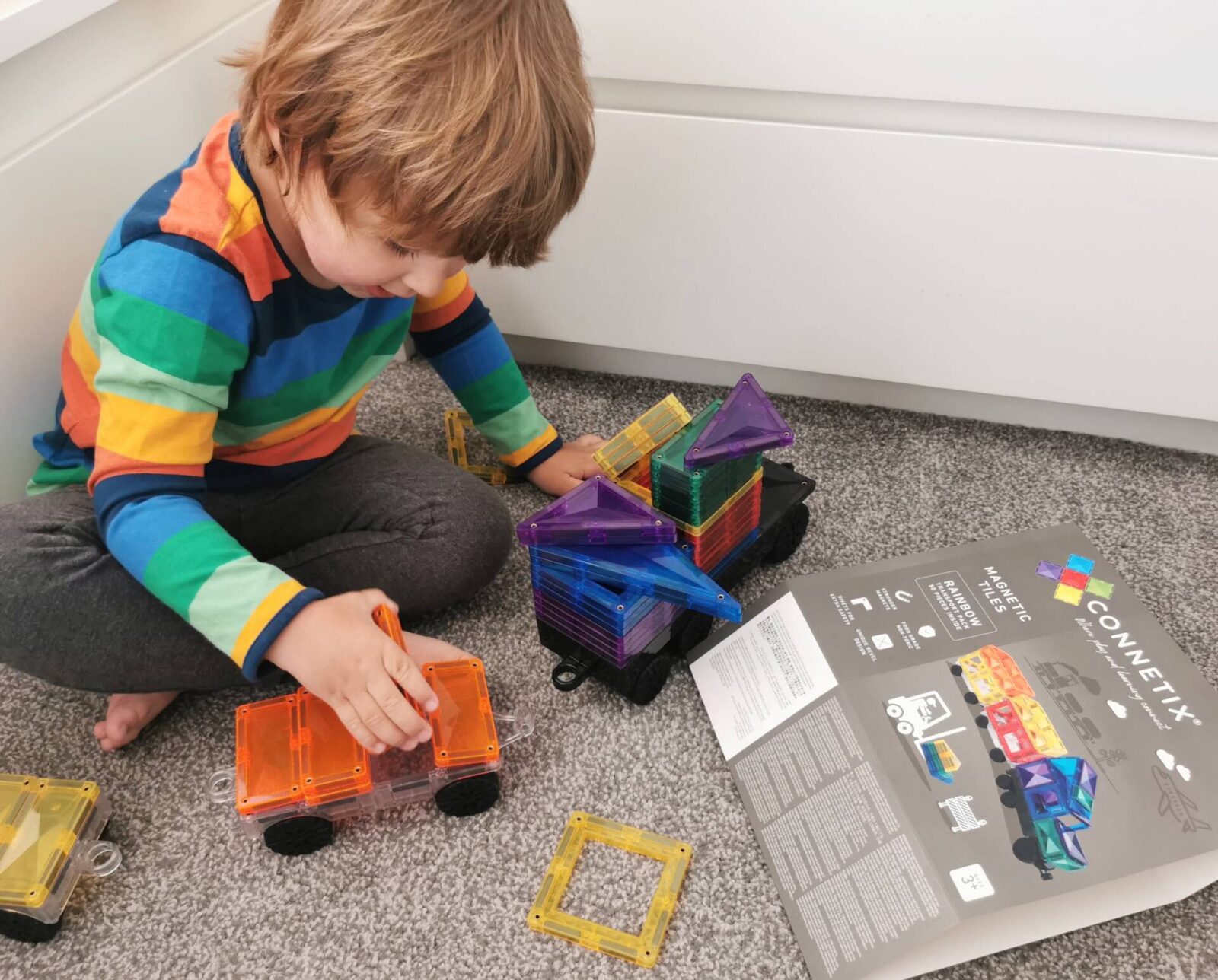 The tiles pull together easily and can be used to create unique designs that will stand up. They help smaller children develop their fine motor skills and are a great way to encourage imaginative play.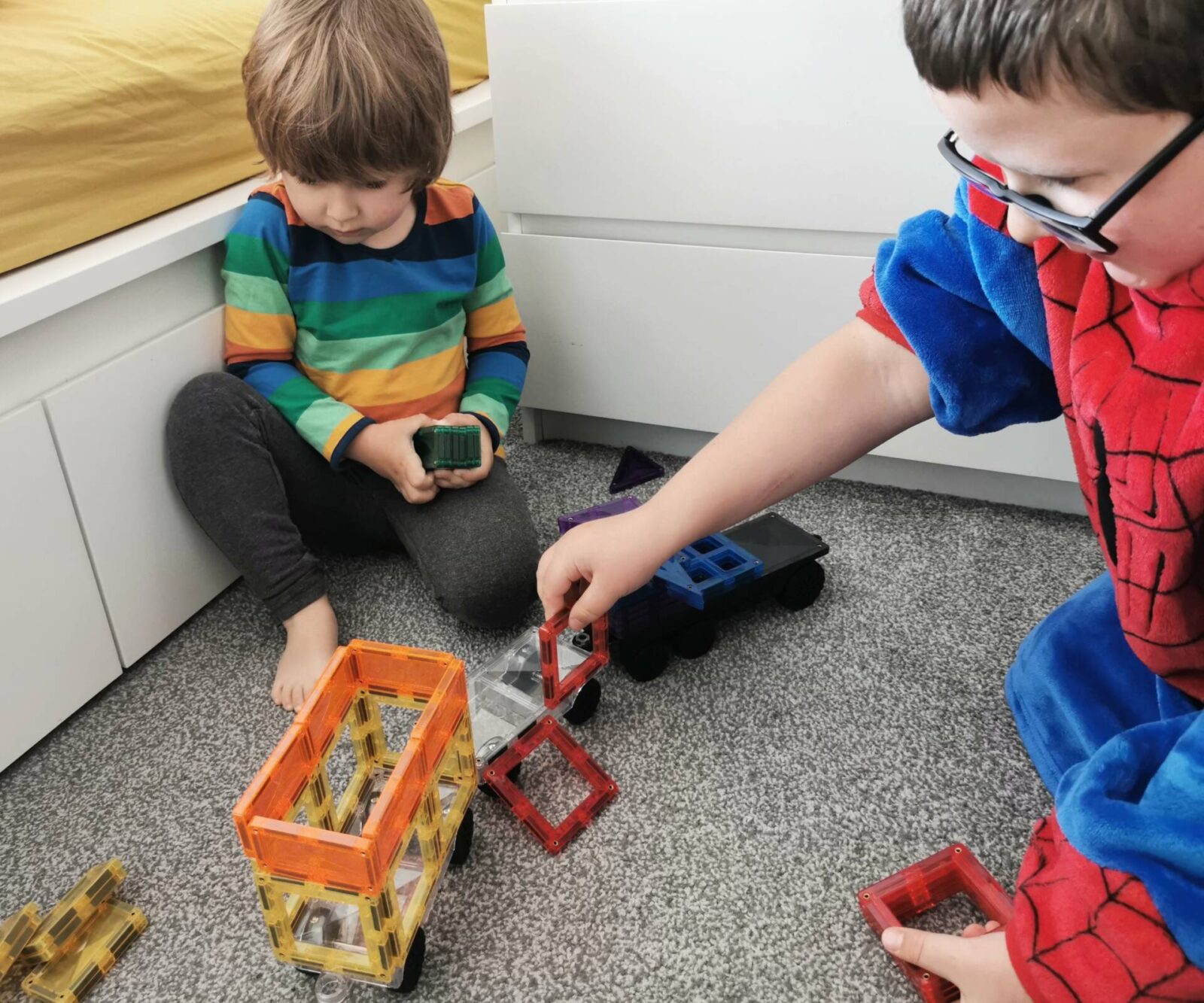 The tiles can be used to create 2D flay lays or 3D structures. We've found using them flat on the floor is great for counting and shape identification for my youngest whereas my eldest loves to create weird and wonderful 3D shapes, buildings and structures.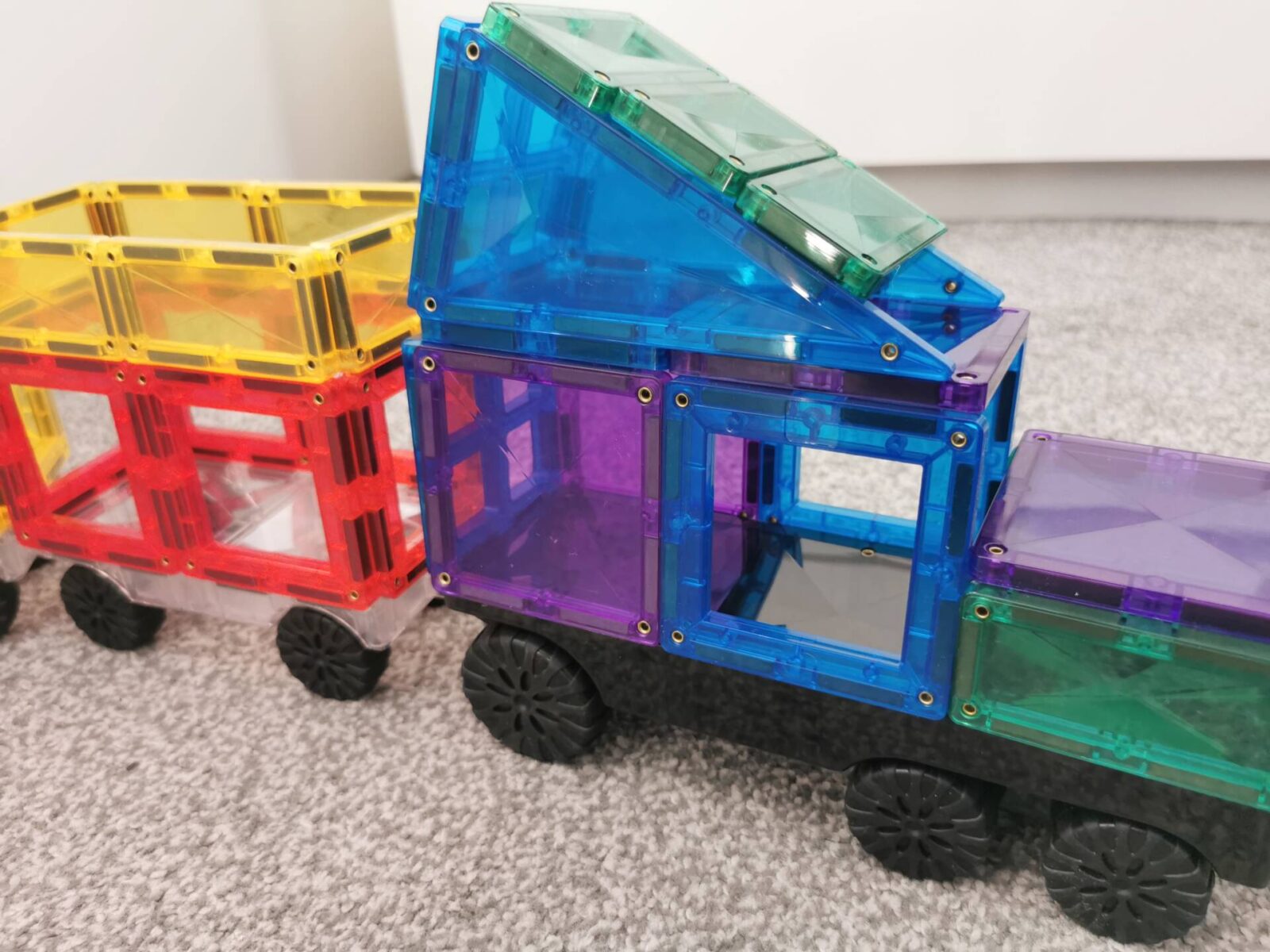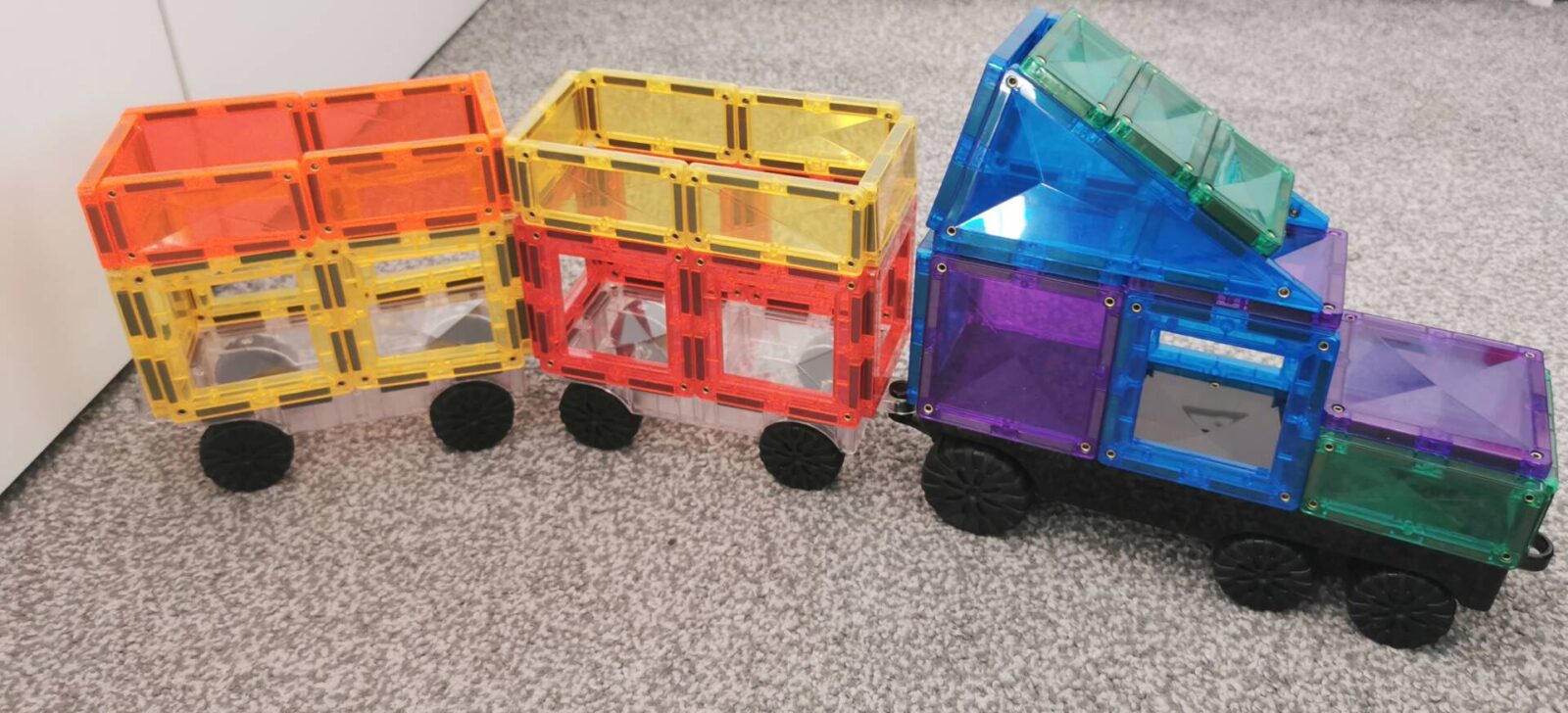 The bases with wheels are such a great addition to the set. Both boys love vehicles and they've loved creating some brilliant moving structures and unusual vehicles.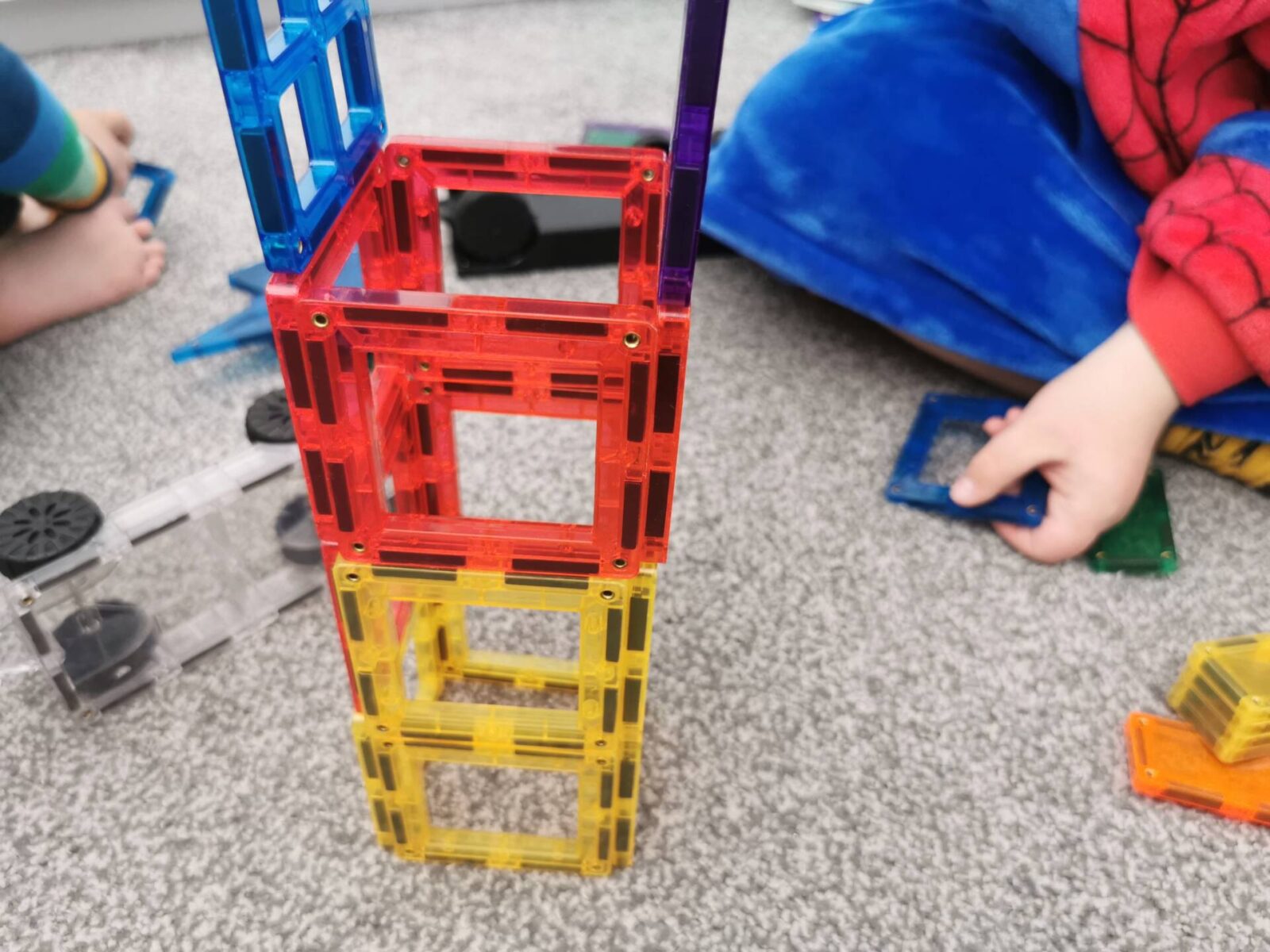 They've also enjoyed racing to see who can create the tallest tower first, although that does usually end up in an argument about who has the most tiles or the other ones favourite pieces.
The Connetix Tiles are made using non-toxic ABS plastic that is BPA, lead and Phthalate free. Each tile is sealed and rivetted for extra safety so allow there are magnets and small parts, they're safely hidden away and would take a lot of force to come out. They're suitable for children aged three and above and they're very well liked by my 4 and 9 year olds.
Connetix prices are by no means cheap but the quality is brilliant. The prices range from around £20 right up to £190 for the pastel 202 piece mega pack. For a good starter kit, with a decent amount of pieces, you should probably budget for around £50. The Rainbow Transport pack featured in this review costs £69. I would say set is good value for money as the boys have played with it together or separately most days since it arrived. I will admit, it's quite therapeutic as an adult to build with the tiles too!
We will definitely keep adding to our Connetix collection, they will make great gift suggestions for birthdays and Christmas.