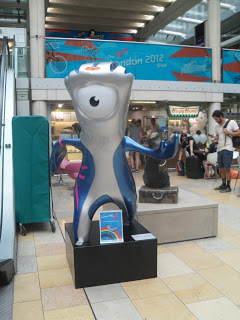 On Friday 27th July we flew from Newcastle to Heathrow, arriving at about 10:20, getting the Heathrow Express into Paddington. Surprisingly central London seemed quiet. There was a buzz of excitement in the air though and so many Olympic decorations, flags and Olympic branded BMW's everywhere.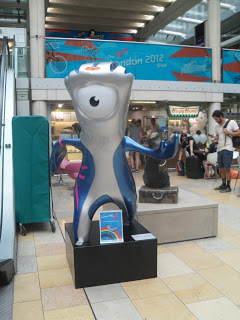 After a quick wander through Hyde Park we headed too the hotel, checking into our room and having a quick wander. We'd been booked into the Le Meridien hotel in Piccadilly which looked great. Our room was very small though and felt more like a cupboard with no external windows. The bedroom window looked into the bar area, therefore the curtains had to be closed.
We collected our Olympic tickets and had time for a quick shower and change of clothes before going back down too one of the function rooms for a hot lunch with unlimited champagne, waiting for the arrival of Sally Gunnell. We were also given goodie bags containing pin badges, survival kits and model BMW's as well as a National Lottery scratch card.
We had our lunch with countless glasses of Moet whilst Sally did a speech, showed us her gold medal and answered any questions. We were then escorted onto a coach with Sally Gunnell and transported too the Olympic Village. The journey was expected too take 45 mins, it actually took 2 and a half hours. We were offered snacks and drinks on the coach and it was a pleasant enough journey with everyone very excited to be heading to the Olympic village.
We then realised how amazing our seats actually were! 18 rows from the front. You know you have good seats when the man behind you is talking about going for lunch with Boris Johnson.
We had a quick look round the park, not really having time to explore due to the start of the ceremony being very close.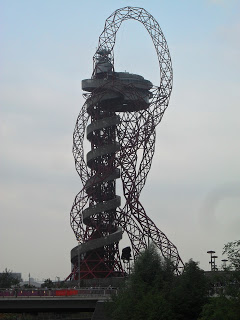 We queued for drinks, which surprisingly weren't as expensive as we thought – about £4.60 for a pint of lager.
We then waited in anticipation for the start of the ceremony.
What an amazing show it was!!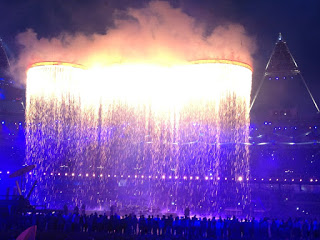 After a long and amazing show we left the stadium and headed back to our waiting bus.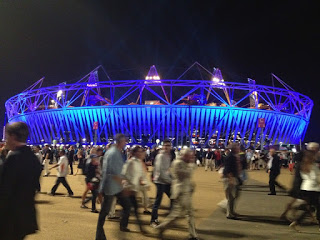 We were transported back to our hotel and after a very long and tiring day we slept like logs!
The following day we had until 12 to check out, so we had a leisurely breakfast in the hotel (also included) before packing our things and having a wander along the Thames.
We had an amazing time, and enjoyed 'our money couldn't afford ' prize. It was a fantastic experience and we can't thank Camelot enough!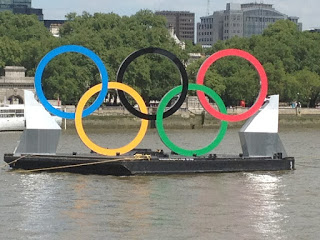 I was lucky enough to win this prize in a competition on Twitter from The National Lottery/Camelot. It included tickets to attend the Olympic Opening Ceremony in London, with travel, accommodation and a lunch with Sally Gunnell.