I'll say it now, this is now my new favourite place for food.
We visited last night, after driving through Sunderland on the hunt for a quick pub tea.
The turn off for the pub is on the main road and you go through a new housing estate before coming to the pub.
Luckily the pub was pretty quiet, as we hadn't booked. There were a few men sat outside having a drink in the last of the sun.
We had a room we sat in all to our selves, though there were other diners in the conservatory and the other side of the bar.
The pub has a traditional feel and is clean and tidy with plenty of seating.
We ordered a round of drinks and a main course each, two of us choosing home made chicken kiev and the other choosing a burger.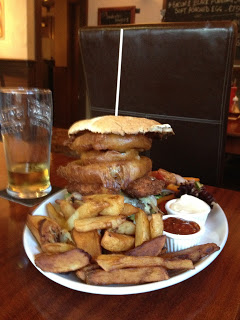 As you can see thhe food was impressive! Very impressive. It was all home cooked, delicious and have you seen the size of the burger my husband got!
For three main courses and three soft drinks it cost £31, which I was very suprised by, suprised in a good way.
I thought the food at the Stackyard was fabulous and very well priced. I'll revisit in the near future and I'm desperate to try their Sunday Dinners.
Check out their fab reviews on Tripadvisor if you don't believe me.