We were lucky enough to hear about a small free gig in
Sunderland on Monday night, being held in Pop Recs – Frankie and the
Heartstrings' new pop up record shop on Fawcett Street, Sunderland.
Pop Recs Ltd was opened on the first of June, filling the
old tourist information office in the city centre. It's not supposed to be a permanent
fixture, so enjoy it while you can folks.
Pop Recs Ltd sells current music, offers an independent record
shop, coffee shop, music venue and gallery; could it be any more eclectic?
Badly Drawn Boy did a set just over an hour long; it was a
casual, chilled atmosphere, with a mixed bag of people.
Pop Recs serves alcohol – their own branded 'The days run
away' beer, soft drinks and for those of us a little less rock and roll, a hot
cup or coffee or tea.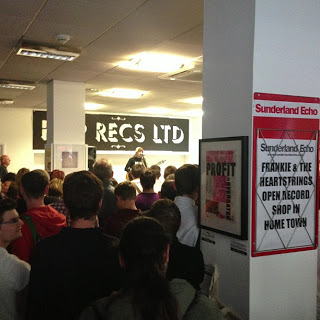 Unfortunately we managed to miss night time performances for
both Frankie and the Heartstrings and The Future heads, but there are another 5
nights of confirmed gigs so pop down while you can.
Pop Recs Ltd – Opening Hours
Monday – 10am – 5pm
Tuesday – 10am – 5pm
Wednesday – 10am – 5pm
Thursday – 10am – 5pm
Friday – 10am – 5pm
Saturday – 10am – 5pm
Sunday – 10am – 5pm
*Evening performances will take place between 6 – 9pm.