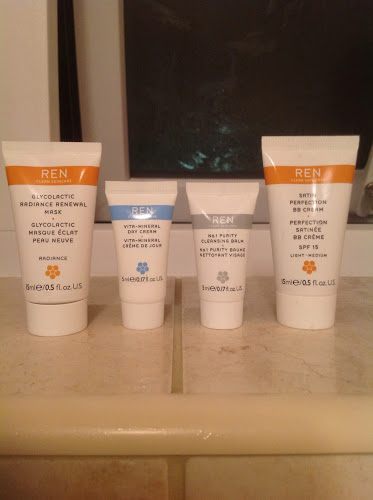 I was recently sent some samples from Ren to test and review on my blog.
I am new to Ren products, having only recently come across them online. I've been using these products for the last couple of weeks and some of them are impressive.
Satin Perfection BB cream 50ml | £26.00
I tried this both by itself and under my usual foundation. I will admit I found it a little difficult to gage how much I
needed, using too much on each application and struggling to blend it in to my skin. My skin is pretty tanned at the moment after returning from our wedding in Cyprus and I found a little of the BB cream looks great when I can't be bothered to apply a full face of makeup. I found less is definitely more with this cream, as it was a little drying for my skin, I had to moisturise with my usual cream before applying this, which is quite unusual as most other BB creams I've tried make my face quite greasy.
The cream evens out my skin tone without the need for heavy foundation and powder. I would happily use it again for a quick trip to the shops or a trip where I'm unlikely to see anyone I know, but I'm not brave enough to wear it for a night out or to impress someone, I like to be able to hide behind the slap.
This is currently out of stock on the Ren website, so it must be a popular product.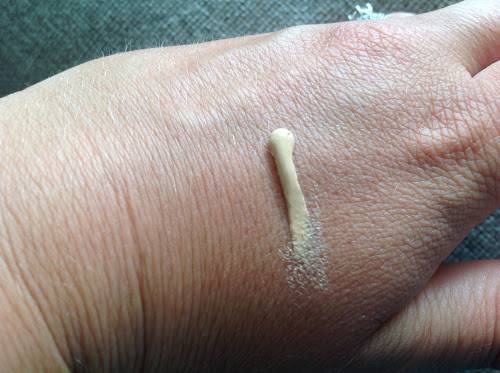 Glycolactic Radiance Renewal mask 50ml | £30.00
This is my new fab find! I am in love with this mask, and have already bought a big version to carry on using. It's made a noticeable difference to my face. After the first use, the skin on my face felt soft and smooth, a bit like a babies bum! You apply the product onto dry skin and leave for about 10 minutes, I've been using a muslin cloth soaked in warm water to remove it (think Liz Earl Hot Cloth Cleanser).
The mask has a pleasant citrus smell and a translucent yellowy colour, it reminds me a little of Vaseline, but much thicker and stickier.
REN Glycolactic Radiance Renewal Mask contains natural fruit acids from passion fruit, lemon, grape and pineapple which work with papain enzyme (from papaya extract) to "lift and remove dead skin cells, exfoliate, encourage cell turnover, smooth fine lines and boost radiance. For me it's fabulous to find a product that actually does as it claims!
You can see in the picture that during use it makes your skin look quite shiny (I can't believe I'm make up free and naked faced on the internet!). I found the first time I used it I felt a slight warm feeling on my skin, there was no burning or irritation but a slightly warming sensation. For me, that only occurred during the first use. I've used the product three times so far – as it's recommended that you only use it weekly and my skin does feel and look quite radiant – listen to me blowing my own trumpet?!I've had no spot break outs and my skin has a healthy looking glow, a tan and some Glycolactic Radiance Renewal mask is all you need!
The product was awarded Best for Instant Brightening in Martha Stewart Weddings Big-Day
Beauty Awards 2012: The Best in Wedding Skin Care.
No 1 Purity Cleansing balm 100ml | £23.00
Out of the four samples this was the product I liked the least. I hated the consistency of it on my skin and although my skin felt soft after I'd used it, I was put off my how it felt and looked a smelled, it resembles some kind of old fashioned burn cream that you'd maybe have made over your stove in the 1920's, and I'm really not a fan of the smell which I found very over powering and floral. I have tried cleansing balms before from other brands and again I didn't enjoy the experience, so really it's not Ren's fault – I knew I wasn't a fan before I'd even opened the tube.
Vita –Mineral Day cream 50ml | £25.00
Now I love a good moisturiser, I suffer from quite dry skin on parts of my face and usually use Eucerin products which help quite a lot, but I'm not really very loyal to brands, constantly trying to find something better, prettier or newer.
I really liked this moisturiser, particularly the smell and thickness of the product. It felt like a high end product, and
left my skin felling soft and velvety. I worked extremely well under my make up, but I did feel that I had to use quite a bit to get a good coverage over my face, so I'm not sure how cost effective it would work out for me.
I think I'm definitely a Ren convert, I'm dying to try some more of their products, particularly some of their hair care products.
*I was sent then samples in return for an honest review.