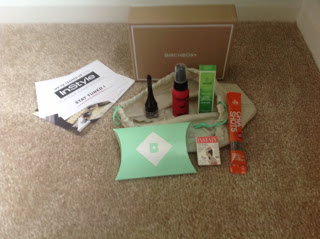 I'm
not really one for beauty boxes. I've tried Betrousse previously and
although I found it quite nice I wasn't blown away.
However,
in my emails I got a discount code for Birchbox, so
decided to give it a try.
The
box was quite nice, although again, I wasn't blown away. It's nice to
try some new products, but there was only really one product in the
box that I liked enough to buy again. Anyway, heres what arrived : –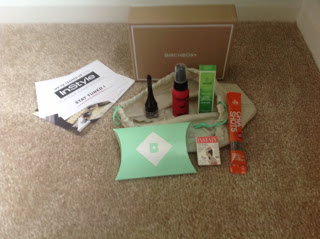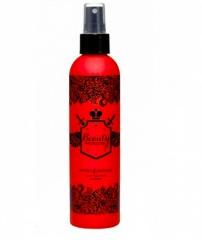 Beauty Protector Protect & Detangle – Full size £15
What they say
While we love to pamper ourselves with multiple products, some days we're just too busy – so we need a little streamlining. This miracle worker will take you from several products to one. This vegan, paraben- and sulfate-free leave-in mist conditions, detangles and minimises frizz, while safeguarding colour and adding shine. As if that wasn't enough, it also provides protection against UV rays and heat! The sweet-scented non-greasy formula is suitable for all hair types.
My thoughts
This smells delicious. It is easily sprayed onto hair and once dry my hair felt incredibly soft and manageable. It has a delicious musky, vanilla scent – I'd use this has a perfume if I could!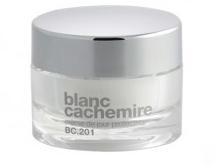 Blanc Cachemire Day Cream – Full size £54.95

What they say

100% natural ingredients are used in a high-tech way to provide a gentle approach to anti-ageing. The smoothing proteins found in cashmere fibres are carefully mixed with active ingredients including falun – a millennial sediment with high concentrations of calcium and silicon – at the French Laboratoire Neuroscience. These work in unison to encourage quicker cell regeneration and tighter, firmer skin. Blanc Cachemire Day Cream is lightweight, allowing for quick absorption. It also sits easily under foundation and has a lovely, slightly fruity scent.
My thoughts
I got a 15ml sample of this cream, and although it felt quite luxurious I found it less moistursing than I'd have liked and I was really put off by the scent. The scent is strange, a little like plants and a little like medicine. I really didn't enjoy the smell on my face, as it was quite noticeable. The cream absorbed easily into my skin but didn't have any great noticeable effects.
Laura Geller Beauty Inkwell Waterproof Gel Liner –
What they say
Traditionally only for the steady-handed, make-up artist to the stars Laura Geller has crafted these Black and Purple gel liner pots containing an accompanying brush – making a perfect gel flick a whole lot easier.
The Inkwell Waterproof Gel Liner is made from a silicon based no-budge formula that creates a luxurious, crease-free finish.

My thoughts
I believe that this was available in both black and purple, but sadly I got the purple. I am impressed that it's a full sized product though. The liner itself has great pigmentation and lasts reasonably well, but the colour just isn't for me.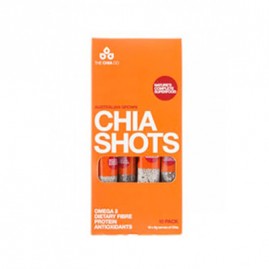 The Chia Co. Chia Shots

What they say
It's not always easy, but it's so important to use ingredients that benefit your health while cooking – it shows both inside and out. The humble chia seed might not look like much, but it's the richest plant-based source of omega 2, dietary fibre and protein. They are beloved by celebs including Miranda Kerr and Gwyneth Paltrow.
My thoughts
I got one packet of these. If I'm honest I havent tried then, or even thought about trying them yet. It looks like bird seed. I'm not sure what I'd use them in, maybe if I baked cakes or something?
Weleda Skin Food

What they say
No matter the season, you can (unfortunately) count on dry skin. Thank goodness, then, for the all-natural salve that is Weleda Skin Food. Infused with organic sunflower seed oil, a protective ingredient that's rich in fatty acids, as well as the soothing, super-nourishing extracts of calendula, chamomile, pansy, and rosemary, it has a way of sorting out even the most stubborn of dry patches—face, feet, elbows, or hands. Plus, the essential oils of sweet orange and lavender leave behind a lovely scent.
My thoughts
I got a 10ml sample of this in my Birchbox, and was really looking forward to giving it a go. I really like it, its fab for dry patches and cracked heels. It has quite an oily texture but isn't sticky once its on the skin. It's fab as a quick fix and can be used all over. I get dry patches on my face and a little of this does help, though applying it at night is best for me, otherwise my make up doesnt settle if this is underneath.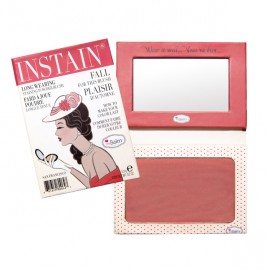 theBalm® cosmetics InStain® Long-Wearing Powder Staining Blush (Swiss Dot)
What they say
This buildable formula comes in a range of skin-flattering, natural-looking hues and stands up to heat and humidity. The silky powder leaves behind a lasting stain that blends in seamlessly with your skin. Swipe on a single layer for a subtle look or carefully build up the colour for a more visible (yet still natural) hue. Plus, the cute compact has a built-in mirror for speedy, goof-free applications.
My thoughts
A little goes a very long way, but it's just too bright for me. I am more of a highlighter or bronzer person and blusher scares me.
I think blusher lovers will adore this as you can intensify the colour by building up the layers. It is a great colour, but i just think I'm a little too old for blusher.
Overall
Not a bad selection of products really, and I will use some of them. I may keep on the monthly subscription for Birchbox for a couple of months, £10 plus postage isn't too bad, even if it's just to get a few new handbag sized bits.
(Personal Purchase)