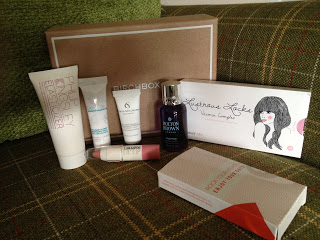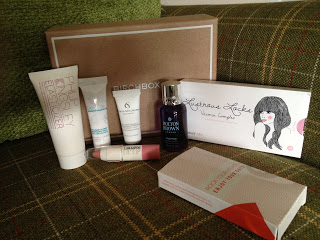 So this is the second
month of my Birchbox subscriptions, I'm pleased to say it's quite
a bit better than last month. This months box was created with the Instyle Beauty Team.
The August box consists
of –
Bluemandarines
SkinLife Energetic Cellular Cream (sample)
A light peptide-packed cream which brightens, refreshes and
protects skin.
I really like this cream, although it is a little sloppy. It had
quite a thin consistancy, a little more like a gel or serum than a
cream. It smells amazingly fresh and is super light on your skin. It
does take a little while to soak into your skin, especially if you're
applying it before using foundation, but it's worth the wait. It
makes you skin feel really soft and smooth. It moisturises you're
skin without making it feel greasy or sticky.
I'll look out for the full size one of these, as it my new favourite
moisturiser.
Philip Kingsley Elasticizer (sample)
A hair saviour. This mask strengthens, nourishes and prevents
breakages.
I haven't tried this yet, it seems like a right faff. You have to apply it before you shampoo and leave it on for 10 minutes before wshing off. I also find it a little odd that it has
Gerda Spillman Hydro Pearls
Ensure that your base lasts and lasts with this smoothing primer.
I was actually surprised to find that this is supposed to be a
primer, I thought it was just a moisturiser. It has a very wet
consistency, and looks like hair conditioner. I wasn't massively
impressed, it wasn't particularly effective as a primer, but did feel
that my skin fellt softer after using it. It took quite a while to
soak in enough to be able to apply foundation on top of it. It has a
fresh, clean scent but as a primer, its not for me.
LAQA & Co Lip Pencil (small version)
A moisturising lip pencil perfect for day to night.
I was looking forward to trying this, as I was sent the rather funky
pink colour. It looks quite cute and comes in a twist up stubby with
clear lid. The colour and coverage is pretty good, I really liked the
pale pink shade, my only gripe is I found it quite drying on your
lips. It didn't take long for it dry and become flaky – never a
good look. I found applying so balm or gloss over the top made it
last a bit longer and also using it quite sparingly helped, though
that did hinder the colour pigmentation.
Molton Brown Ylang Ylang body wash (small bottle – sample)
Newly reformulated, deliciously scented body wash from this
British heritage brand.
I'm a big fab of Molton Brown shower gels, – they usually smell
gorgeous and are very moisturusing, this one, I'm pleased to say was
no different. The ylang ylang shower gel smells quite rich and
smooth. It has quite a unisex scent so would be perfect for use by
anyone in the shower. I really like the scent of this and will
definitely look out for it, when it's on offer, as £18 for a shower
gel is well out of our budget now.
Inner Me Supplements (14 day supply)
Bonafide superfood, packed with health-boosting omega 4, protein
and more.
I got the lustrous locks vitamin complex tablets, but due to the fact
I'm pregnant I haven't tried them. I've tried similar products
previously and had no miraculous results, but maybe these will be
different. Looking at the use by date., they'll be out of date before
the baby is here, so I'll probably give these away for someone else
to try.
Birchbox Gel Mask (full size product)
This gel-filled mask cooks the eye area and decreases puffiness.
Another item in the box I was looking forward to trying. Since the
start of my pregnancy I've felt run down and I'm suffering from
ridiculously large dark circles under my eyes. I'm struggling to get
a decent amount of sleep, a constant sick feeling, working 12 hour
shifts and restless les is not a good combination, so anything to
help relax and reduce the dark circles would be a god send.
In theory the mask is great but realistically it's quite uncomfortable. It is a little too big for round my eyes and it digs in. A great idea but asthetically it needs a little work.
So all in all, not a bad box of bits! Much better than last month. I think I'll let my subscription run for another couple of months and then maybe cancel and try another company.