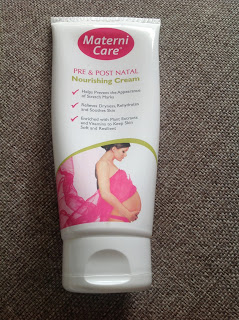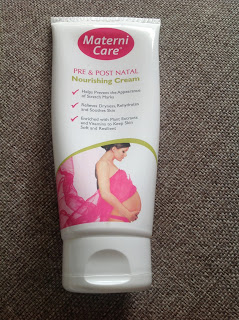 What the company say
It's a blend of rich plant oils and essential vitamins developed especially to nourish and care for your skin as your bump grows, and then later support your body as it recovers. The gentle, hypoallergenic formula is packed full of pro-vitamin B5, almond, avocado and grape seed oils, as well as vitamin E and soothing calendula.
MaterniCare may be every yummy tummy's secret weapon in the fight against stretch marks but it does more than that. The rich and nourishing formula also protects from itchy, dry skin that easily turns many pregnancies into a marathon endurance test. And then you can also use it in the important post-natal months to support your recovery. If you want to be left with firm, supple and youthful-looking skin then say hello to your new BBF – Beauty Best Friend!
Price and Stockists

Materni Care Nourishing cream is available from various independant chemists and also Boots. It costs £14.99 for a 200ml tube.

My thoughts

Materni Care suggests massaging MaterniCare, into your breasts, tummy, thighs, hips and bottom 2-3 times a day to help keep your skin strong, smooth and supple through your entire pregnancy. journey.
I've been using it on a morning and then again on an evening before bed. My skin feels smooth and soft and I love the light refreshing fragrance.
It soaks into your skin super quickly and there's no trace of any greasy residue, which I've found with some other stretch mark creams and oils I've tried. My stomach, hips and boobs are loving being treated to this. They feel really soft and supple.
I've had really itchy skin since pretty much finding out I was pregnant, but this seems to have calmed it down a little.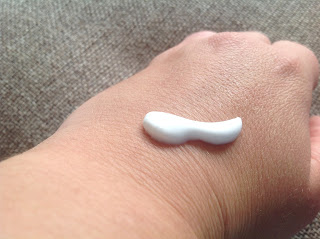 Pro's
Smells delicious
Not at all greasy but very moisturising
Soaks in very quickly
Easy to apply with a simple flip lid tube
A multi use product

Con's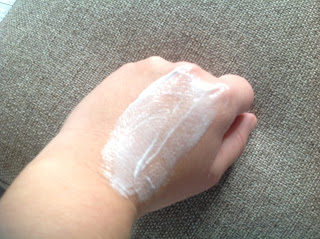 Overall
Materni Care have an extremely helpful website, which is worth a look, theres helpful contact numbers and lots of helpful information about what your body goes through during pregnancy.
I am very impressed with the cream, and it's nice to see the company haven't brought out numerous other products for different body parts! This works all over and really does make a difference.
Obviously I'm still only in the second trimester of my pregnancy but fingers crossed if I use this on a daily basis there'll be no or very limited stretchmarks. I've got none yet and super soft skin, so it must be doing something.
I have already been bought another tube of this as I haven't shut up about it.
I'll update this post if Materni Care keeps me stretchmark free!!