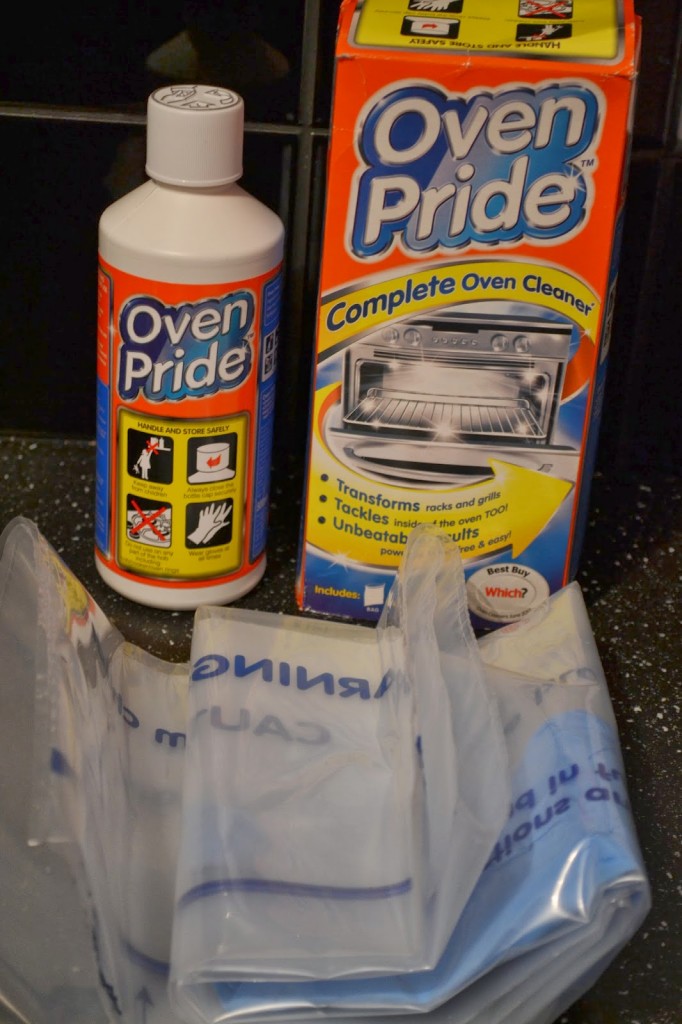 This is a bit of a confessional post. I HAVE NEVER EVER cleaned an oven / my oven! There, I said it, I'm disgusting. Fortunately my hubby isn't quite as bad and now and again he'll give the inside of the oven a half hearted rub. However, until I took the before pictures for this review I hadn't actually realised how horrendous our oven actually was!
The cleaner comes in a box containing a bottle of cleaning fluid, a huge plastic bag and some protective gloves.
The disgusting oven pre clean in all its glory.
You need to ensure your hands are covered with the gloves, and be careful not to get any product on your skin.
You simply put the grills from your oven into the huge plastic bag. My husband put the two grills from our oven and the oven tray into the bag.
Once the items you want cleaning are in the bag you then pour in half of the cleaning fluid.
You need to make sure the bag is sealed properly and then try and coat the items inside with the product by manoeuvring the bag round.
Put the bag to one side and then use the remainder of the product inside the oven, avoiding the fan at the back and the glass door. Again, leave a decent coating before closing the oven door.

Leave everything for two hours.

Once the two hours have passed you need to move the bag around again, re coating the grills and tray. The instructions advise to then leave everything for a further four hours or if possible overnight. We opted for the overnight suggestion due to the hideous state of our oven.
Then it's time for a little elbow grease and some soapy water. I wasn't sure what to expect, so when I saw the results I was very shocked … in a good way!
You can see from the picture above how amazing the results actually were. The half of the picture closest to you has been rubbed using a cloth and soapy water and the other half hasn't.
How amazing is the difference?!
The inside of the oven looks pretty amazing too. Everything is shiny and looks new. I honestly can't believe the difference, or how easy it was too achieve it.
To dispose of the cleaning product you need to fill the bag with water and cut the corner of the bag off before allowing it to run down the drain.
I could rave about how amazing this oven cleaner is all day. I am a complete convert and will be picking up some more of these with my weekly shop. I can't believe how cheap it is. I was expecting extortionate prices to purchase it but it only costs £4 at Tesco!
The only problem is, it means the oven will now have to be cleaned more often. I'm sure my hubby will love that!
*I
was sent the item free of charge to review on my blog*