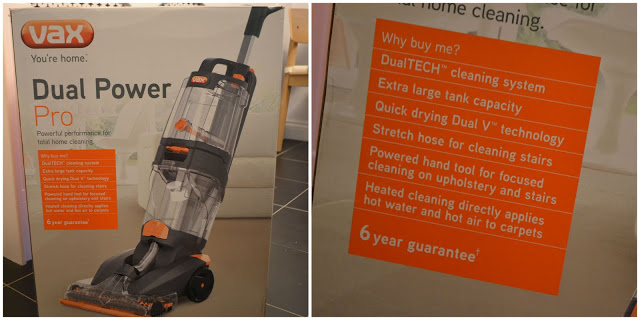 Our home is a combination of both hard floors (wood laminate and tiles) and carpet. Rather stupidly our carpets are cream and a complete nightmare to keep clean, particularly with a messy 18 month old and a husband who constantly 'forgets' to take his shoes off.
We've previously had a company in to clean the carpets which was great but not very practical for our busy family life. Something to help us keep on top of things ourselves seemed like the most sensible option.
The Dual Power Pro is extremely quick to assemble. There are concise instructions that come in the box but even technology challenged little old me managed to put the pieces together in a matter of minutes.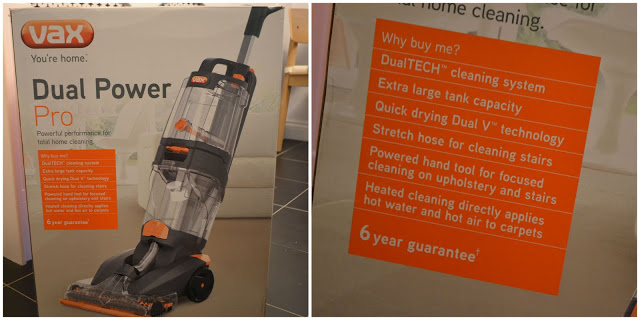 Using the Dual Power Pro is quite simple. It's very much like using a traditional upright hoover, you use the same forward and back movements but the Dual Power Pro has a trigger under the handle which you press as you push and release as you pull back.
The trigger releases the cleaning fluid and water and works with the rotating brushes under the machine to clean and scrub your carpet before pulling back, the dirt and solution is pulled back up into the machine and aware from your floor.
The machine has rinse wash option which is perfect to ensure all cleaning residue is removed from your carpet if you've given them a very soapy scrub.
The hose is easily attached to the front of the machine to allow use of the attachments. The hose has a good stretch of up to 2.5 metres which is perfect for reaching up or down the stairs, this combined with the 8 metre power cable means the hoover has a very lengthy reach so there's no need to continuously move the plug from socket to socket.
The Dual Power Pro can be used on both hard floors and carpet. To use it on wood or tiled floors you simply add a hard floor tool to the front of the machine which prevents scraping and damage.
I was very impressed with its ease of use on our tiled kitchen and dining room floor. It does expel quite a lot of water while the brushes clean the floor but it's sucked up instantly as you pull back on the machine. It cleans dirt and grime from the floor easily, leaving it clean and shiny, in anticipation for more mess from the little man.
The central drum features separate compartments, one for both your clean and dirty water and one for your cleaning fluid. The dirty water tank holds up to 3.9 litres once its been removed from your carpet. The cleaning fluid has it's own separate compartment so once you've finished your cleaning, you can remove any unused fluid and pour it back into the bottle to use for next time. It's a fantastic way of saving money and reducing wastage.
The accessories and attachments come in a very practical drawstring bag. A simple but very helpful breaking addition which means I no longer have to rummage round looking for accessories every time I use it, like I do with my hoover.
The Dual Power Pro comes with a hardwood floor attachment, a hose which is perfect for cleaning the stairs and two different types of handheld brushes (one for corners and more stubborns stains and then other for cleaning upholstery such as your sofa).
The Dual V technology means drying time is dramatically reduced. I was very pleasantly surprised by how quickly we were able to use the carpets as normal. Within around 30 minutes the carpets felt dry and within an hour they were completely dry and perfectly fine to walk on.
I don't really have any negatives about the Vax Dual Pro carpet cleaner, it does exactly what it's supposed to do and it does it well. The only thing that could possibly be made better is the weight or shape of the machine. It is quite bulky and not the easiest for carrying up and down the stairs, but I can forgive it every time I look at my gleaming floors.
The Dual Power Pro comes with a 6 year guarantee which I think is fantastic. It usually retails at £299.99 but is currently on offer directly from Vax at £199.96. It's a worthwhile investment for any family home, particularly if you have children or pets. It's become a firm favourite in our house and I've started using it regularly to keep our floors clean and fresh.
*I was sent the Dual Power Pro for review purposes. Opinions are honest and my own*