We seem to have come across quite a few new parks this summer. We've found lots of new hidden gems, some of which are almost on our doorsteps. My most recent find is Barnes Park in Sunderland.
Initially opened way back in 1909 the park is around 2 miles in length and home to a great selection of family friendly activities.
There are plenty of picnic locations around the park. We ate at one of the benches but a blanket on the grass would be just as nice. I love how much open space there is, there are beautiful walks among the trees and along the edge of the duck pond and it's a great route for dog walkers and joggers.
The park has a Victorian bandstand that's used by local theatre companies to hold productions, one of the most recent being Twelfth Night. I suspect it'd be a rather beautiful and unique location to watch a performance, especially on a warm summer evening.
As well as the pretty scenery, the park is home to a well kept range of children's play equipment suitable for both toddlers and older kids. The little man thoroughly enjoyed playing in the sand that surrounds the park, and there are even a couple of buckets and spades that have been left behind by some kind soul.
Very close to the play area there's a small cafe with outside seating. We only called in for a cold drink to take away so I can't comment on the food or hot drinks but there were plenty of people queueing and sat outside so it looked promising.
The park also has bowling greens, tennis courts and a very tranquil sensory garden where you can sit and enjoy the peace, or chase after your excitable child like I did!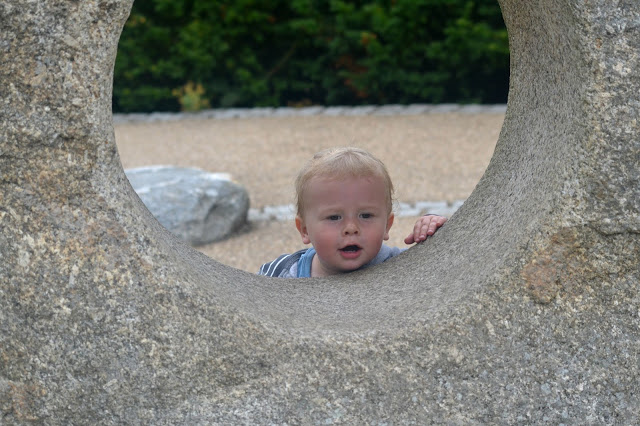 We ended up spending over three hours wandering through the park. I hadn't realised how nice it was before our visit and we really didn't want to leave. We walked around most of it, played in the park, fed the ducks and watched the bee's in the sensory garden so when we finally left, the little man was absolutely worn out.
We loved our visit to Barnes Park and we'll be returning soon. It's such a nice spot to spend the day and if you take a picnic you can have a completely free day out. Parking is free and it costs nothing to spend time in the park. When the little man is older it will be the perfect place for adventuring and hiding in the tree's.