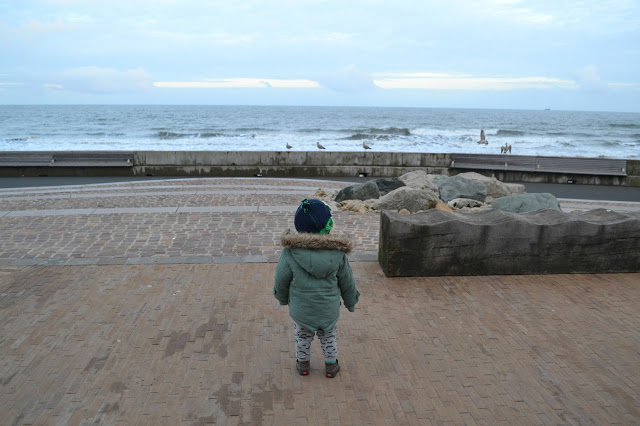 The majority of Sunderland Illuminations this year are based inside Roker Park which is very close to the sea. The park dates right back to 1880 and is really pleasant to walk through even when the illuminations aren't on.
We've been twice this year, the first time we left after around 10 minutes because it was ridiculously busy and people were pushing ans shoving each other to get out (I'll come back to that in a little while).
For our second visit we decided to head through to Roker quite early, before darkness set in. We had a slow wander along the sea front where various rides had been allowed to set up, including a huge Ferris Wheel and there's a roller rink on the grass in front of it.
The little man enjoyed going on some of the rides, and prices for the younger kids were only £2 per ride which wasn't too bank breaking.
We soon realised that almost all of the entrances into the park were blocked off, which meant there were only two entry and exit points at the top of the park on Whitburn Road and the third being on the seafront itself. I was quite surprised by this and a little concerned if I'm honest, I dread to think what would have happened if people had needed to exit the park in an emergency,
Once we'd managed to get into the park and scoot past the extortionately priced novelty light sellers we realised that many of the light displays, whilst bright and pretty were actually recycled from the previous year.
There didn't seem to be a theme this year, with various Alice in Wonderland installations mixed with Dr Who displays, everything was quite random.
Rather than being able to walk where you wanted too, someone had decided to introduce a one way system. During our second visit, this was fine, there was plenty of space and people were able to move around freely, unfortunately during busy times the one way system created absolute havoc. Visitors were backed up ever where, people were squashed and pushchairs were barged out of the way. It was awful. We spoke to one of the Marshall's who agreed, and said many people had complained about the set up this year.
This year we were unable to see anycharacters dressed up signing autograohs for children and there was no story teller on the bandstand. Whether they're on nights that we weren't there, I'm not sure, but there didn't seem a great deal of 'extras' to the lights this year.
My favourite part of the illuminations this year was the area near to the seafront. It was much calmer than the other areas, with smaller and quieter food and drink stalls set up. There was a great proper coffee stand which was very welcomed by us (if made a refreshing change to the expensive and tasteless coffee at the top end of the park.
UV Paint had been used to create a rather psychedelic Alice in Wonderland themed area which looked fantastic in the dark. It was very eye catching and the little man was transfixed during our visit.
If I'm honest though, I still found this years illuminations disappointing, from the poor safety and organisation to the lack of atmosphere, it just seemed lacking. There seemed much less effort made by the organisers this year, I'm not sure whether this is due to budgets or whether it's simply not considered an important event, but I hope that it's not a sign of times to come.
I think if they charged a small entrance fee for visitors, they'd have a better budget to put on more things and create a much better event.
The illuminations have been running since Saturday 26th September and tonight is the last night. if you want to visit.
Things to consider before your visit
There's no parking in any of the streets nearby. This year there are cordons everywhere with stewards preventing vehicles going into certain streets. A park and ride has been put on but this may be restrictive if you're disabled or have children in pushchairs,
The food is very expensive on most of burger vans. If you are looking for something to eat, head down towards the see front, there's a stall selling food for half the price than the vans in the park itself.
Don't take your dog! Why on earth people think it's a good idea to take a dog to a completely rammed event baffles me.