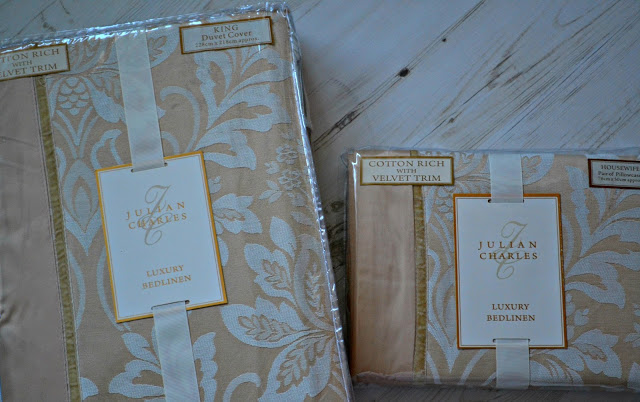 I love updating our home. Whether it be a lick of paint, a new rug or some simple accessories, there's nothing better than a quick revamp with minimal effort. We're in the process of decorating our entire house, but we don't want or need to paint every room so we're changing accessories and decorative items just to update colours and give rooms a new look.
I love our bedroom. It's pale blue and white which I find calming and quite serene. It's my peaceful place, probably one of the only places in our house that's not been taken over by toys! Rather than repaint and change the colour of the walls we decided to change our accessories and give it a new look without completely redecorating.
I was recently given the opportunity to try out some products from Julian Charles, a luxury interiors brand offering a great range of soft furnishings including curtains, bedding, cushions and throws. They're a family run business, spanning across three generations, who started trading way back in 1968.
I chose the Blenheim Gold Luxury Jacquard Duvet Cover and matching Blenheim housewife pillowcases as I liked the elegant design and the pretty floral pattern and thought it would look very different to the plain white bedding we usually have on our bed.
From the moment I unpacked the bedding I could feel how luxurious the material was. It's thick and feels very expensive (think 5 star hotel). It's much superior to anything I've seen on the high street recently.
I think we probably need to buy some thicker pillows to see the full effect of the pillowcases as they swamp our thin, bargain buy pillows.
The bedding is quite heavy so it's perfect for this time of the year. It's very warm and cosy but breathable cotton. Every time I get into bed I feel like I'm staying in a posh hotel.
The Blemheim design is something completely different to what I'd usually choose. The floral damask jacquard design is bold and elegant in shades of gold and cream. One side of the duvet cover is patterned whilst the other is a simple cream cotton.
I really like the duvet cover and pillowcase set. I think they completed change the look of our bedroom, giving it a much more grown up and stylish look.
I was really surprised to find that I could wash the duvet cover and pillowcases in the washing machine (a 30 degree's)! After feeling the quality and thickness of the material, I'd expected it to be a dry cleaners job. It dries nicely, but I would recommend drying it on the line or clothes drier rather than in the tumble dryer.
The king size Blenheim duvet that I received is currently on offer for £60 which is less than half of it's usual price of £150, I think that's an absolute bargain! I've had a good look through the Julian Charles website and found a great range of products at bargain prices, it's definitely somewhere I'll look for future soft furnishing purchases.
There are extra coordinating items in the Blenheim range if you wishing to have matching items including curtains, various styles of pillowcases, cushions and throws. I've already got my eye on the curtains!
*Review items*