You'll know from my recent post about the Value Lights bubble lamp that I'm working with Value Lights as an ambassador and I've been lucky enough to try out some of their products.
Value Lights sell a great range of light products that are very reasonably priced and suitable for a variety of budgets. They sell both indoor and outdoor products including decking lights, table lamps and fun novelty ceiling lights.
We were recently sent the battery operated dinosaur lamp from Value Lights to include in the little mans new 'Big Boy' bedroom which is currently a work in progress.
The light actually arrives in separate bits which you need to put together before you can use it. It was a little fiddly to get the legs into place but once they were in, they seemed study and secure.
The lamp doesn't come with batteries, so you'll need to make sure you purchase the 3 AAA batteries that it requires. The batteries box and on and off switch are hidden under the dinosaurs stomach, but are easy to locate and use.
The light is battery operated which makes it safer for use in a child's bedroom, there are no hanging wires or cables and there's no need for mains electric to be used. As it takes batteries it also means its suitable for travel or perhaps using in a dark car journey.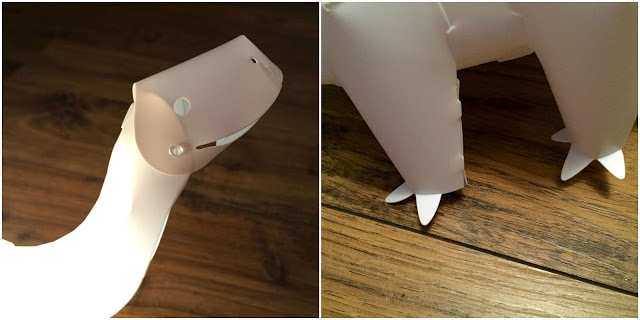 The light has a smooth plastic finish which means its easily cleaned or dusted which is ideal should sticky little fingers get hold of it.
The 1.6W LED bulbs inside the light shine through well and give a warm, comforting glow which is perfect for a child's room. It's sat nicely for a couple of weeks on the side of the little mans toddlder bed. He seems happy enough with it and Hubby and I are happy with the amount of light it gives off and how simple it is to use.
At £24.99 the light isn't really cheap but it is quite unique and does look great. I imagine it'd be a huge hit with any dinosaur lovers.
*We were sent the lamp for review purposes. Opinions are my own*