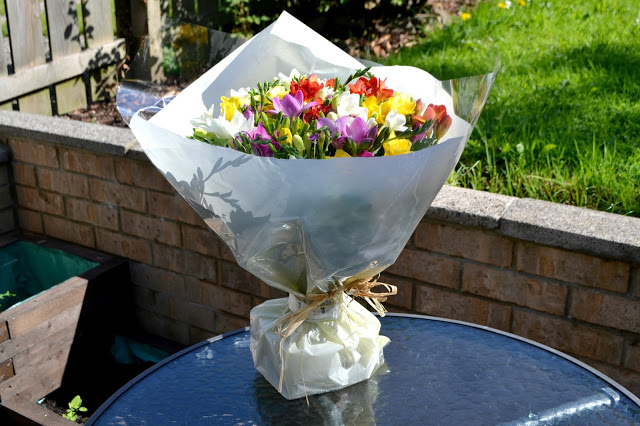 I love receiving pretty flowers directly to my door and last week I was lucky enough to be sent the absolutely stunning Freesia bouquet from Serenata Flowers. A beautiful array of 40 freesias and green foliage, hand tied for its lucky recipient its such a gorgeous gift for someone special.
The flowers arrived by courier and were very well packaged and protected with a sufficient amount of water for the stems to absorb during transportation. I was very impressed that the flowers arrived in perfect condition despite the fact they'd traveled miles in a van.
The blooms were all in full flower, the colours bright and eye catching with the sweetest scent drifting from them. I adore Freesia's, they're without a doubt my favourite flower and I think the scent is amazing.
The Freesia bouquet costs £39.99 with free standard delivery. You can add additional extras to your order during the transaction on the website, such as balloons, teddies and yummy chocolates. It's a great way of customising your gifts.
The flowers are absolutely stunning and are still going strong 8 days later. I am very impressed with both the delivery and the actual flowers from Serenata Flowers. I won't hesitate to buy for them in future.
One of my lucky blog readers has the chance to win £40 to spend at Serenata Flowers. To be entered, all you need to do is complete the rafflecopter form below.
Terms and Conditions
A winner will be chosen randomly via Rafflecopter
The winner will be notified via email and Twitter (if you leave your handle)
ALL entries are checked and if any of your entries are found to be fake ALL of your entries will be disqualified.
Fake entries/automated entries will be disqualified.
You will have 28 days to respond to the winning notification, if you don't a new winner will be chosen.
The prize will be sent directly from the company.