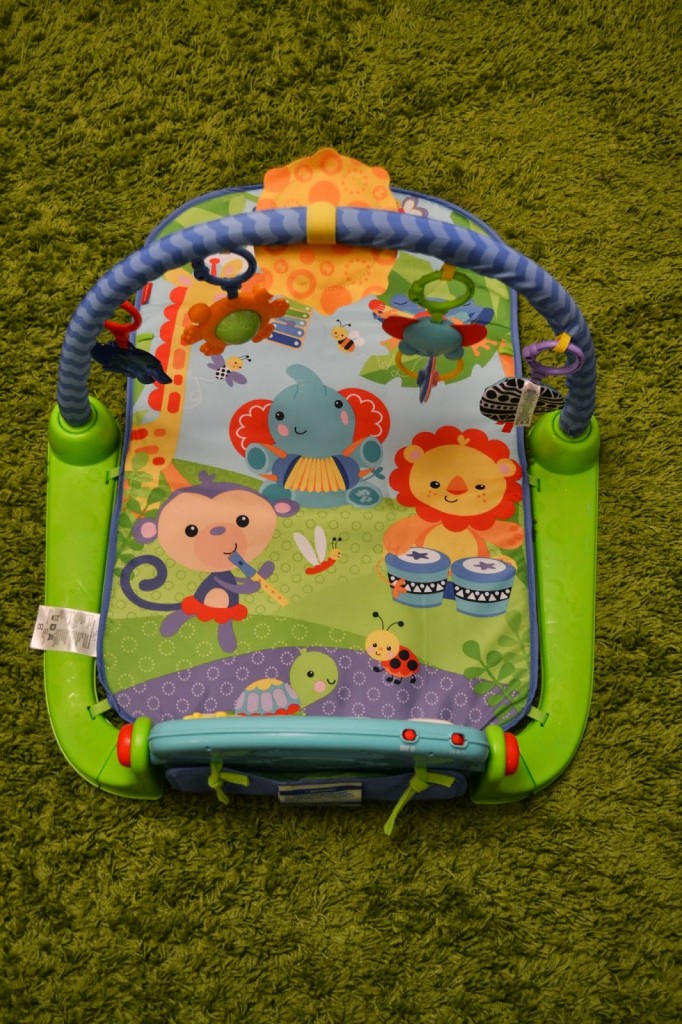 I adore this toy, or should I say The Little Man adores this toy
The
Fisher Price Kick & Play Piano Gym
is suitable from birth to 18 months. It's really easy to assemble once everything is out of the box, and you can easily take it apart and roll the mat when its not in use to make storage easier, which is particularly great for those of us with tiny houses! The colours are bright and eye catching and is covered in funky rainforest animals
and
it arrives with the batteries it needs!
It comes in three parts, a overhead toy bar with three dangling toys (which can also be chewed) and a large mirror), brightly coloured washable play mat and a noisy piano which is attached to the bottom of the play mat.
It offers three modes of play, which means it's a product that will last and a child will not outgrow straight away.
The first way it can be used is Lay and Play, the baby is placed on their back looking at the toy bar hanging overhead, and their feet
and moved to kicking distance of the piano at the end so they can kick and stamp at the piano keys. As The Little Man is still only 9 weeks old this is the only way we've used the toy so far, but I'm impressed by the fact it will last and can see him right through until he's a toddler.

The second option is Tummy
Time, where the toy bar is put on the ground at the top of the play mat and baby is placed on
their front to play with the toys. This helps strengthen neck muscles and will eventually help encourage your baby to roll over or start to crawl. We did try The Little Man like this, and he lasted about 2 minutes. He wanted his head up and to play with the toys and was trying to push himself along with his feet, which he obviously couldn't do so got very frustrated, very quickly! We have a tummy time pillow to help lift The Little Man a little, he seems to enjoy is a little more, but I think it would work well with this play mat as I think he finds the toys a bit more interesting than the ones that come with the tummy pillow.
Thirdly there is the Sit and Play option which is for when your baby is able to sit up unaided. The piano is lifted up at the end of the play mat and the baby can play the keys with its hands. The piano can also be removed completely and carried about when baby becomes a toddler – then Mammy can never get away from the noise!

Obviously I can't ask the Little Man what he thinks but if you have a look at his YouTube video you should get an idea of how much he seems enjoys it. He gets quite violent with the piano and loves looking at himself in the mirror!

So far this is one of our favourites toys. It keeps him entertained and stimulated and also gives me enough time to do the washing or have a shower.
*We were sent the play mat free of charge to review, but all opinions are my own*