I struggled setting this up by myself. I couldn't get the metal legs to click into place so I had to wait until my hubby came home from work to help me put it together. Once it's put together though it seems pretty sturdy.
The bouncer is brightly coloured and fits in with the rest of the rainforest range of products, with various rainforest animals printed on the brightly coloured seat cover. I love the bright colours and really wish we'd decorated the Little Mans nursery with a rainforest theme.
It has handy none skid feet, which is ideal for us as most of our house has either wood floors or tiles.
It's suitable from birth and can be used until your little person is 11.3kg which is roughly 12 months. The shape of the seat is quite deep so The Little Man can sit back
comfortably.
It has an easy to remove toy bar which has two monkey toys attached to it. As well as being able to remove the toy bar from the bouncer you can also remove the toys themselves from the green leaf fixtures so they can be played with when the bouncer is use as more of a seat or away from the bouncer completely.
It has a three point fabric restraint which seems quite comfortable. It's quite narrow so little legs are not forced uncomfortably apart.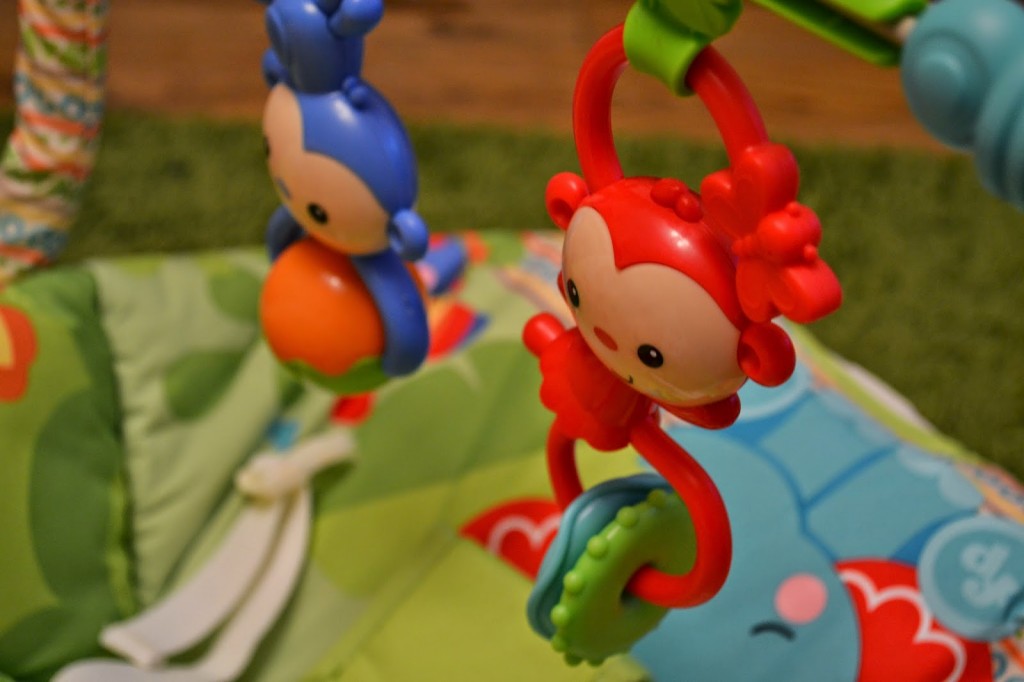 The seat cover is fully machine washable and dries really quickly on the washing line, so it's ideal should you have and incidents (The Little Man is a sickly dribble monster).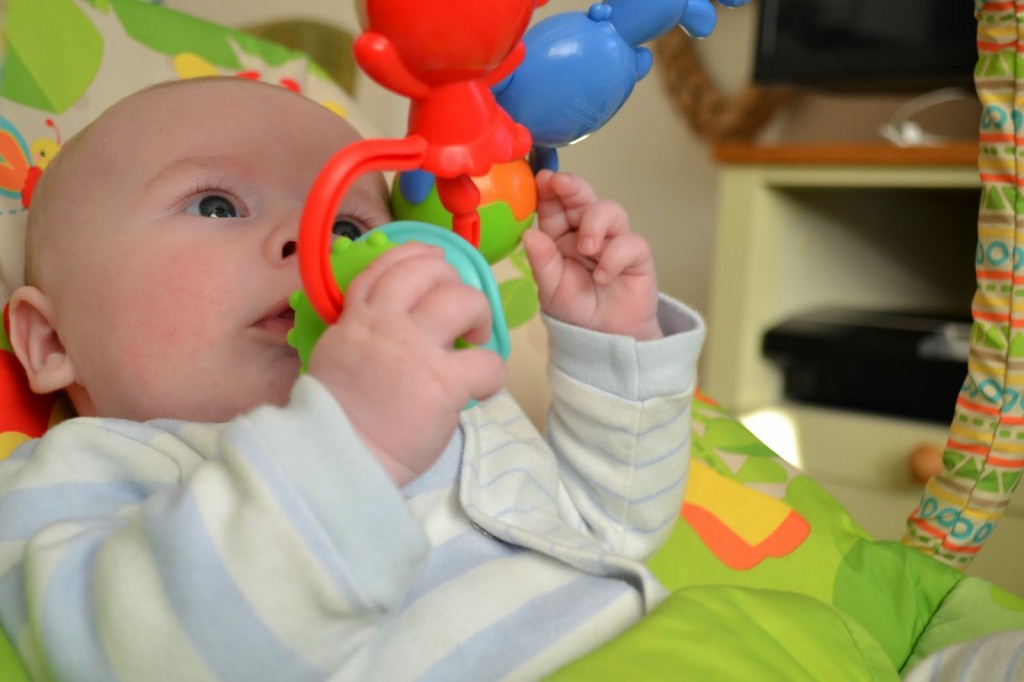 The Little Man likes the toys, he enjoys grabbing them and hitting them, the only thing that concerns me a little is he is able to get his hand behind them and whack them back and hit himself in the face with them. As he gets more power in his hands he's likely to get a shock when the toy hits him in the mouth.
I think the bouncer with the toy bar attached is probably more suitable for a smaller newborn baby. I don't think it will last The Little Man too much more than his current ten weeks. I'd be happy for him to sit in the bouncer, safe and secure and play with other toys, but I don't really think there's enough space between his head and the toy bar.
The button on the front of the bouncer is to turn on the vibration mode. I think some kind of music or noise would have worked better with the bouncer, though it does seem to make the Little Man fall asleep almost instantly, which is when the toy bar can be unclipped and your little person can have a comfortable snooze.
Whilst the bouncer looks good and does do what it needs too it's not really one of my favourite Fisher Price toys. As a safe and comfortable seat its great but as a toy I'm not as keen, those vicious monkeys could quite easily cause a sore face.
What we like
The bright, eye catching colours

Fun and stimulating for baby

It folds up to aid storage

It matches the other products in the Fisher Price Rainforest range

The toy bar can easily be removed when baby is having a nap

Removeable toys which The Little Man seems to like

Fully washable
What we didn't like
The close proximity of the toy bar to babies face

It doesn't come with the batteries it needs

Music or sound would have been a welcome addition to the bouncer
*I was sent the bouncer free of charge to review but all opinions are my own*