We were sent the Red Letter Days voucher for free in return for a review
I was kindly gifted a Red Letter Days Ultimate Moments voucher to feature in my gift guides last Christmas. We fully intended to book a child free overnight stay but with a distinct lack of childcare, we decided to use it on a treat for the whole family during our recent visit to London.
I love Red Letter Days because although someone can buy you a specific experience or voucher, the vouchers are fully flexible so you can choose the experience you actually want. You can use it to pay in full for an experience, put it towards something and pay the rest, use it to pay for something and bank the remainder or even combine a number of vouchers together to pay for something more expensive. Vouchers are valid for 24 months when purchased but can be extended for a fee if you don't manage to use it in that time.
The options available are huge. From afternoon teas to flying experiences, from a speed boat ride to a meercat encounter, there really is something for everyone. The website is easy to navigate and you can search by a range of different things including area or experience type. Once you've chosen the experience you'd like, you then need to redeem your voucher.
After much deliberation we decided to book Science afternoon tea at The Ampersand Hotel. The voucher was for one adult and one child but we had some left over credit from a previous Red Letter Days voucher so we were able to add that to the value of the 'Ultimate Moments' and purchase two vouchers.
Voucher redemption is dependant on the experience you choose. You need to submit your voucher details on the 'use voucher' screen on the Red Letter Days website. Once you have type in the voucher number and pin you it will bring up a huge range of things you can use your voucher on, if you detail none of these tickle you fancy, then you can
The experience we chose said to email the hotel directly to check availability. They then responded quickly and advised me to book using their online booking system and then present a copy of the Red Letter Days voucher when we arrived.
Some experiences like overnight stays may show availability on line or have their own online booking system where you can input the voucher details, others you may need to ring or email to book.
If you don't use the full balance of a voucher, your credit is emailed to you as a seperate voucher so make sure you keep the new details safe.
Located in South Kensington, The Ampersand Hotel is a stones throw from The Natural History Museum and the Science Museum which makes their themed afternoon teas such a great idea.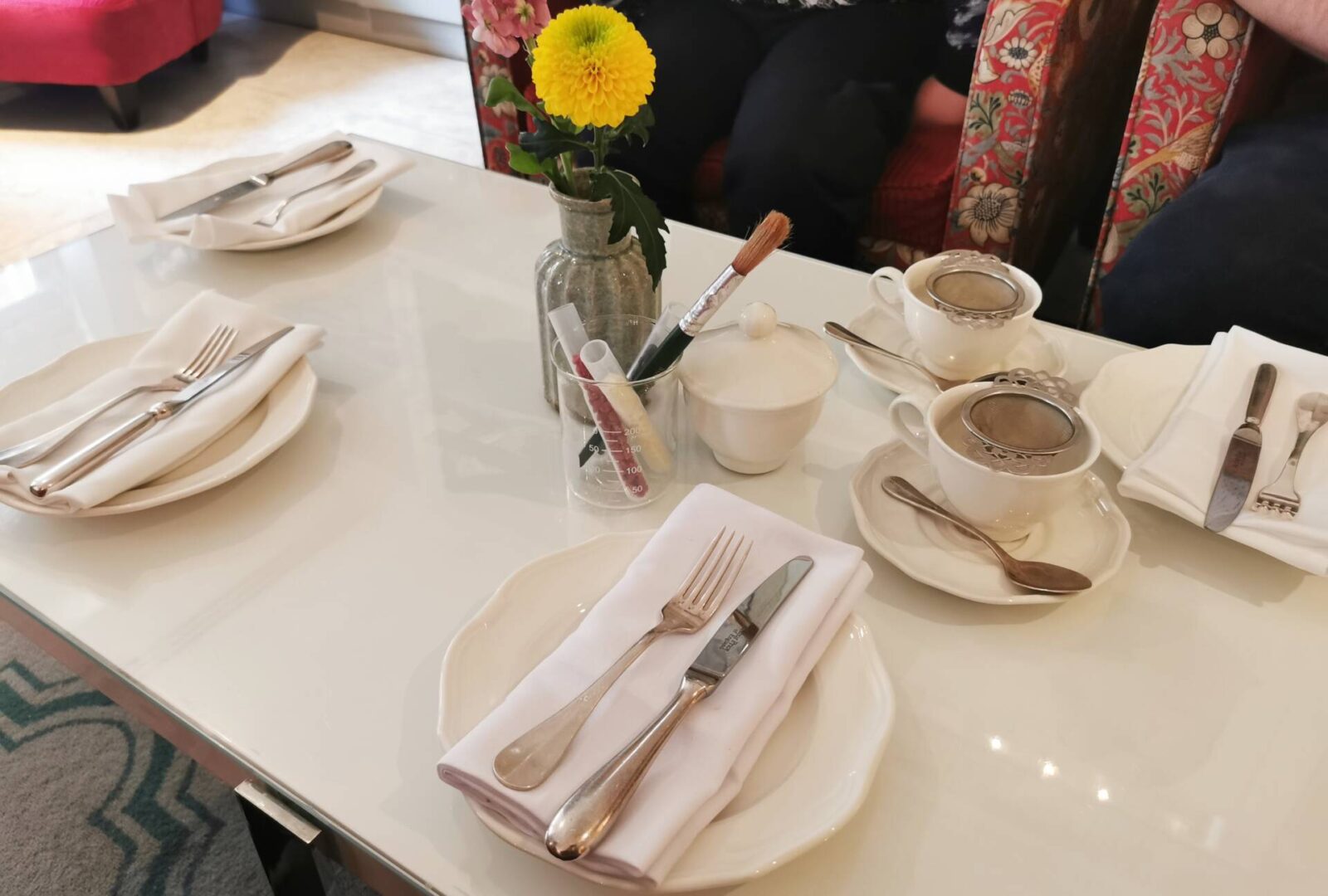 We arrived about 15 minutes before our 18.30 booking time, but were welcomed in and directed to our table. Science and Jurassic afternoon tea is held in the Drawing Room which has a casual feel to it. The room was light and airy with various styles of tables and mis matched chairs. There were two tables of people enjoying afternoon tea like us, a couple of ladies having a glass of champagne and an couple who were having a cuppa and dessert.
There was lots of space in the Drawing Room with plenty of room between the tables which is ideal if you're visiting with children.
The staff quickly told us about the afternoon tea, what to expect and brought out the first part straight away.
The children were brought beakers and test tubes filled with a variety of different coloured liquids and packet of citric acid. A small instruction sheet explained what they needed to do and they loved creating a colourful, fruity fizzy drink, especially my youngest.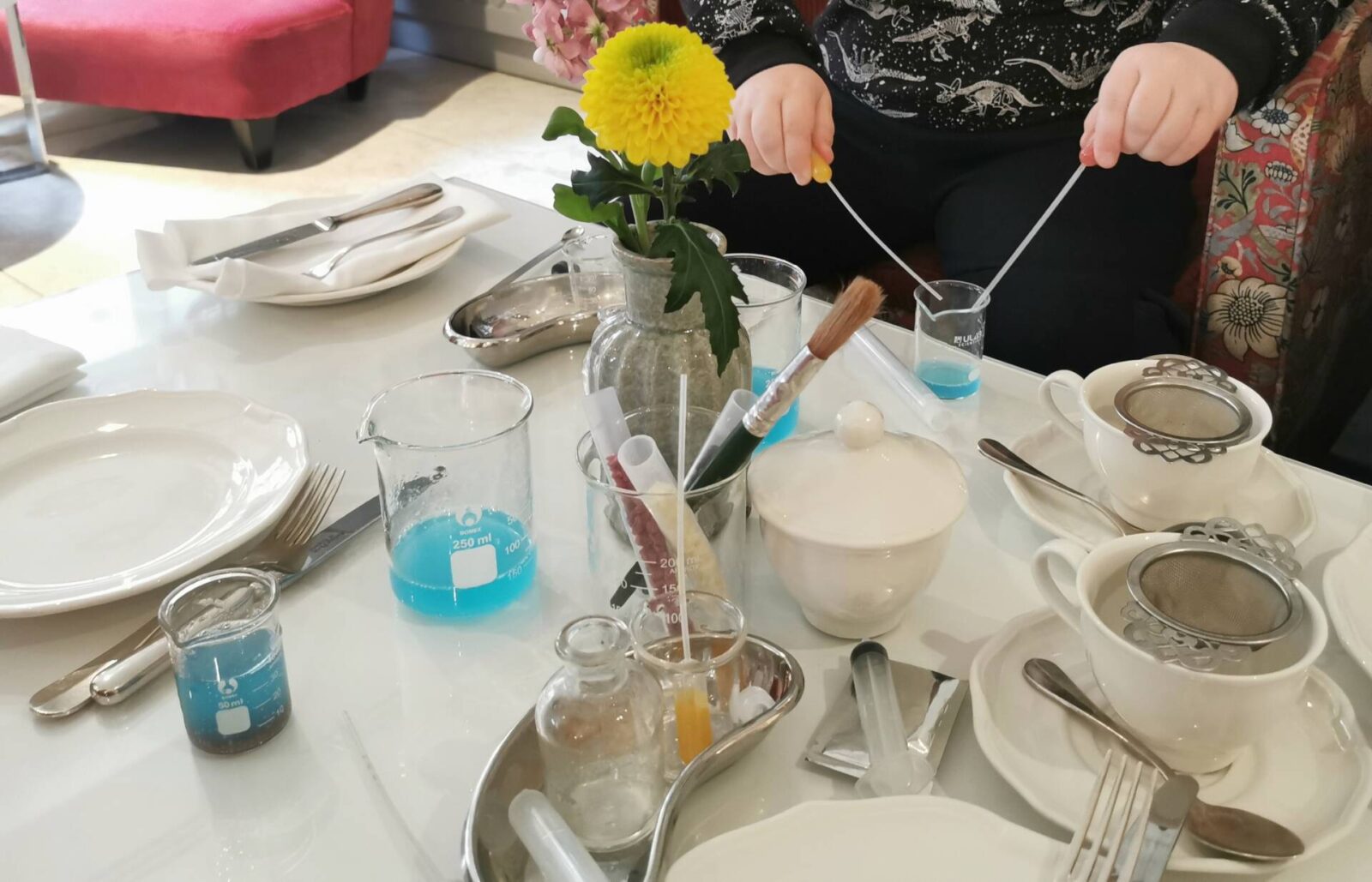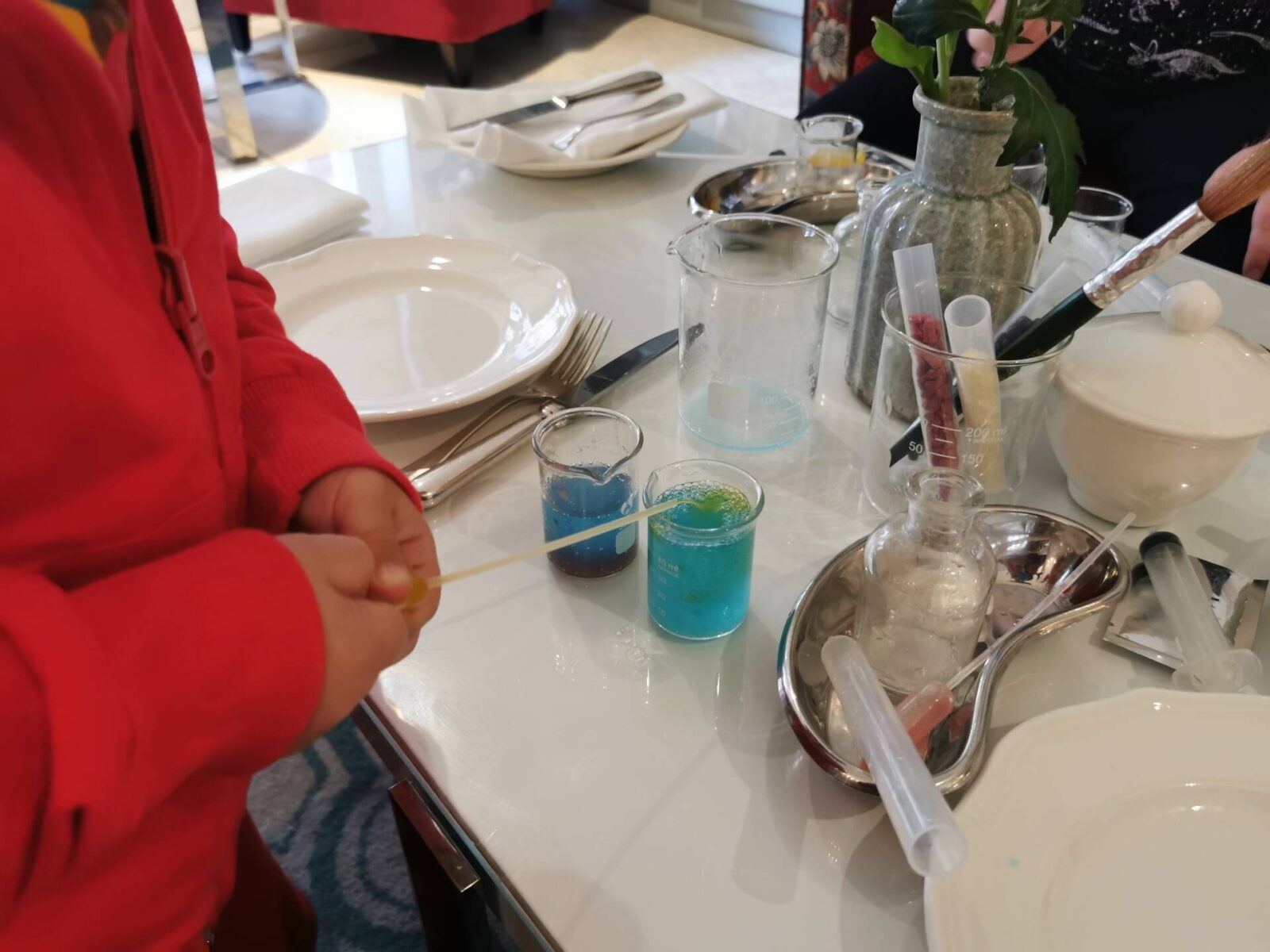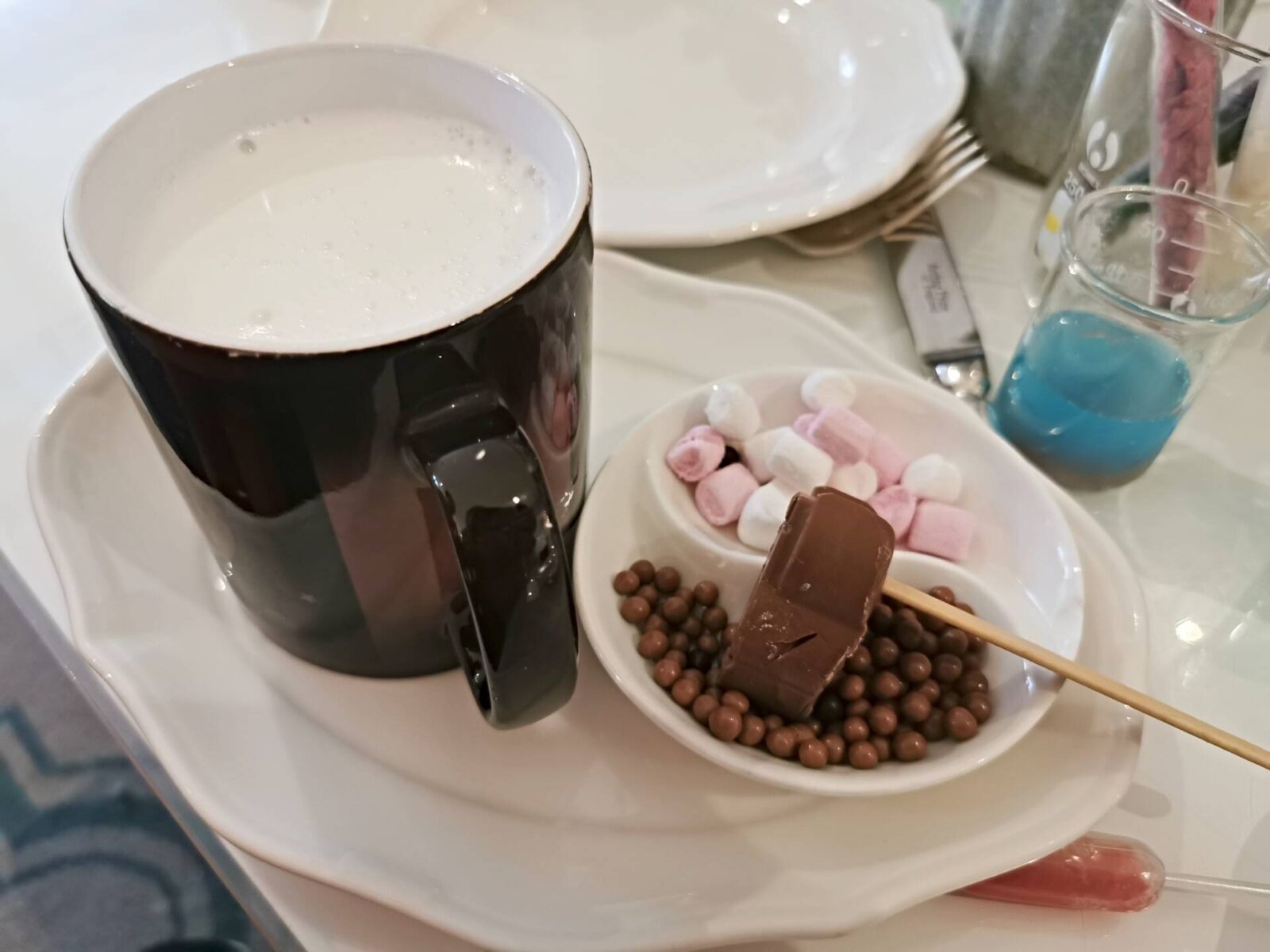 Next up, the children were brought a cup of hot milk and an array of sweet treats to enable them to create their own hot chocolate. Both boys loved the opportunity to be hands on and create their drinks themselves. There was also some freeze dried raspberry, freeze dried pineapple and crunchy chocolate pearls on the table which they added to their chocolate for ultimate sweetness.
They had to swirl the chocolate rocket in the hot milk and then add the chocolate balls and marshmallows make it into a delicious hot chocolate.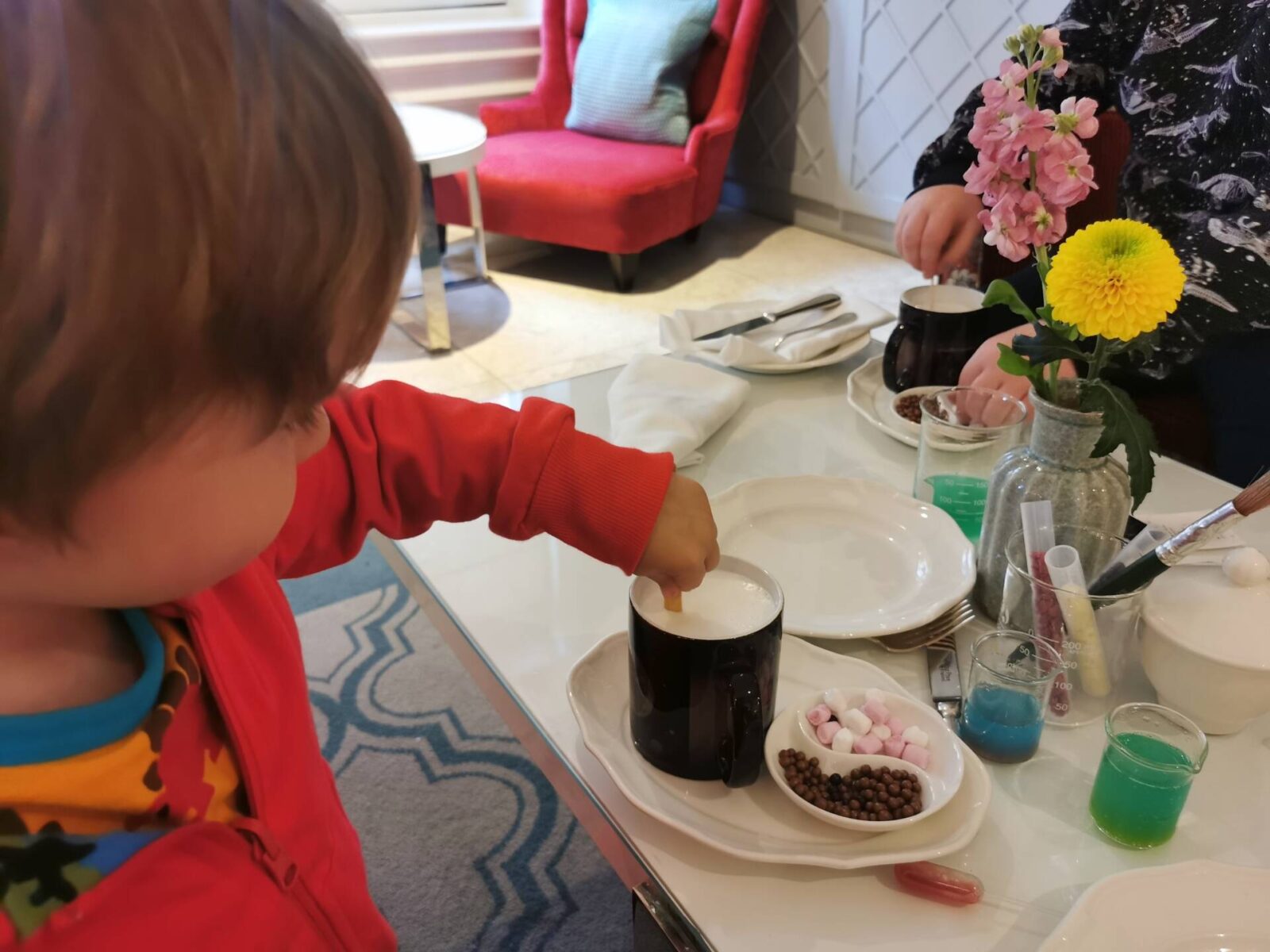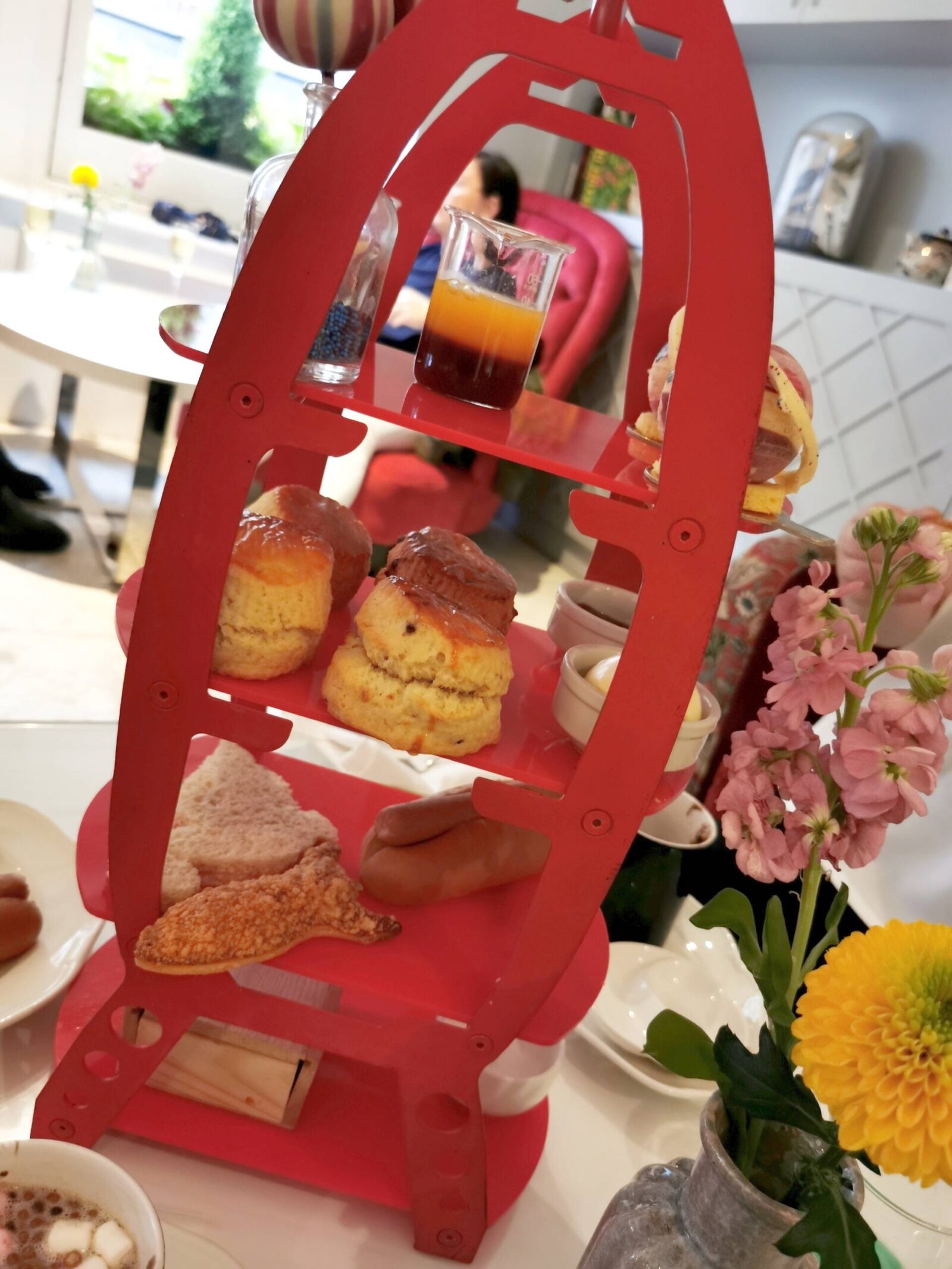 The kids afternoon tea was brought out on rocket shaped cake stands which looked fab. They were well stocked with savoury and sweet items.
The top tier had a chocolate lollipop, Mandarin & cherry jelly in a glass beaker and a chocolate spaceman for each child. The lollipops were very Charlie and the Chocolate Factory-esq. There was also a Dulcey chocolate and blackcurrant planet each and a small box with 'dirt' covering a mini dinosaur biscuit and milk chocolate fossil which they had to excavate out of the chocolate dirt.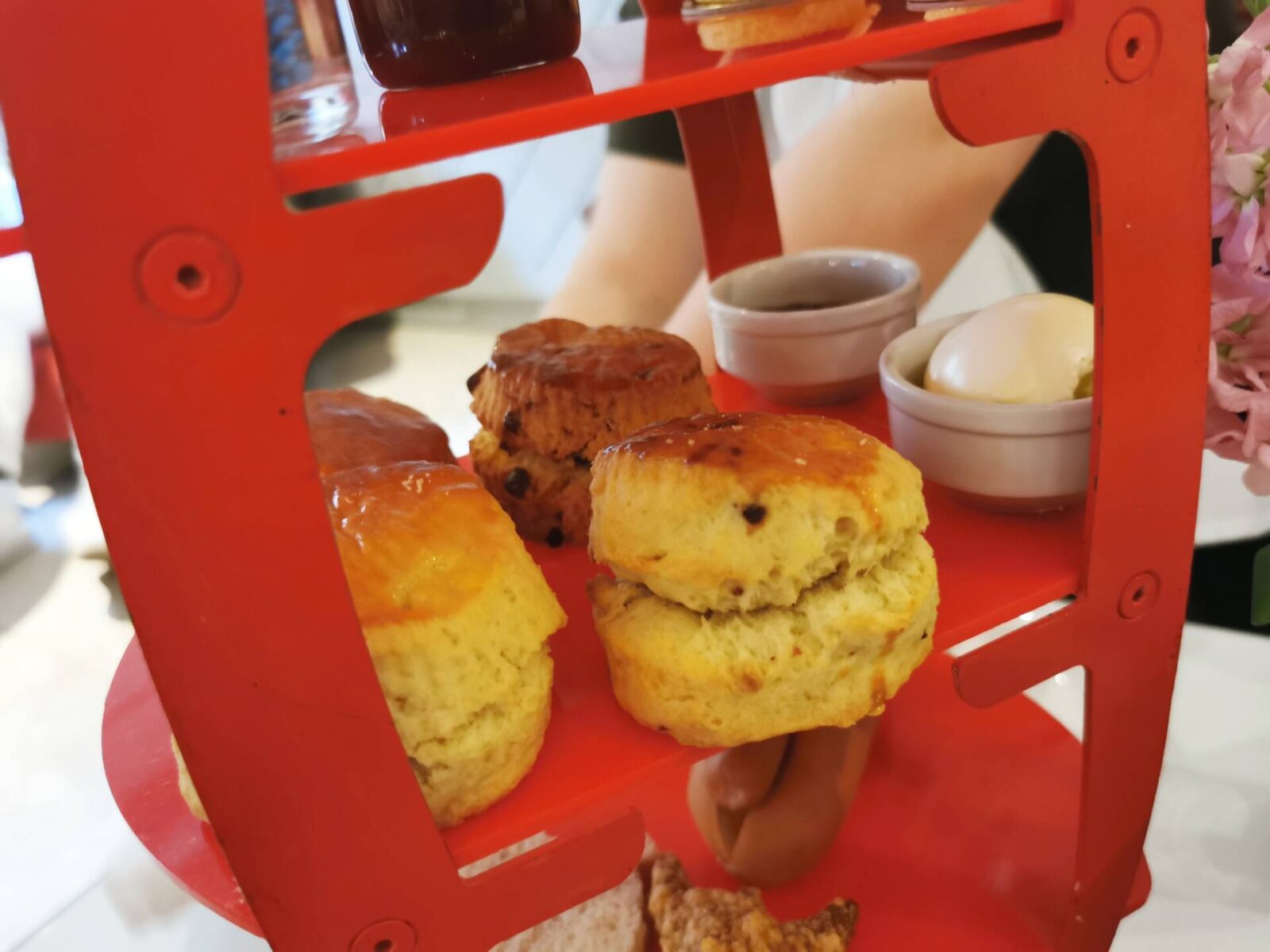 The middle tier had two scones – one white chocolate and cranberry and one plain. I'll be honest, these seemed a little out of place on the stand. They were served with clotted cream, Passion fruit curd and strawberry jam and were tasty enough but the kids weren't very fussed by them.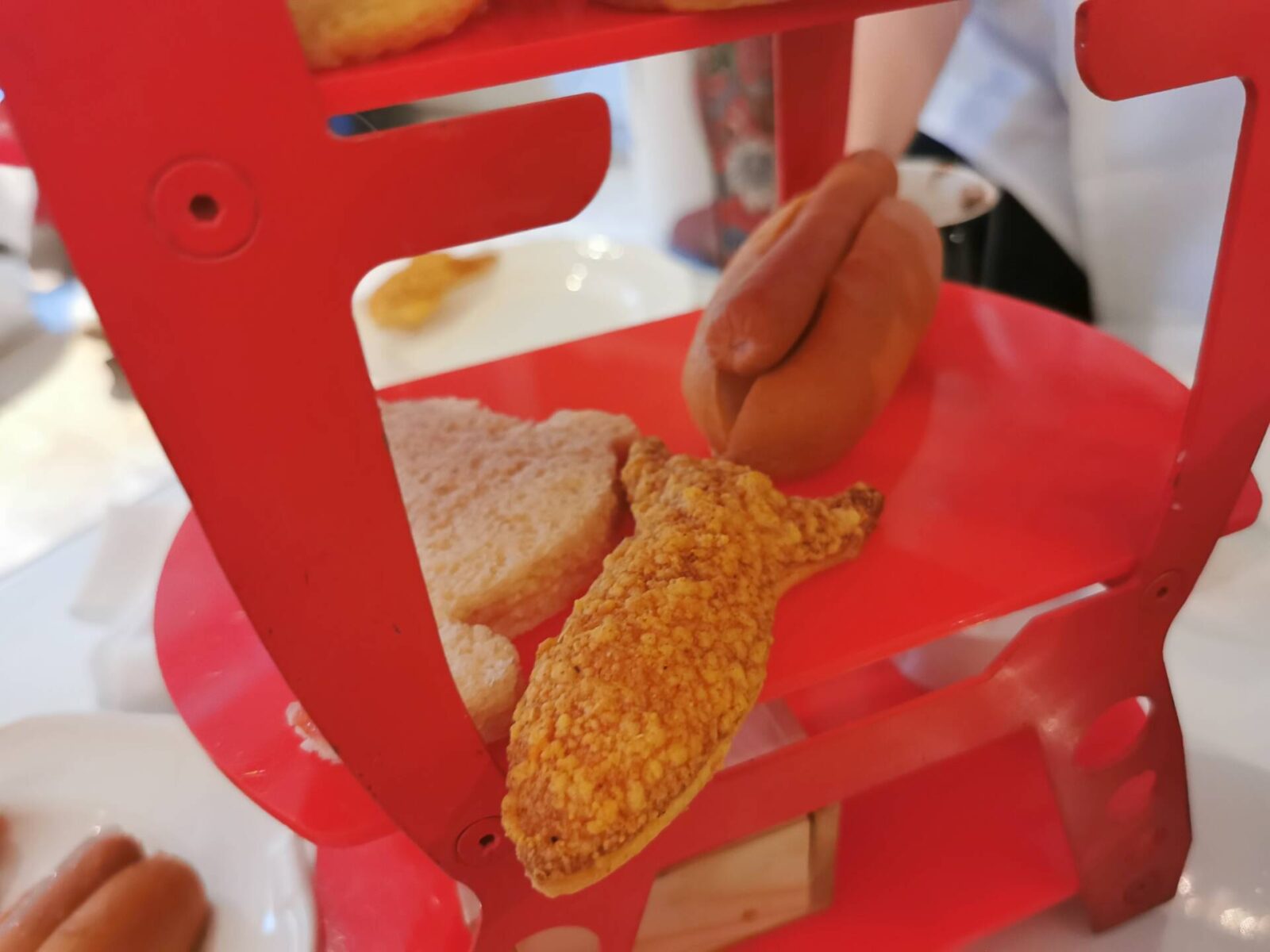 Last but not least was the bottom tier. Consisting of a mini hot dog, a rocket shaped cheese straw and a Dinosaur shaped jam sandwich. I think the kids thought this was the best bit.
The kids weren't offered any drinks other than the hot chocolate at the start of the meal which I thought was a little odd. Adults could mix and match between a range of Jing teas or coffees which were refillable though out the service.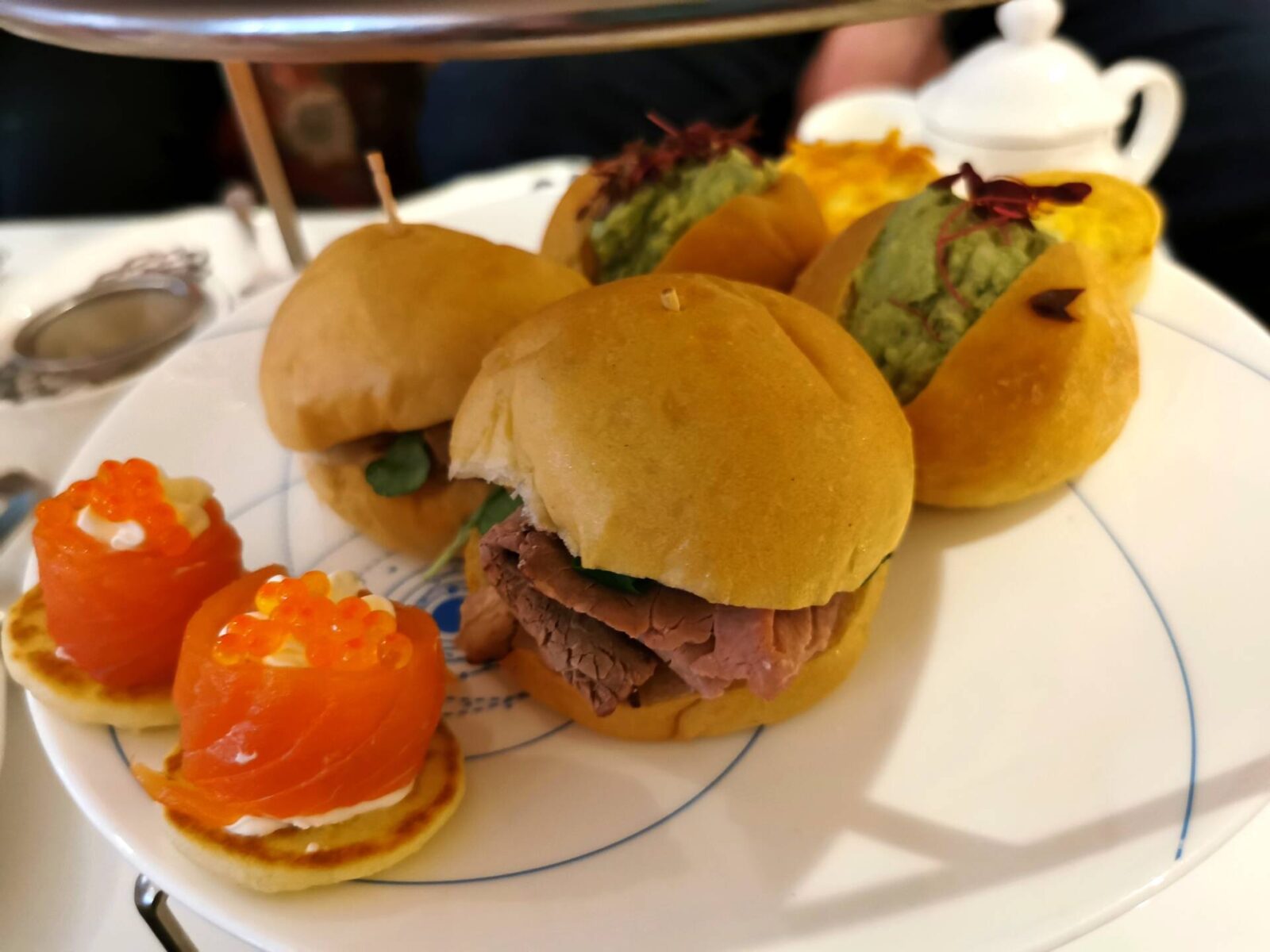 The adults afternoon tea was very tasty too. I think I enjoyed the savoury offerings best.
The sandwiches were small but perfectly formed. There were two miniature brioche buns each, one filled with roast beef, watercress and cornichons and the other filled with Basil and lemon chicken mayonnaise. Both tasted beautiful, I just wish they'd been bigger!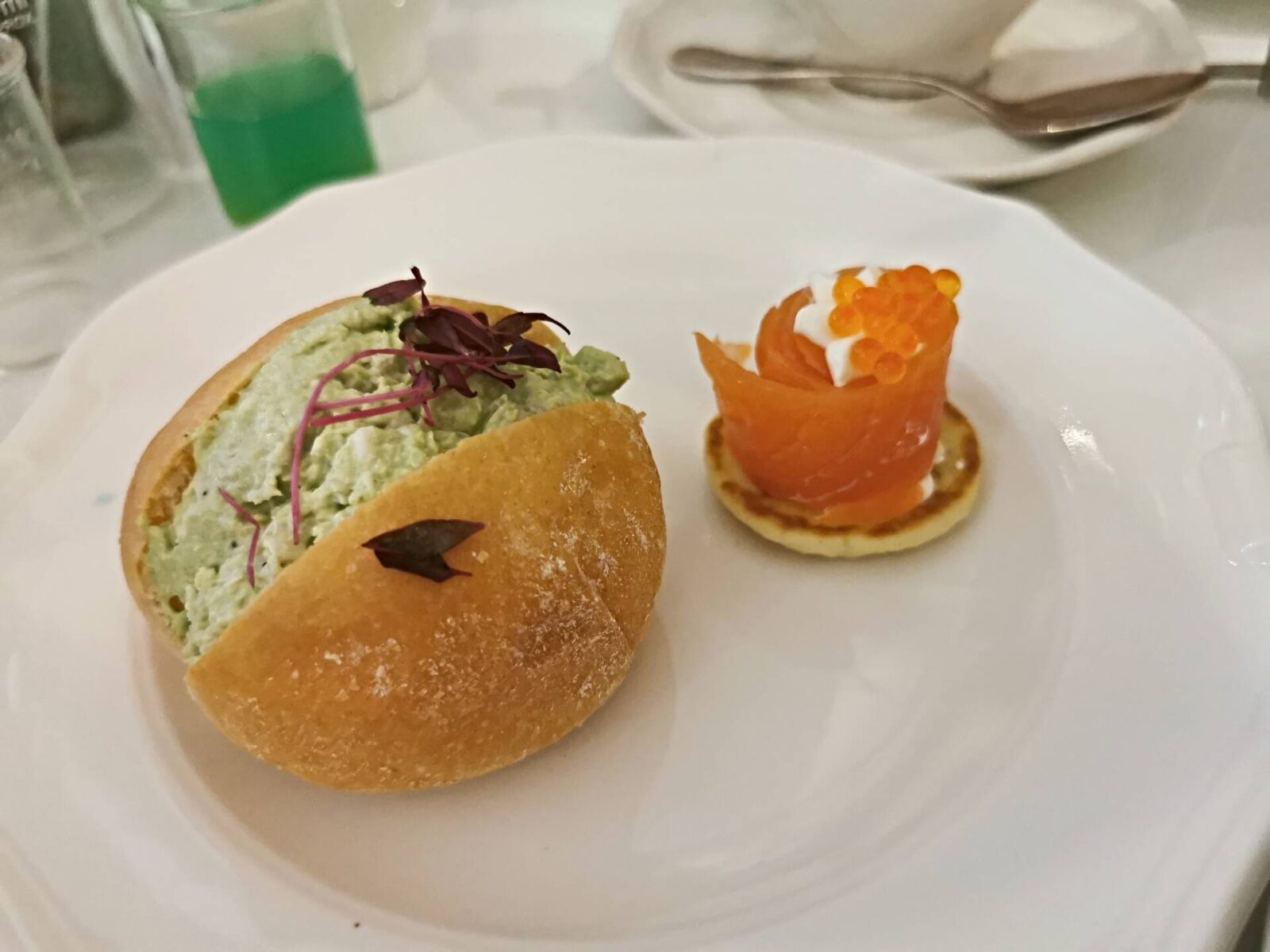 There was also a small Smoked salmon and cream cheese blinis and a mini quiche each. I really enjoyed the smoked salmon, it was a generous chunk on top of the blini.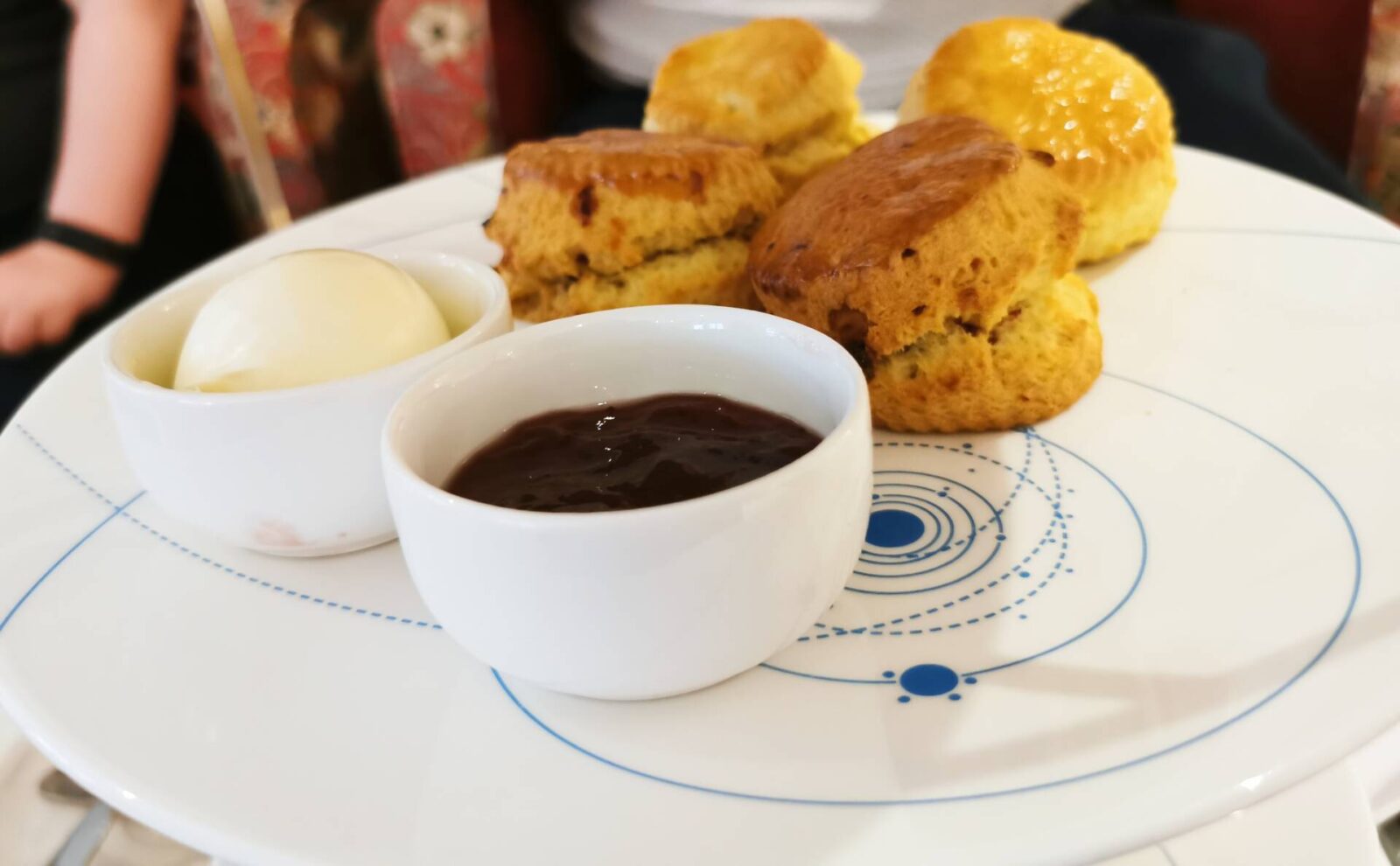 The scones were the same as the kids, they were tasty, fresh and filing. We ended up each taking one away to enjoy in our hotel room later.
The cake tier was similar to the kids in that we got Mandarin and cherry jelly, but this was in a Petri dish rather than a glass beaker. I'll be honest, none of us really liked the jelly, it was a bit too tart for us. We also got a Dulcey chocolate and Blackcurrant planet which I think looked much more impressive than it tasted. Again, it was quite a bitter taste and wasn't really the sweet treat I'd expected. The raspberry, pistachio and almond moon cake with a chocolate rocket wasn't for me, I gave mine away to my husband as I really don't enjoy anything almond flavoured. There was also a baby blue mixed berry and lemon macaron which tasted very fresh.
I think we we were all supposed to get the wooden box with the dinosaur fossil to uncover but we only got the one box and chocolate between the 4 of us. Luckily the kids didn't realise ( neither did we until we looked at reviews later on) so they didn't argue over the chocolate.
We ordered the regular kids and adults regular afternoon tea but the staff were keen to check we had no allergies. They also offer vegetarian, vegan, and gluten-free options if needed.
Science Afternoon Tea at The Ampersand Hotel is served between 12pm and 6.30pm Mon-Fri and 12pm to 7.30pm on Saturday and Sunday Prices start at £49.50 per adult and £35 per child. Click here for more details and to book. Bookings for afternoon tea are for one afternoon tea per person or a cover charge of £15 will be charged per person.
We enjoyed our Science themed afternoon tea but I think the sweet parts were lacking a little. We would have much rather had a sweet piece of brownie or cake instead of all the citrus/tarte flavoured things. Service was friendly and quick but we did feel a little rushed towards the end as staff bought a box out for us to take what we hadn't eaten away, it felt a little like they were trying to hurry us out.
Red Letter Day vouchers can be bought online and emailed the recipient or a physical gift card and presentation box can be sent out in the post. They're a great gift idea, especially if you're buying for someone indecisive or difficult to buy for.