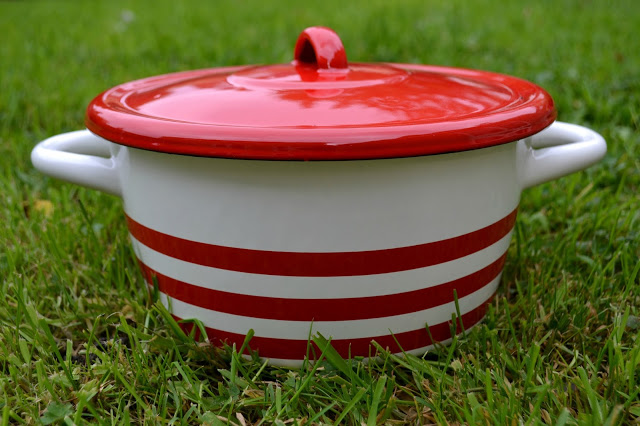 When I was younger I remember my Nana baking for hours. She'd create a table full of goodies for the whole family while I 'helped'. I used to love stirring, whisking and force feeding my Grandad my wonderful creations. My favourites were jam tarts, God knows how many times I'd dropped the mixture but my poor Grandad always ate them and pretended they were the most amazing things he'd ever tasted.
While I'm feeling nostalgic about my childhood kitchen escapades I'll introduce the beautiful Vintage kitchenware Collection from Prestige. Inspired by tradition, the collection is a combination of classic colours and retro designs. With materials such as enamel coated steel and ceramic, the products are inspired by our heritage and history.
I was kindly sent the 21cm Casserole Dish from the new range to try out in my own kitchen. The dish is available in both blue and red striped and looks like something straight from the 1950's. I opted for the red to match my hideously modern red kitchen and I love it.
I absolutely love the simple, clean design. It's made from enamel coated steel which is extremely lightweight. It's also scratch resistant and very easy to clean.
The dish is the perfect size for Autumn stews, hearty casseroles or filling pasta bakes. In fact it's perfect for just about anything. It's freezer safe and is happy in an oven up to 240 degrees, you can even wash it in the dishwasher.
With the colder weather making an appearance I've been using the dish to cook hearty, belly filling meals. I literally throw in my ingredients and bung it in the oven. The surface of the dish is non-porous which keeps is completely stain free, honestly! Even after this tomato based pasta bake the dish was bright white after washing.
Each dish comes with a 12 month quality assurance guarantee from Prestige so they're obviously confident in their products. At £29.99, I think the casserole dish is well priced and ideal for enhancing your kitchenware collection.
*I was sent the dish for review purposes. Opinions are my own*