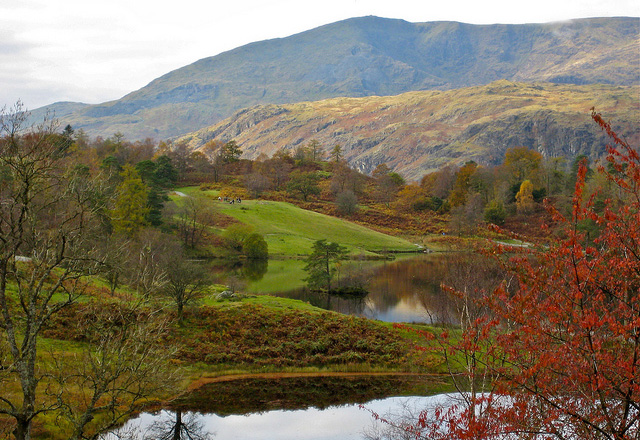 Today I'm sharing a lovely post from Sally who has written some fabulous ideas about things to do in the Lake District. We absolutely love the Lakes and go regularly, it was like my second home when I was growing up. So, over to Sally for some wonderful ideas for things to do.
Hi I'm Sally from LifeLoving and Cat has kindly offered me to share my trip to the Lake District with you on her wonderful blog. I write at LifeLoving.co.uk covering a range of topics, but mainly blogging about travel, days out and food.
I'm a firm believer that you only get one life, so you should be making the most of it. Whether that's travelling, cooking, delving into new experiences, spending quality time with friends and family or just doing whatever it is you love. I live by the motto 'ketchup tomorrow, relish today'.
You can find me on Facebook and Twitter or follow my adventures through photos on my Instagram. Thanks for stopping by and thank to Cat for hosting me.
There's so much to see and do in the Lake District, you could stay there for weeks and not see all that this wonderful area has to offer. It's a nature lover's paradise. So if you are armed with your walking shoes and your waterproof jacket you are ready to explore the region that holds so much natural beauty. We visited in March and here's some of the highlights.
Tarn Hows and Coniston Water
Tarn Hows is one of the more rewarding beauty spots in the Lake District. It's an area with a charming one and a half mile walk around it, so its particular suitable for those with very young children or in a wheelchair. But for those looking for a longer adventure, you can walk or cycle from nearby Coniston Water. Coniston Water is the third largest of the lakes in the district. It's also the setting of one of my favourite childhood stories, Swallows and Amazons. Between March and November, a Victorian Steam Yacht Gondola offers visitors a chance to take in the amazing views whilst reclining on an opulent, renovated classic. From Coniston Water, you can hire boats, electric bikes and conventional bikes, so you can get out and about and see the scenery for yourself.
Kendal
Kendal is a town most famous for its Mint Cake. For those of you that don't know, Kendal Mint Cake isn't a cake at all. It's a high energy glucose-based sweet which is popular with walkers and climbers. Kendal is located about 8 miles away from the very famous Lake Windermere and is really picturesque. The town has lovely little independent shops and the river Kent runs right through the heart of it. It's perfect for a stroll down the river. We went when Kendal was hosting its annual food festival. The festival was really well organised and not only did it have an impressive array of food stalls offering almost anything you'd want to buy, but it had lots of workshops and talks running throughout the weekend. Covering everything from fruit and veg to the local brews. Next year's festival runs over the weekend of the 12th and 13th March, so if you are looking to take a break to the Lake District in March, perhaps plan so you can be in Kendal one of those days.
Windermere
There's an awful lot to do at Lake Windermere. You'd needn't be bored here. Of course you can enjoy the views of England's largest lakes and explore the surrounding areas, but there's much more here too. There's an aquarium, a scenic railway and of course the famous World of Beatrix Potter.
The flagship store of Lakeland is located next to Windermere train station. For more outdoorsy activities, there's boating, abseiling, climbing, balloon flights, horse-riding, cycling and more…. I'm getting tired thinking about it all. It should definitely be up there on your list of places to spend a day or two.
Whitewater Hotel Spa Day
The weather in the Lake District can be a bit hit and miss, so we booked a spa day for one of the days we believed to be one of the worse days, weather-wise. We booked in for full use of the facilities, an hour long treatment and an afternoon tea at the Whitewater Hotel in Lakeland Village, Backbarrow. The facilities at the spa are really good, including an outdoor Jacuzzi which overlooks the river Kent. The treatments we had were so well executed and were really relaxing. I had an hour long facial and my other half had a hot stone massage. We really enjoyed them. After our spa day, we had our afternoon tea in the Dolly Blue bar. The bar is named this as the hotel used to be a factory that manufactured the Dolly Blue pigment, which was used to brighten whites. The afternoon tea was wonderful. We sat on a table for two, overlooking the river and the sandwiches and cakes were delicious.
Ulverston
The market town of Ulverston is most famous for being the birth place of Stan Laurel and the town houses a Laurel and Hardy museum. It's also known as being a festival town, playing host to over 25 different festivals per year, so perhaps if you are planning a visit, check out their festival calendar. They also have a weekly market (on a Thursday) as well as number of small independent shops and local eateries. We chose a very rainy day to visit and spent most of our time dashing in and out of places avoiding being completely soaked through. We did stop at a place called The Mill for lunch. The food was lovely. Home cooked, warming dishes, which was what we needed as we were pretty soggy and the service was impeccable. The Mill houses the remains of a former working mill, which is the centre-piece to the restaurant. Definitely worth a visit. Also, if you are visiting on a slightly less rainy day than we did, there's a pleasant two and a half mile long walk alongside the canal.
There are plenty of places to visit in the Lake District. What would you add to the list above?