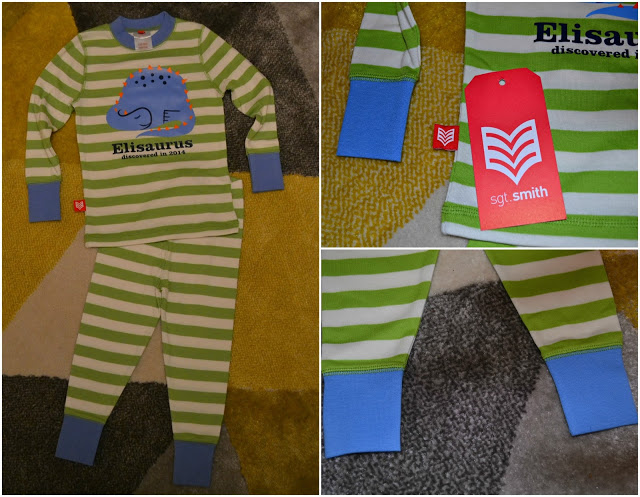 I love personalised clothes for the little man and Hubby loves dinosaurs so we knew these beautiful Stegosaurus pyjamas from the Natural History Museum shop would be perfect for the little man.
Made from 100% cotton the pyjamas are soft and are available in sizes 18 months to 8 years. Theycan be customised with both the name, year of birth and a dinosaur name.They can be bought in green stripes like the ones above or a red striped design.
The pyjamas are really nice. They're soft, cosy and have enough stretch to be comfortable for my wriggly little monster during the night.
I love the 'Elisaurus' personalisation on the front. It's sweet and ideal for the little mans age range. The pyjamas cost £26 from the NHM website and there is no extra charge for personalisation.
I really like the pyjamas, the quality is great and they wash really well. They hold their shape and there's been no bobbling despite being worn very regularly. They'd make a great gift for a child but I can tell hubby would really like an adult pair too!
The NHM Shop has a fab range of products and gifts, including a great selection of dinosaur goodies. It's definitely worth a browse.
*Sample product sent for review*