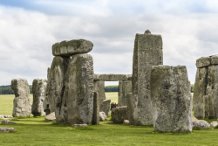 There are many reasons why people choose to holiday in Britain, whether they live here already or are coming over from abroad. One of those reasons, aside from our fabulous weather and fine cuisine, is that Britain has a wealth of historical locations, making it great for sightseers and culture vultures.
Here are just a few of the top historical tourist destinations in the UK
London
Let's start with the obvious one. London is packed to the rafters with historical locations (they'd make several blog posts on their own), so you'll never be short of somewhere to visit that has some historical relevancy. St Paul's Cathedral, Westminster Abbey and the Houses of Parliament are three of the most popular but there are countless others, such as Highgate Cemetery, the Cabinet War Rooms and Banqueting House. Check out Trip Advisor for lots more.
York
York is one of the most popular tourist destinations in the north of England and that's largely down to its history. It was a popular site during Viking, Norman and Roman periods and is therefore rich in culture. The Shambles is allegedly one of the most visited streets in Europe, whilst the Jorvik Viking Centre has some amazing historical artefacts. This page on UKBreakaways lists loads more places to visit in York.
Windsor Castle
The oldest occupied castle in the world and the official home of the Queen, Windsor Castle is a must-visit for history buffs and fans of the royal family. It has huge historical significance and still looks amazing making it well worth a visit. Check out their website for more info.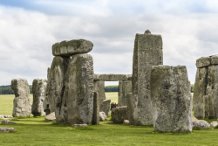 Stonehenge
Stonehenge is without a doubt one of the most recognisable landmarks in the country, if not the world. We still don't really know the origins of the site but there's definitely something special about it. It's a UNESCO World Heritage site so is definitely one to visit if you want somewhere with lots of history behind it.
Edinburgh
Edinburgh is a beautiful city and full of amazing historical sites, a lot of which are castles, abbeys and palaces, so there are plenty of amazing buildings and pieces of architecture to see. Edinburgh Castle is probably the best place to start but just wandering around the city you'll find a number of wonderful buildings, streets and sites to see.
Hampton Court Palace
This is a great place to go as a family and isn't too far out of London. For adults you have the historical palace with lots of amazing rooms and interiors to see, whilst for the kids you have the
world-famous maze for them to get lost in, as well as actors in full period clothing around the palace to make history fun for them.
Bath
Bath is another relatively under-appreciated gem in England and has some lovely Roman architecture. The Roman baths in particular are of course a highlight and are well worth a trip round, whilst the Royal Crescent and Bath Abbey are also wonderful.