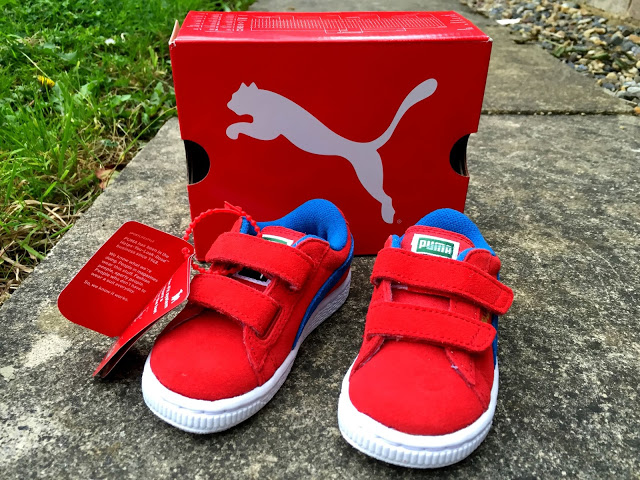 If you follow me on Instagram you might have realised I like the little man to look smart. I'm always on the look out for good quality, trendy clothes and accessories that won't break the bank. I like to save money where I can but don't like to scrimp on quality or brand names.
I was recently introduced to GettheLabel, an online treasure trove of designer products for the whole family with savings of up to 75% off the retail price. I was asked if the little man would like to review something from their children's range, so after much deliberation and page clicking on their website I picked out a pair of bright red Puma classic trainers.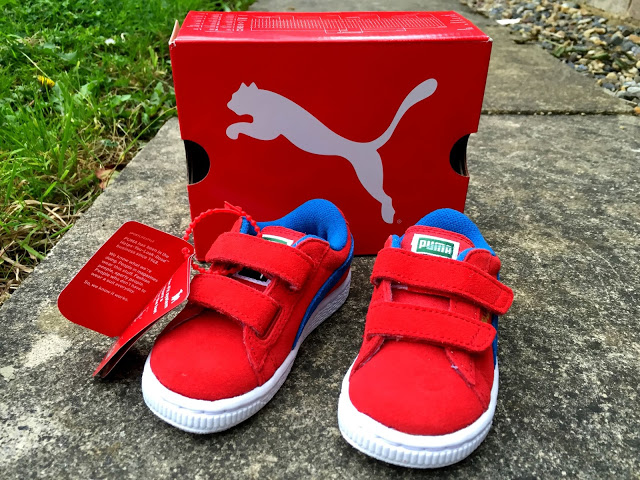 Once I'd placed my order, delivery was quick and efficient and free from any issues. The shoes arrived boxed and wrapped in protective packaging to ensure there was no damage.
The trainers cost £19.99 which saves you £10 on their normal retail price. £10 is a fantastic saving, especially on kids shoes.
I love the vivid red of the trainers and their handy Velcro fastening means the little man is able to open and close them himself without assistance from Mammy.
They seem comfortable once their on the little mans feet, and have a thick and spongy inner liner to help cushion the foot more. The thick rubber sole means the foot is protected and the shoes are less likely to scuff, which is ideal when you have a rather adventurous toddler.
Because they're suede they have a beautiful retro look to them and I think Daddy is a little jealous because he'd like some for himself.
GetTheLabel have a great range of products suitable for the whole family, with ranges including, Back to School and Baby and Toddler. The savings are great and are up to as much as 75% which is perfect for families on a budget like ours.*
*We were sent the shoes for review purposes. Opinions are my own