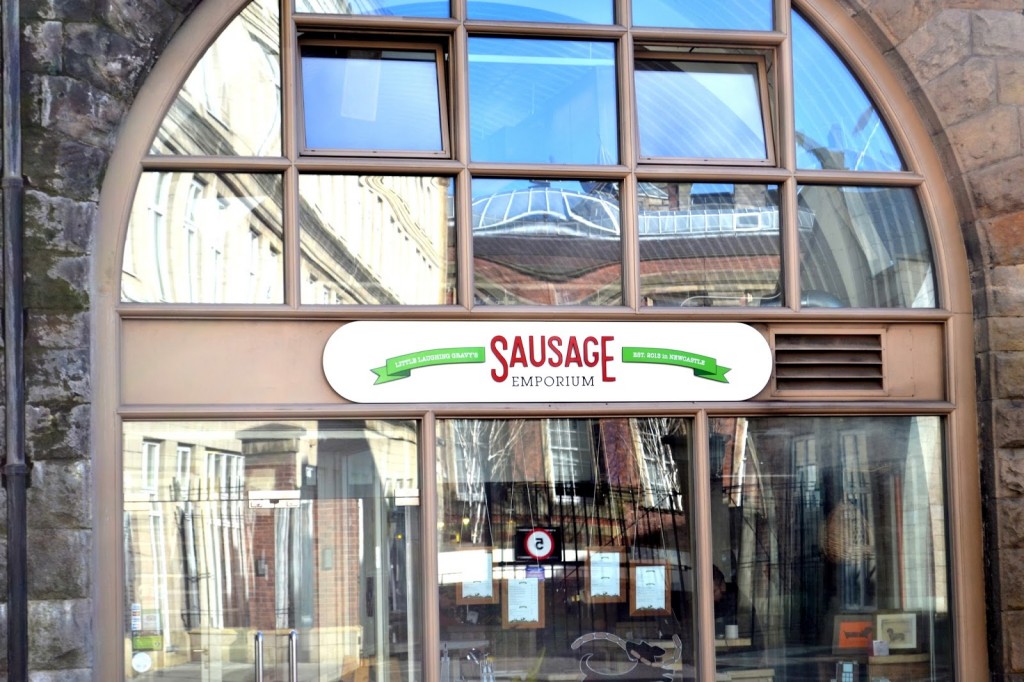 I was recently asked if I'd like to contribute to the Guide to Newcastle and write about one of my favourite places to visit in Newcastle.
As sausage is pretty high up on my favourite foods list, I thought I'd write about The Sausage Emporium, casual and inviting restaurant with friendly staff located 5 minutes walk from Newcastle Central Station. The restaurant is nestled under one of the old railway arches, and is easy to find with it's name emblazoned across the front.
The name's a bit of a giveaway really and not surprisingly, their menu is mainly sausage related, but don't expect your standard bangers a mash here, The Sausage Emporiums menu contains a fantastic range of obscure and unique sausage flavours available in an assortment of delicious meals.
The sausages that The Sausage Emporium serve are all handmade on site with the recipes being passed down from the owners father who was a butcher for many years. You can even purchase the delicious sausages to wrap up and take home to cook yourself.
Dining is quite informal with various wooden benches and mismatched tables, chairs and benches. The restaurant is deceptively large, with seating both up and downstairs.
If you're dining downstairs you have the added advantage of being able to watch the chef's cook your food in the open plan kitchen.
After we were seated by the friendly waitress and given menu's to look at. The choices all sounded delicious and choosing was really difficult. We decided against starters, heading straight for a main course.
I chose the appropriately named 'Geordie Supper', delightful combination of ham sausage and thick slices of gammon layered on top of pan haggarty, served with pease pudding and a delicious fruity brown sauce. The dish is a new addition to the Sausage Emporium, with it only being added to the menu the week before we visited.
The portion size was much more generous than I'd expected and the sausages were huge! My meal was absolutely delicious, I'd never had ham sausages before but they were so tasty and much more juicy and succulent than any sausage I've tasted before. I polished off just about everything but I'll admit I was very full. At only £10.95 it's a complete bargain.
Hubby went for the black pudding sausage with a side of smokey baked beans which I managed to miss completely on the picture! His dish looked as equally as impressive as mine. His black pudding sausage arrived in company with tomato, eggy bread, homemade brown sauce and the smoky baked beans in their own little jar. Again, the portion was large and filling, he seemed happy!
Despite my best intentions, I didn't think I could fit in a dessert, my main course had been so filling, I opted for a coffee while hubby perused the desserts on offer.
After much deliberation, he finally opted for the apple and pear tart tartin, a fruit and gluten free pastry combination served with rich and creamy vanilla ice cream.
I'm not usually a fan of fruity desserts, I usually go for chocolate cake or similar but I had a taste/ate half of this and it was delicious. It was sweet without being sickly and the vanilla ice cream was the perfect extra. Again, the portion size was huge, definitely enough to share between two.
I couldn't fault the food or service. Everyone we dealt with was super friendly and keen to help. Not only is the restaurant child friendly, with plenty of space for pushchair parking, it's also dog friendly! The Sausage Emporium has it's own resident canine Hannah, who usually wanders between the tables, greeting the guests, sadly she was at the vets when we visited, but we'll be keeping an eye out next time we're there.
The Sausages Emporium are in the process of updating their menu and are bringing in a whole host of new things, including moire gluten free dishes.
If you're looking for somewhere purse, animal or child friendly I would definitely recommend a visit to The Sausage Emporium. I'm already looking forward to our next visit,
This post is in collaboration with the Newcastle Millennium & Copthorne hotel who paid for my meal at The Sausage Emporium. Opinions are my own.