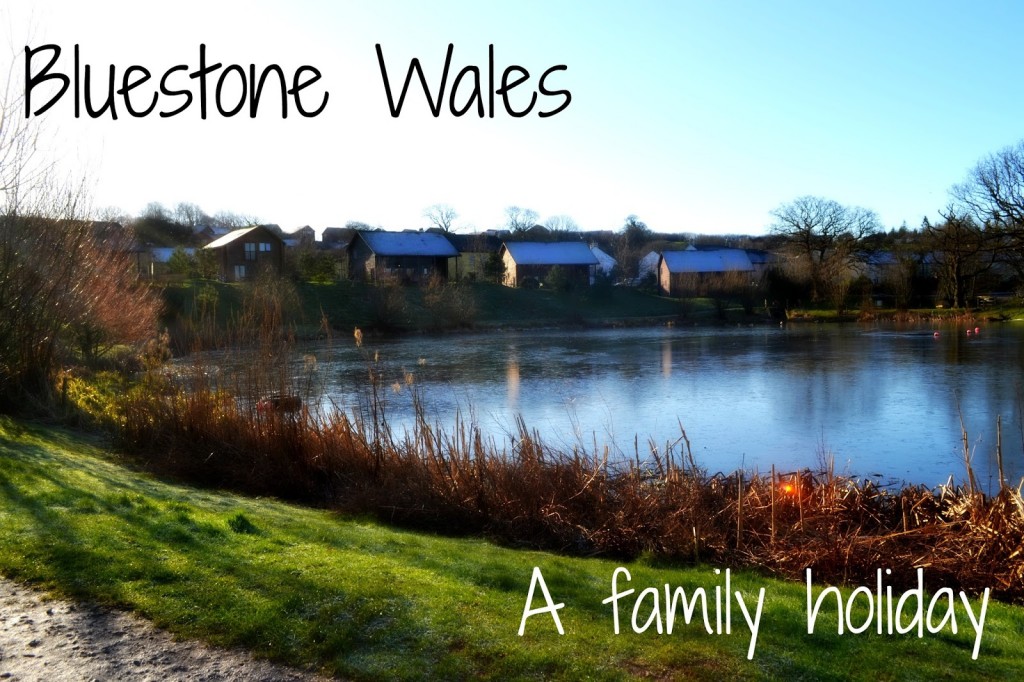 We recently lucky enough to visit Bluestone in Wales for a family trip. We were invited to stay Monday to Friday in one of their beautiful Dinas Lodges.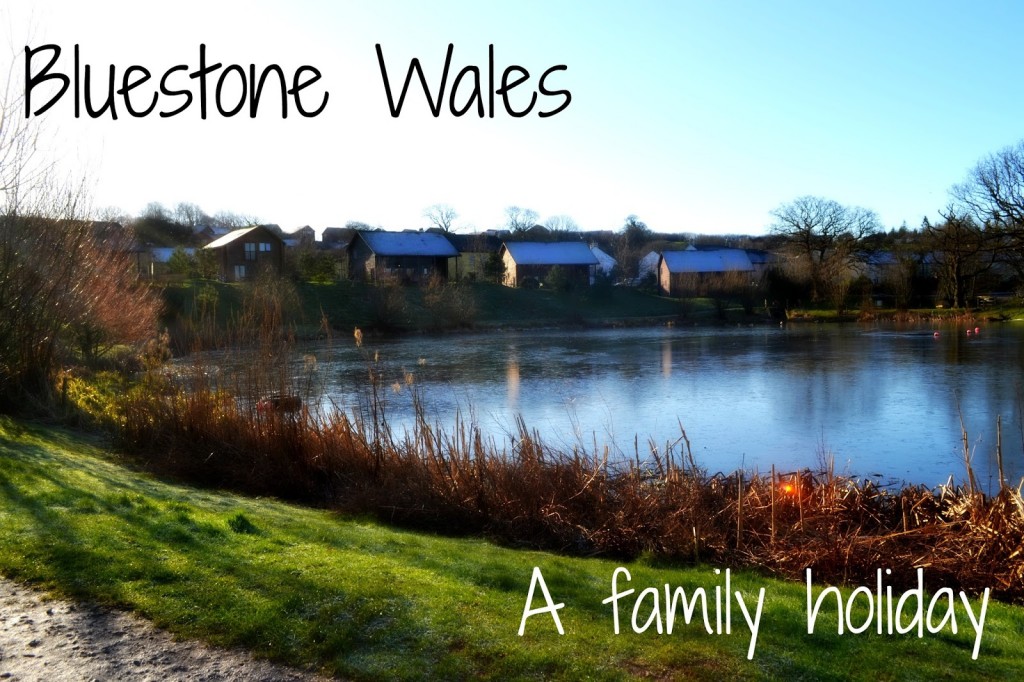 After a mammoth 9 hour journey we arrived at Narbeth, a small market town in South Wales and home to Bluestone. Bluestone opened in 2008 and is private village complex set in the beautiful Pembrokeshire National Park. It houses over 300 luxury lodges, studio apartments and cottages all varying in size and design. Bluestone is very environmentally focused – with the Blue Lagoon water park being one of the only biomass heated swimming pools in the world
Once your Bluestone booking is made it can be updated and added too online. The process is quite simple but searching for the actual activities is quite hard work. It took me ages to find the PDF list on the site with everything listed,. You can made additions such as early check in, extra cots and high chairs and even a maid service for your lodge.
Check in and our accommodation
Entry is straight forward, with check in via a manned window, you don't even have to open your car door. Although it was quite late when we arrived, staff were still polite and friendly and gave us a map and welcome pack with directions to our lodge. It was wet and dark when we arrived, so it was a little difficult to determine where we were supposed to go.
We eventually found our Dinas Lodge on Preseli View, it's one of the last on the park before the exit and long stay car park. We followed the road round, through the village up to our lodge. You can leave your car outside your lodge until you've unpacked, but the park needs to be clear of cars by midnight on arrival day as the park is car free.
Our lodge was a single story affair with four good sized bedrooms – two doubles and two twins. It had two – one with a shower cubicle and the other with a shower over the bath.It's perfect for a large family or a group of friends sharing accommodation.

The plan living and dining area has two sets of patio doors that open out onto a paved and grassy area with a wooden picnic table perfect for outside dining in the warmer summer months. We also had the beautiful view above from the patio doors of our lodge.
Our huge Dinas Lodge
The accommodation is great. The floor space was absolutely huge and because it was all on one level it was ideal for our toddling little monster. He walked the length and width of the lodge with his walker … constantly.
The lodge is well equipped for a large group of people. The large dining room table was perfect for dining in on an evening and I was grateful to find a high chair and travel cot ready and waiting for us. The lodge had a dishwasher, fridge, microwave and cooker, luckily all were simple to use, but there were no instructions left anywhere in the lodge.
We had issues with both the heating and and the cooker while we were there but with a quick call to reception our issues were quickly sorted with minimal fuss. A huge plus point for me was the super quick Wifi available in each lodge. It was quicker than we have at home, and really easy to access. I also loved the shower. It was one of the best power showers I've ever used and showering at home just doesn't feel the same now!
I was quite surprised to find no easy access laundry facilities, there was no washing machine in the lodge and no laundrette on site. If you are desperate though, Bluestone do offer a dry cleaning service with a 48 hour turn around which can be arranged via reception.
The lodge was very clean and looked new and modern, then only fault I could find with our lodge is the cushions on the main sofa in the living area was quite worn with peeling leather. It did let down the rest of lodge, which was immaculate with simple but stylish decor in quite neutral colours.
The location of our lodge was really good it was closer to the Adventure Centre and the Blue Lagoon than the village, but as we spent the majority of our time swimming or playing, with were situated in the perfect spot.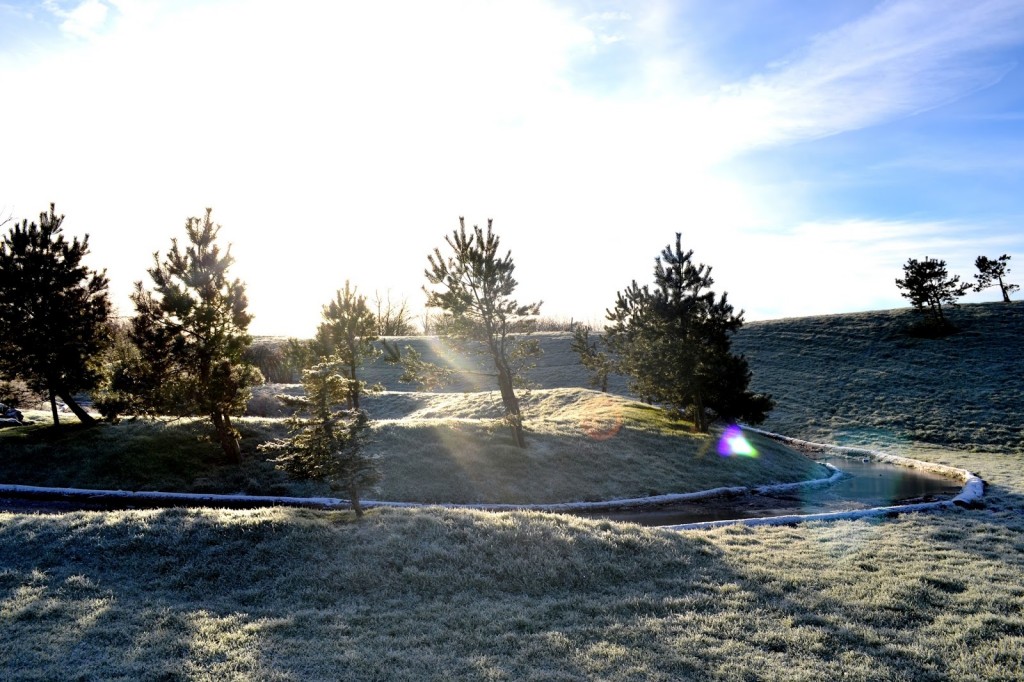 We'd intended on hiring a golf buggy while we were at Bluestone but once we realised everywhere was easily walkable, we didn't bother. The fresh air and extra exercise didn't do us any harm! You can book a golf buggy for the duration of your stay before you arrive by simply adding to your online
booking. There is also a land train that travels around the site but we didn't see it at all while we were there, so presumably it's not on all of the time.
Amenities
We ventured down to the village a couple of times to explore. The small row of shops looks rather sweet and quaint.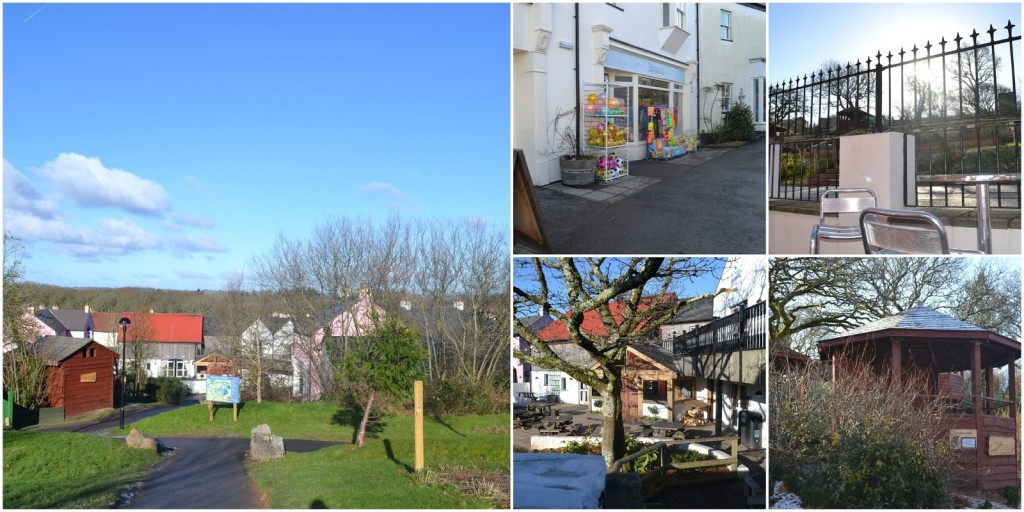 The main eating places are situated in the Village as well as a small shop, bakery and coffee shop and a shop selling pretty woollen items and toys. The shop stocked a range of local goodies, including tasty cake! It had a good selection of products, which all appeared reasonably priced. The opening times for the shop are rather short though, closing before 5pm each day we were there. Once the shop is closed there is no where to get emergencies other than getting in your car and driving to one of the nearby towns.
We visited the coffee shop and bakery once morning to sample coffee and cake. I was impressed that they had gluten free products on sale but the cakes we chose were quite bland and the coffee wasn't a great deal better.
The lodges are all fully equipped for a self catering stay but if you decide to eat out, there are still plenty of options. On our visit night we popped into the Farmhouse Grill to order a take away. It cost a reasonable £15.95 for a pizza, two side dishes and a large bottle of pop. We didn't sit in to eat at the Farmhouse Grill but the take away we had was tasty and hot!
We did eat at the Knights Tafarn which was lovely. It had a nice, homely pub atmosphere with tasty grub that was reasonably priced. The portion sizes were good and both hubby and I were impressed with our choices, it was probably made better by the fact the little man slept through our entire meal so we got to eat our meal with no disruptions.
We also had breakfast one morning in the Wild Wood Cafe. The Cafe looks great, with a large tree stood in the centre. There are plenty of nooks and crannies for little people to explore. We enjoyed our breakfast, we had a full Welsh breakfast and then the option of extras including cereal, fruit and yogurt. The only complaint I had with the Wild Wood Cafe was the temperature, it was really cold during our visit and we ended up having to sit with our jackets on to eat breakfast.
Things to do
There's something for everyone at Bluestone, with a wide range of activities for all ages. There are plenty of free options available, like the Adventure Centre and the Blue Lagoon but if budgets allow there are also numerous additional 'extras'.
There are archery classes,climbing walls, a tree-top obstacle course and a 40ft zip wire, though these are all aimed at older kids. I was grateful to find a good range of activities for little people too. During our visit we booked places at sensory and messy play for the little man. Each class costs £7 per child which I don't think is a great deal as we only have one child, though I do think the costs for extra activities would soon mount if you have a larger family.
The little man enjoyed the messy play. There were plenty of messy things to get involved with, his favourite being the flour and chocolate powder. The lady running the class was friendly and great with the children, making a effort to come round and interact with the children.
He wasn't so keen on the sensory play, and the room was very overcrowded so it was quite hot with little space to move around. He's a little too active for sensory play now I think, all he wanted to do was roll round the room and play with the toys at the back of the room.The sensory play is much more suited to younger babies who aren't on the move.
We visited the Adventure Centre most days we were there. The little man loved the open space and various activities. He was a huge fan of the Lego tables was obsessed with the little yellow bikes.
He wasn't too fussed by the bouncey castle but enjoyed the ball pool. We were quite lucky as it was pretty quiet while we were there. I imagine during peak season it may be a little more difficult for younger children to run round safely. There are other free activities inside the Adventure Centre, including crazy golf and a huge Connect 4. It's a great space for kids to let off steam.
The Circus Zone looks fabulous for babies. We saw it on our first day and then totally forgot about returning, but it was filled with soft play equipment and aimed at the younger children.
The Blue Lagoon
Our favourite activity at Bluestone was definitely the Blue Lagoon. It's a fun filled water park which was lovely and warm. There are lots of water slides but there is a 1.1 metre height restriction so they're not suitable for very young children. Hubby had a go on the slides while the little man and I watched from pool. The pool has a rather vigorous wave machine, though the lifeguards do warn you with a whistle before the waves are about to start. After a while I did find the waves a little tiresome, we had to make our water towards the edge each time the waves started.
There's a separate pool area with a much smaller slide for younger children. It has it's own rock pool and bubbling water jets, the only issue is, it's really shallow water. The little man quite likes to kick and splash so we found the main pool better.
There are deck chairs around the edge of the pool so you can take a break anytime you like. There's a waterside cafe called the Fish Shack which is perfect for a quick snack or drink.There's a lazy river too, which sweeps you round into the open air outside. It was a little cold during our visit, but I imagine it's much nicer in the summertime.
Other things to do
We went on quite a few walks around the site and surrounding area which is really pretty and made even nicer with the crisp frosty air while we were there.
Some of the routes are perfect for bike rides, the bikes can be hired from Bluestone while you're there, so there's no hassle of transporting your bikes to the site.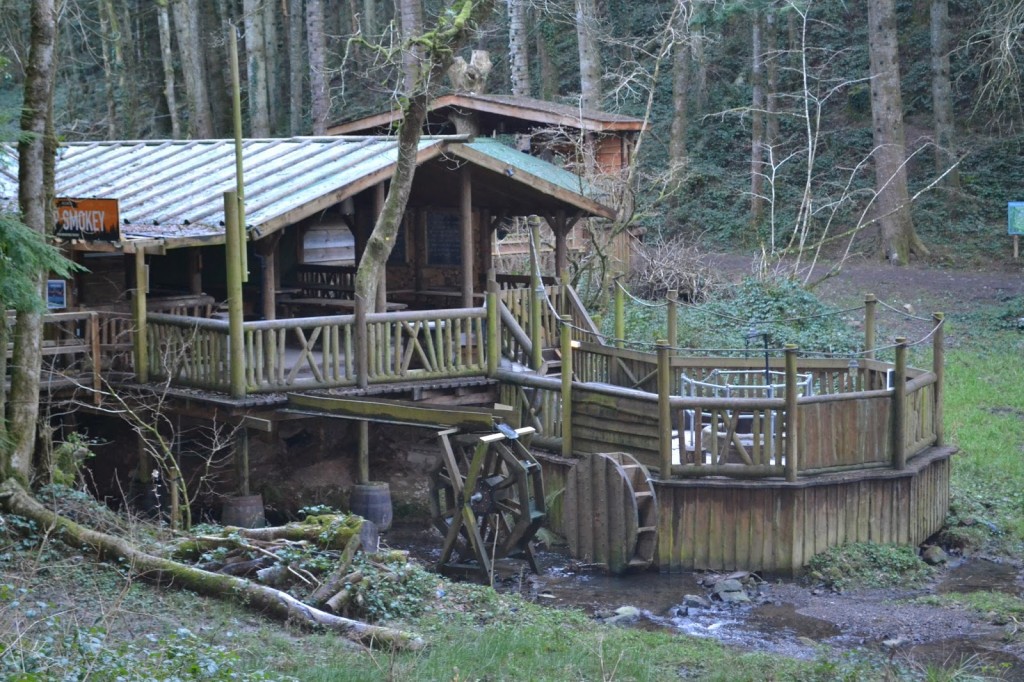 One of our walks started down at Camp Smokey which was closed over the winter period. The path we took was extremely muddy and hard work. We eventually had to give up and go back the way we came as it had started to get dark.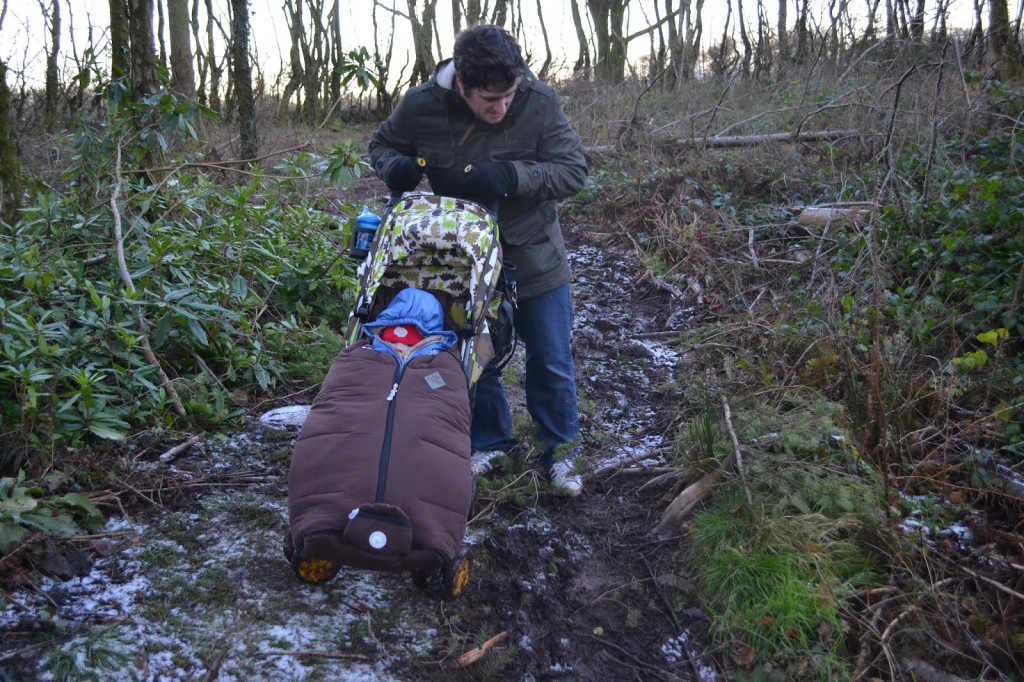 While we were at Bluestone we visited nearby Saundersfoot. Saundersfoot has a beautiful beach but was desolate and all closed for the winter period. We couldn't even find an open fish and chip shop.
It was too cold to walk along the beach in early February but we could appreciate how pretty it looks, I imagine it gets very busy in the summer months.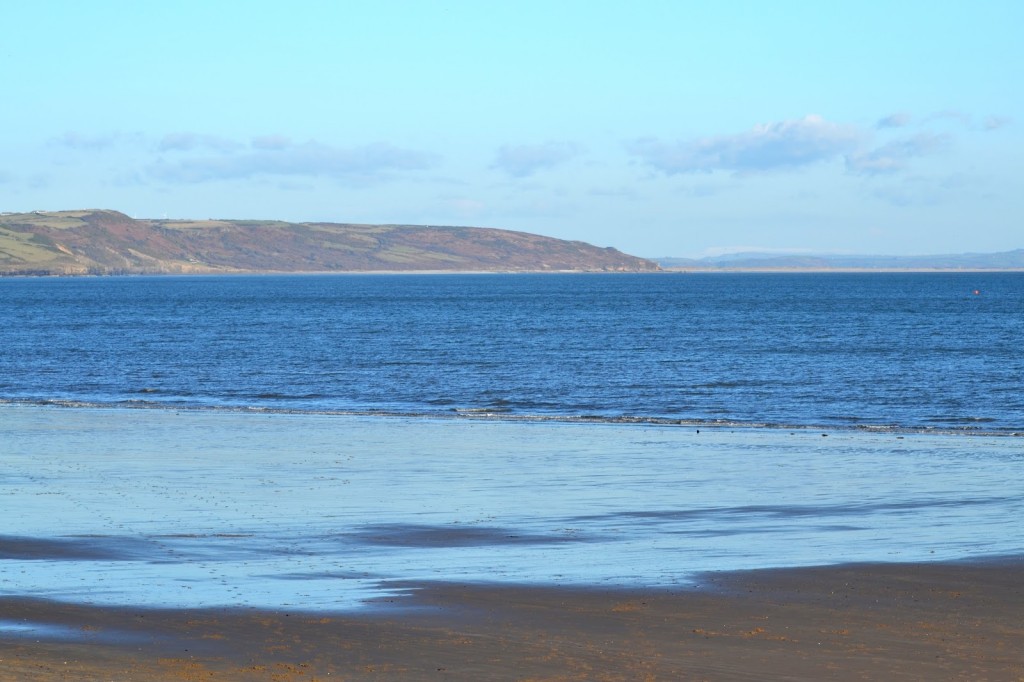 The weather was pretty cold while we were in Wales but it didn't deter from how nice Bluestone is, though I suspect it's much nicer .. and busier in the warmer months.
What we loved
The beautiful, peaceful setting in the Welsh countryside
The huge well equipped lodges are great and despite the size, really warm and cosy
The site layout is good, nothing is too far to walk but the lodges have plenty of space between them
The Blue Lagoon is great fun for all the family and very clean and warm
The Adventure Centre has something for children of all ages with plenty of open space
There is plenty of open space outdoors for activities when the weather us warmer
The staff were all healpful and friendly and keep to interact with guests
The milk and butter vebnding machine is a great idea
There's a great range of activities for children (and adults) of all ages
Reception were quick to respond to any issues
The range of activities is great
What we didn't love as much


I think the food options could be better
The shops close much too early
There are no instruction manuals in the lodges
In the colder off peak months there us very little to do in the surrounding areas of Bluestone
The car free park can be a bit of a nightmare, especially if you're returning with shopping/sleeping children
The extra activities can quickly add up especially if you have more than one child
The woodland walks should have more detail, i.e who they are suitable for
If you're staying at the very bottom of the site the long stay car park is quite a long walk away, especially if you are checking in at night.
My tips
Take extra toilet rolls and washing up liquid with you. Each toilet gets a roll but it soon runs out and as the shop closes early you may be caught short.
Take washing up liquid, the tiny bottle you get in your welcome pack doesn't go very far.
Remember the salt and pepper.
Don't book a buggy until you get there and access whether you'll need one. We thought we would but we found the walking completely manageable.
Take plenty of clothing then you're not worrying about how you'll be able to wash your clothes.
Although there are a couple of negatives they're quite minor and we we would definitely return to Bluestone. It'd be great to be able to do the things we didn't have time for during this visit. The Spa looks fantastic and it would have been nicer if the weather was warmer so we could enjoy the nature trails more. *We visited Bluestone free of charge with the purpose of giving honest feedback*