We're huge coffee drinkers in our house so when I was recently given the chance to review an amazing De'Longhi Autentica ETAM29.660.SB Bean to Cup Coffee Machine, I couldn't have been any more excited if I tried!
In the box you will find the coffee machine, a small brush to cleaning, a ground coffee scoop, a water filter, a water testing strip, a descaler, milk container, separate water spout and a set of instructions.
Setting up the machine is pretty simple ( even I managed) but if you do struggle, there are step by step picture instructions to follow which also have a quick set up guide included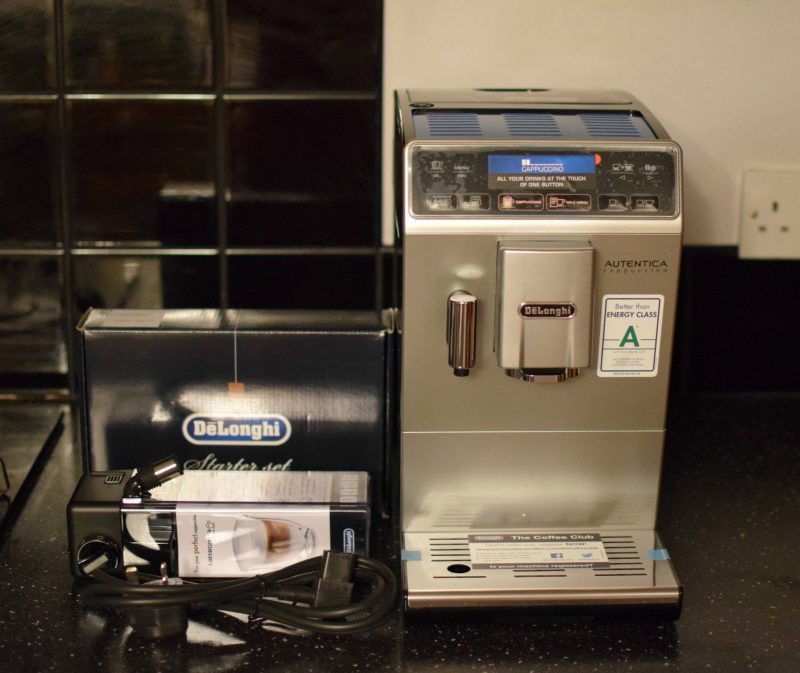 Aesthetics
The coffee machine is sleek and modern and a combination of black and silver. It looks like a professional machine, just slightly smaller in size to what you'd expect to see in a busy high street cafe.
Surprisingly, it's almost all ( other than the drip tray and cup warming plate) made from plastic. Considering it's an expensive machine, I had expected it to be made of metal or stainless steel. Nevertheless, it does feel quite sturdy and robust so the fact it's made from plastic doesn't really worry me ( in fact, I'll tell you later in the review why I'm glad it isn't all made of metal!).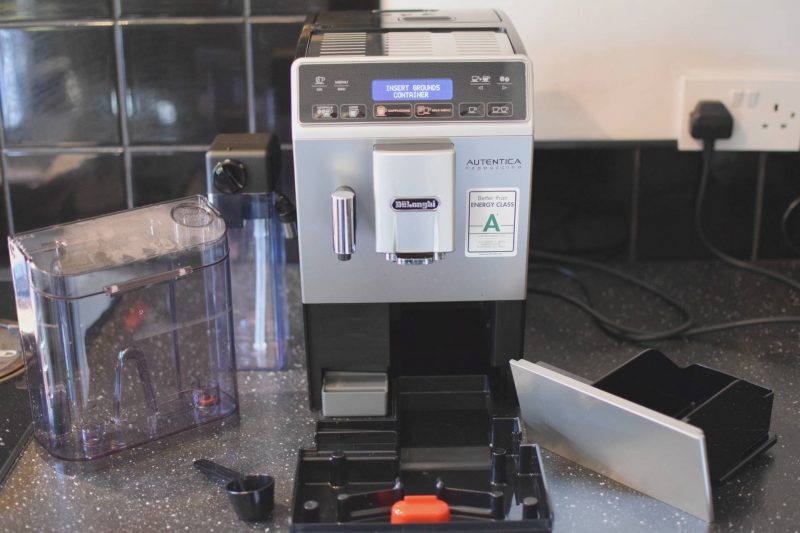 The machine is quite deep but in comparison to some coffee machines on the market, has quite a small footprint. You'll need plenty of bench space to store it as it's heavy, so not something that can really be moved around or put into a cupboard.
There is a soft touch panel with the menu buttons on the front, all of which are very easy to press and choose.
Features
The coffee machine has a wide range of features with plenty of options and can be used with both pre ground coffee, or whole roasted coffee beans. They're both added to the top of the machine, within a rubber-sealed compartment which keeps them fresh. Adding the beans is super simple, you just pour them into the container at the top and you can change the coffee grinder adjustment dial to suit your own tastes. The hole to add your ground coffee is a little more difficult to use. I find it hard to angle the scoop to pour the coffee in because the lid flips backwards instead of forwards so I tend to use a teaspoon to add the coffee instead.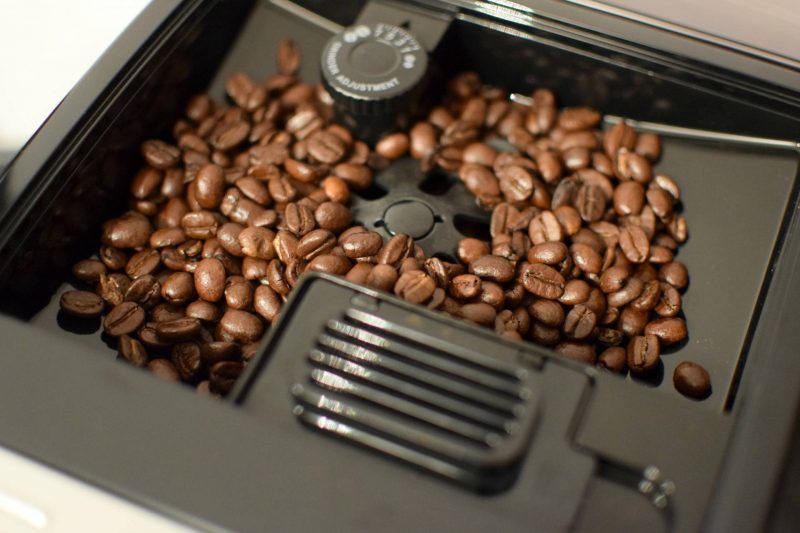 The menu is quite extensive but there are also one touch buttons that can be pressed to create a delicious cup of coffee without time or effort.
These shortcut buttons on the soft touch panel for Long coffee, Doppio + and Cappuccino which mean you can create any of these coffees simply by pressing the button. You can even create 'My Coffee' and save the settings for future use.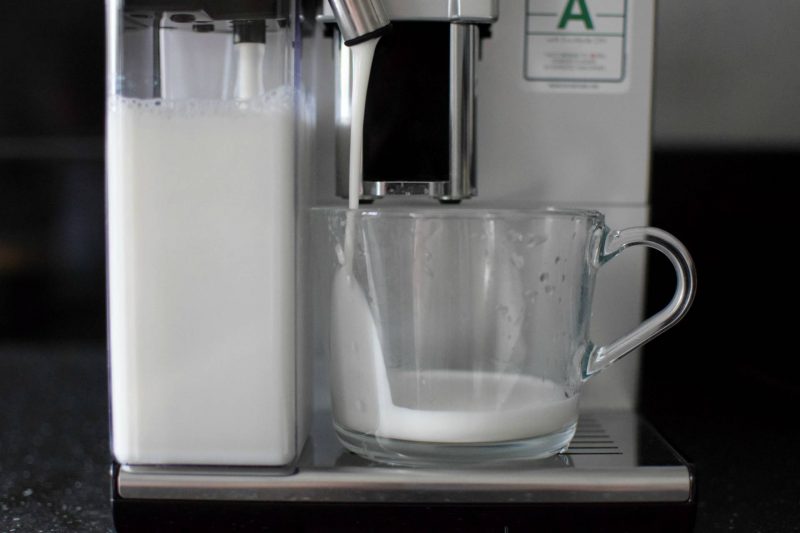 There is a 'milk menu' button which opens up access to a range of milkier coffee drinks such as Caffelatte, flat white, Latte Macchiato and hot milk on it's own.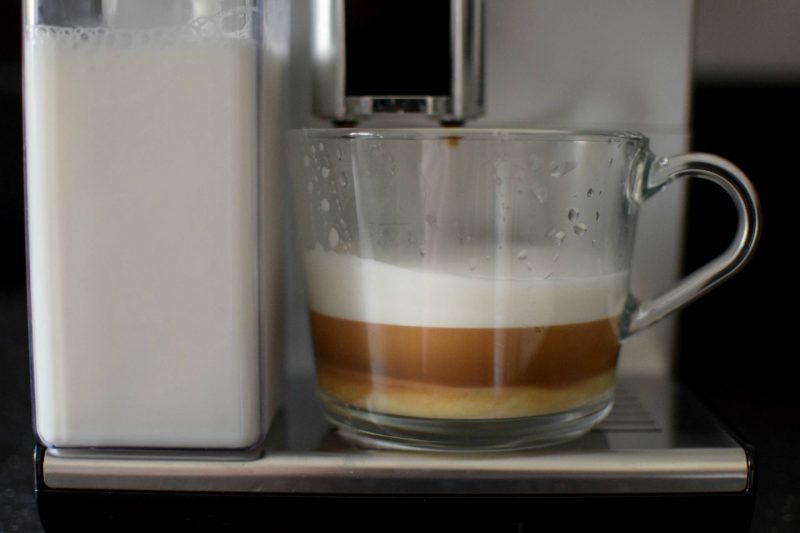 As well as the drink options on the menu there is also a selection of care and cleaning settings such as 'descale' and 'rinsing' so you can keep on top of maintenance. Your machine does a quick rinse before each use so make sure you have something underneath to catch the water. The milk container can also be cleaned after use by changing the dial to 'clean' and again, making sure you have something to catch the rinsing water with. The easy cleaning options are a great idea for someone like me who never quite gets round to cleaning their kitchen equipment properly.
The milk container can be added and removed from the front of the machine with ease and can be swapped with the water spout. It's quite handy as you can put it in the fridge to stay fresh and not have to empty and refill constantly.
How well does it work
The coffee machine works very well!
The drinks that the machine makes are delicious and taste on par with any fancy coffee shops. The process is simple and although the machine might look complicated to use, it really isn't. Our machine has worked without fault since it arrived and it has been used numerous times each day.
Cost
There's no getting away from the fact the machine is pricey ( it's currently on offer at £610). However, it's handy and will reduce your coffee shop spending. I think it would make a great and well appreciated gift for any coffee lover, but still used by the rest of the family.
What we like
The very quick and easy to use and makes delicious coffees.
The coffee machine is much quieter than I'd expected, and because it makes your drink so quickly, the noise that is made, is over in a flash.
The machine can be used just to dispense hot water so could replace your kettle.
The easy cleaning options are a great idea and mean your machine will last longer and stay healthy.
What could be better
The drip tray has scratched very badly! I mentioned further up in the review that I thought the machine so possibly be all made of metal, I take that back! The drip tray has been used for a week in the machine and is already pretty damaged just from holding cups.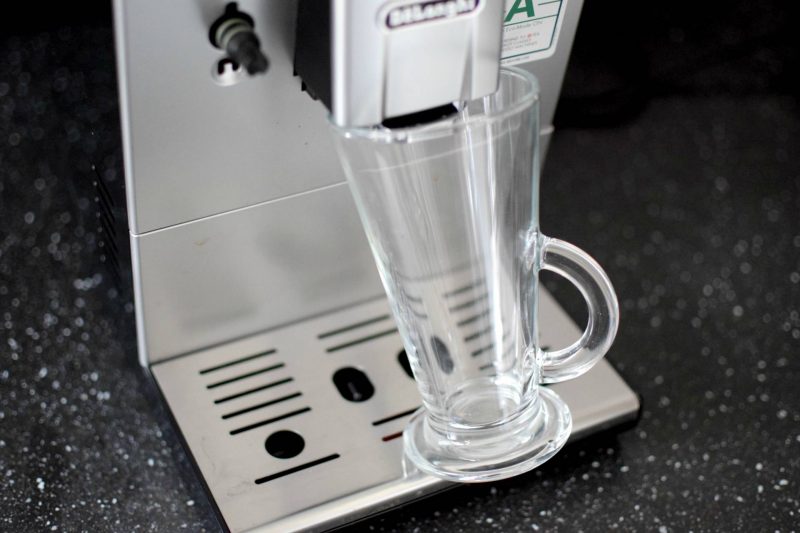 Our latte glasses don't fit underneath the machine! As far as I know they're bog standard size but they're too tall. It would be handier if the dispensing area was higher up with a longer retractable coffee spout so that pretty much all cups would fit.
The milk spout can be a messy when you use shorter cups. It doesn't pull down long enough so the milk will often spill over into the drip tray.
Overall
We're extremely happy coffee drinkers. It's very handy, makes tasty coffee and saves time, especially on a morning. We have a couple of minor niggles but the positives definitely outweigh the negatives.
* The coffee machine was sent by AO in return for an honest review. Opinions are my own.