There are four Diggerland sites across the UK and last week we were kindly invited along to review the Durham site. We'd actually visited Diggerland a few years ago when the little man was about 2 but he was unable to go on a lot of the rides as he was so small.
Fast forward to last week and at 4 and a half he was tall enough to go on almost everything and we were eventually able to have the full Diggerland experience.
Diggerland Durham is located in Langley Park which is just a few miles from Durham City. It's on an Industrial Estate as you enter the village and very easy to find. There's a large, free car park at the front of the building which looked quite busy when we arrived at 10.30. It was a boiling hot day when we visited to I expected queues but I pleasantly surprise by the fact we were through the entrance in minutes.
The little man in his element as soon as we arrived and made a beeline for the Diggerland Train which took him on a ride round the park. It has special child sized carts that are custom-made to fit on the back of a 1 tonne dumper truck just for Diggerland.
We worked our way round the park with the little man shouting excitedly at everything he saw.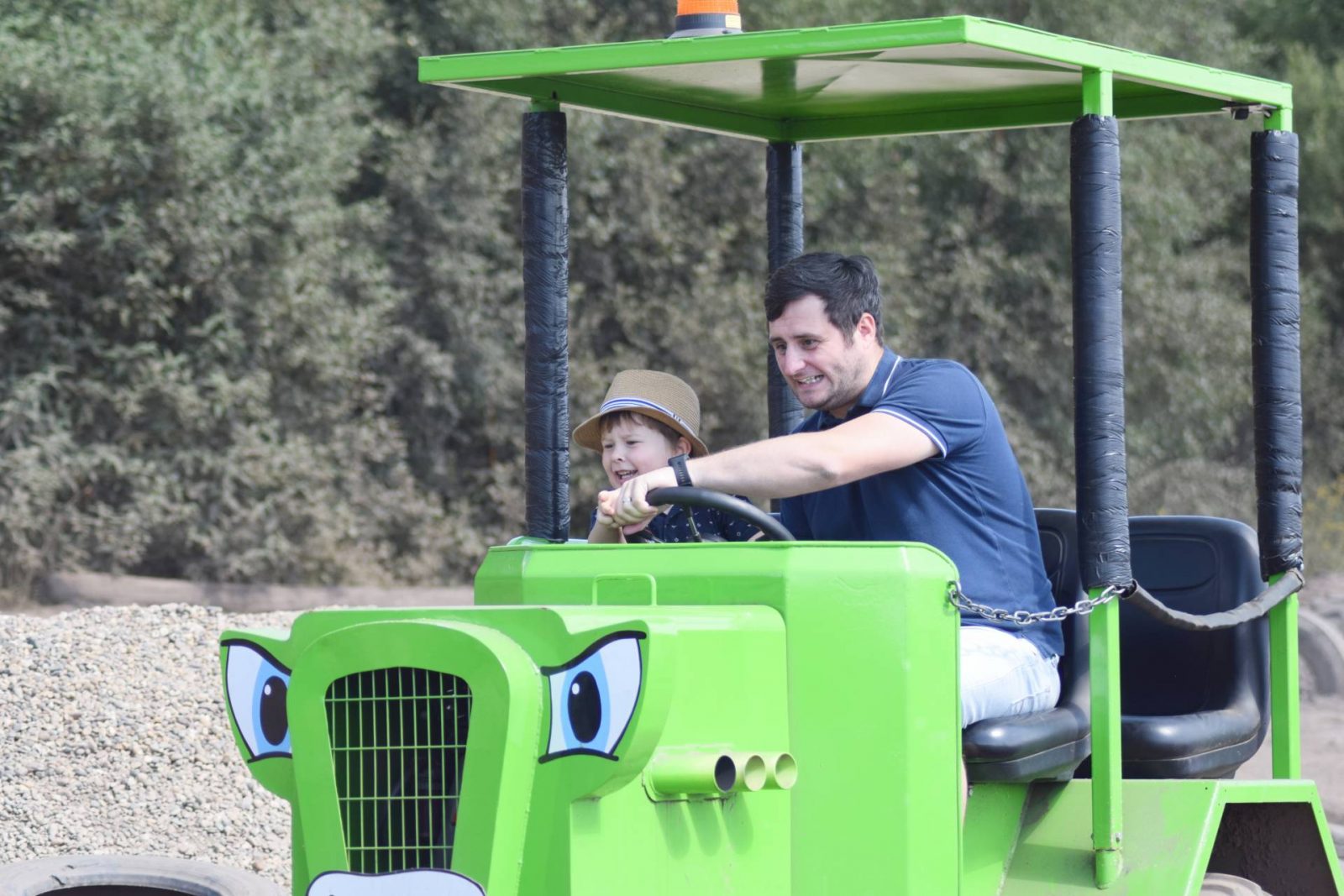 Each ride has a handy sign which gives you details on height requirements ( it saves unnecessary queuing if you check the sign first) and information about the type of vehicle that is used. Who knew that diggers were so expensive!?
During our day we saw the Diggerland mascots, Duggy and Dotty round the park, posing for photos and high fiving the kids. They were very friendly as were all the members of staff running the rides. Each one chatted away with us and asked the little man about his day.
The little man was so good at the Dippy Ducks ride. Using a compact mini-excavator, riders had to hook a duck and pull it out of the water. The concentration on his face was immense!
Although there isn't much distance between each ride, there were plenty of benches and picnic tables to sit at and if you take in your own picnic you can use them to eat at.
After a couple of hours on the rides we decided to head indoors to eat at the onsite restaurant. Although it was busy, we found a table to sit at easily. Expect to pay £3.50 for a children's hot meal with a drink and £3 for an adults sized sandwich.
The food was ok, and there were plenty of options available but the childrens meals were all friend options served with chips.
As well as the restaurant, there's quite a lot to do inside as well. There's a decent size soft play area, some pool tables, gaming machines and a JCB theatre ( which wasn't one when we visited). It was a great place to get out of the hot sun for a little while.
My only gripe about the restaurant was that there was a distinct lack of plates and cutlery and the little mans chips and fish fingers were randomly thrown into a paper box rather than on a plate. We couldn't complain too much though as the prices were quite reasonable and despite there being a pretty long queue when we went inside, staff were serving very quickly.
After a food and drink pit stop, we headed back out into the sunshine for some more digger riding.
The JCB Skid Steer Loaders were a huge hit for both Daddy and the little man who shrieked with laughter as they drove over the bumpy course.
They were in their element playing with the Dirt Diggers and would have happily dug all the way to Australia if they'd had time!
The little man was braver than me and even went on the Skyshuttle which slowly raises you 50 feet up in the air.
There were only a couple of things we missed out during our day at Diggerland. The little man just didn't fancy Spindizzy, a Hydraulic Excavator with a specially constructed bucket that people are able to sit in. He did enjoy watching it spin round with those inside screaming though! The little man was also too small for the Crazy Carts which had a minimum ride height of 140cm.
I'll admit, I do think the tickets are quite pricey – especially as children who measure over 90cm pay the say price as an adult (£19.95 on the door or £16.99 if booked in advance) but we did spend 6 hours there so would have had our monies worth. It's worth checking local publications and the Diggerland facebook page where they often post discount offers.
We had a fab day at Diggerland and I think it's debatable as to who enjoyed it more, the little man or Hubby! I would recommend Diggerland for any digger fan ( big or small)!
You can check out some of the rides we went on during our visit in the video below.
* Our entry tickets were complimentary. Opinions are my own.