We love playing games together as a family. As the little man is still quite young, we usually opt for fun, easy games rather than serious board games. We were recently sent Snotcha! from Drumond Park to try out and the little man couldn't wait to get it unwrapped.
Snotcha! is a fabulously entertaining, slightly disgusting game, aimed at children 5 years and up, though at almost 4, the little man was able to understand the instructions and play along with ease. Like lots of younger children, he's obsessed with snots, poo and anything else a little bit disgusting, so I knew Snotcha! would be a huge hit.
Putting the parts of the game is really easy, you need to add 2 x AAA batteries into the feet area, push the parts together and then fill up the water chamber. We did have a few issues initially getting Snotcha to squirt out water, it made all the noises but just wouldn't expel any water. However, after some quick pumps on the nose we managed to get it to work perfectly.
The aim of the game is to avoid the spray of snot that may fire at you when you press down the huge nose. Thankfully it's not really snot, just water!
We found if we sat on the floor, the jet of water didn't really come up high enough so we placed the Snotcha! nose on a table and found it worked much better for us.
Each player has to flick the spinner to see how many times they need to press down on Snotcha. If you're lucky you'll avoid a snotty spray, if you're not, you'll get wet! The little man absolutely loves the suspense of waiting to see if he gets sprayed by the massive nose.
When flicking the spinner you may also land on the "X" which means you'll miss a turn or on an arrow which means play reverses. You may also land on the picture of the spinner which means you'll get another go.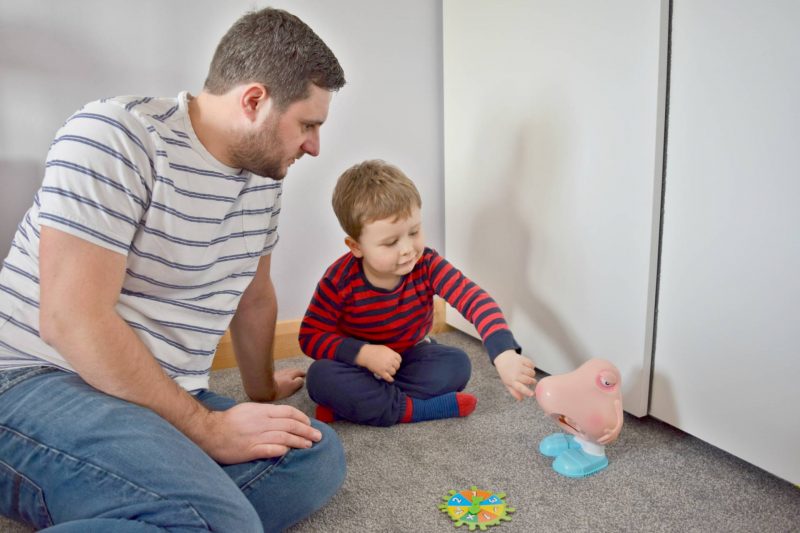 The box suggests it's suitable for 2-4 players but I think you could easily add more. It's definitely the type of game you could get out at parties or family get togethers.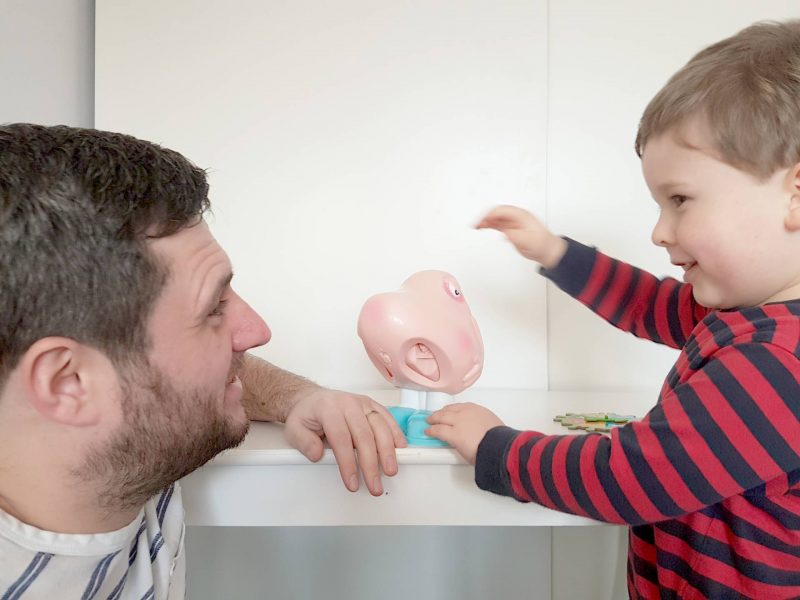 I love that it's a simple game, ideal for younger family members and has no strict rules to follow. It's also really easy to pack away and store – just remember to empty out the water chamber.
Snotcha retails at £24.99 and I think it makes a fun family gift for others or something to purchase to play over the festive period and beyond.
If you'd like to win your own Snotcha! game, please complete the Gleam form below.
Terms and Conditions
Terms and Conditions
The competition ends on 30th December 2017
There will be one UK winner.
The winner will have 14 days to reply to their winner confirmation, otherwise a new winner will be chosen.
The prize will be provided by the PR company.
There is no cash alternative.