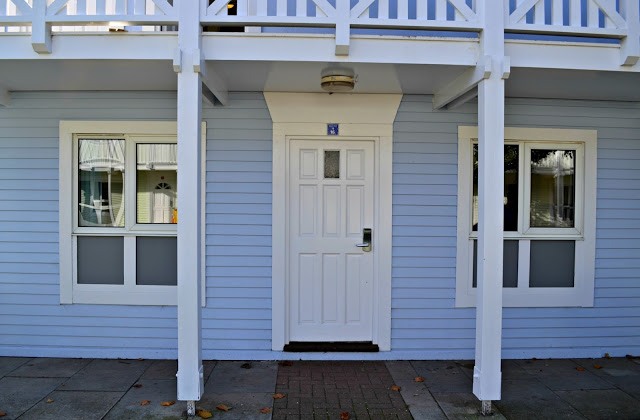 We've recently returned from a Monday to Friday family trip to Butlins. We decided on Skegness in Lincolnshire as it's the closest to our home in the North East. It took us around 3 and a half hours to travel down the country in the pouring rain but we found Butlins at Skegness using the postcode on the Sat Nav with ease.
Our 4 night self catering break cost a very reasonable £176.10 which included an additional £15 for the use of Wifi access during our stay.
Butlins caters for a range of people and visits, including Just for Tots, Live music weekends and festive, Christmas breaks. Our stay was during a normal term time period so we had expected it to be quite quiet, but it wasn't, rather surprisingly there were a lot of school age children visiting.
Check in
When we arrived it was raining heavily! We were directed by a very wet man to our check in area which was at the other end of the park. A drive thru check in is available which was ideal for us when the weather was so bad.
There are a few different check ins once you're inside so you do need to pay attention to the signs and check you booking details to make sure you follow the correct route.
The man at the check in window was very friendly and took his time to explain where to go next and show us on the map the different parts of the site. He also made the effort to chat and acknowledge the little man, who was rather excited that he got his own little map.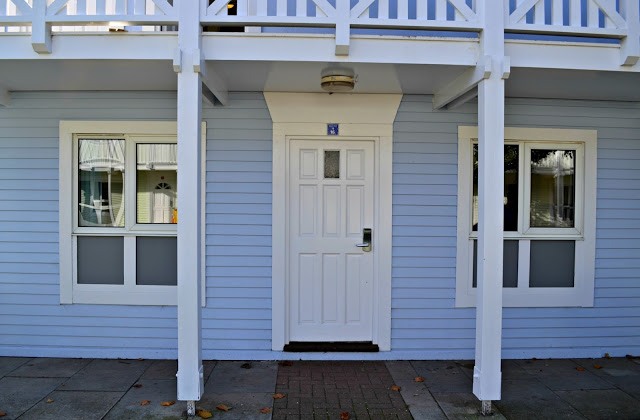 Accomodation
We booked a silver apartment to stay in during our visit. It was located in Starfish Quay in a block called Marlin Court. Starfish Quay was about a 6 minute walk away from the Skyline Pavilion and Splash Water World. It was a downstairs apartment, situated right on the corner of the block quite near the bin area.
The sitting room area had a TV coffee table and two small leather sofas. We took the little mans can mat for him to play with, just in case you were wondering what the strange green rug is in the picture. The living area was cosy but gave us enough space to sit together to watch TV. The carpet was clean and much nicer than cold laminate floor which we'd been expecting. The sofas were quite worn and each arm was damaged with holes in the leather which did make it look a little grubby
Size wise I was pretty impressed, With two bedrooms (one twin and one double) it was the ideal size for a small family holiday. There was a wide entrance hall with plenty of room for buggy storage, a large open plan living room and kitchen/dinner containing a table and chairs, microwave, oven, fridge with small freezer and plenty of kitchen equipment. I was also grateful when we first arrived to find a small selection of tea and coffee making products which meant we didn't need to head straight out for milk. There's also a small cleaning welcome pack provided which included a tea towel, dish cloth and small bottle of washing up liquid.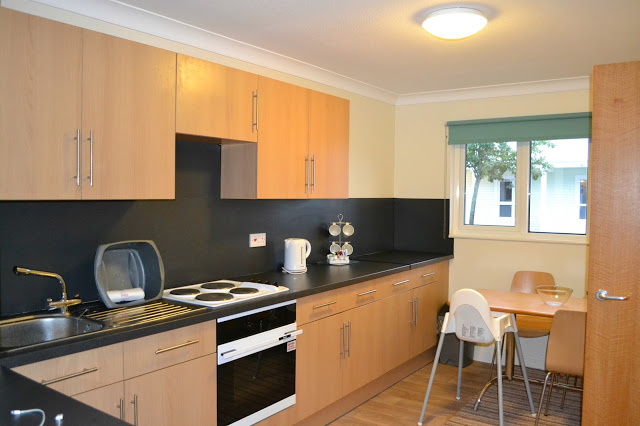 I was a little surprised to find there was no child proofing at all in the kitchen and dining area. Every single cupboard at ground level (and there was a lot of them) was accessible to the little man. He took great pleasure in opening and closing each door repeatedly, and once he discovered the collection of glass ware inside he was obsessed. We ended up having to move anything breakable into the cupboards above to make things a little safer.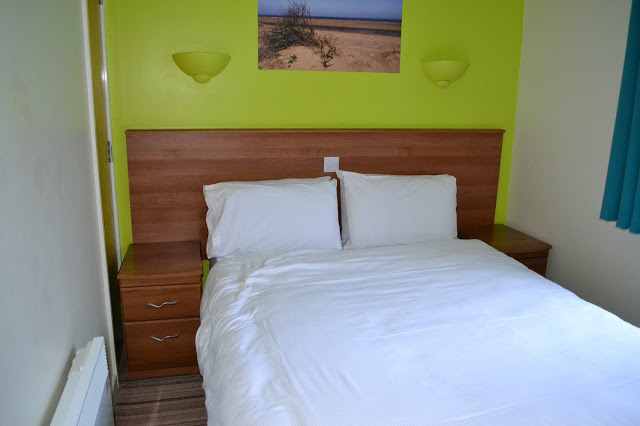 The bedroom cupboard was home to an ironing board, iron and clothes airer. Each bed was made up with plenty of clean bedding with an ample amount of pillows. The duvets were thick enough for the cooler night times and It was nice to see more than one pillow each on the bed. Towels aren't provided in Silver accommodation so remember to take your own.
The apartment was reasonably clean through out but I did give everything a good clean when we first got there. The only real downside with regards to the cleanliness of the apartment was the awful bathroom floor. It was really dirty with mould in the corners and a rotten wooden door frame. I was very wary of little the little man in there, after I'd cleaned everything with anti bacterial cleaner I made sure a large towel covered the floor during our stay.
Eating and Drinking
We had decided against the dining options when we booked our break as we're not really fans of regimented meal times, and queueing for meals with a toddler isn't my idea of fun. You can book two different types of dining for your stay if you wish, but it does add quite a lot to your holiday cost. It;s a great idea though if you want to take away the stress of cooking during your stay.
On our first night we ventured out for food. We initially went to the Sun and Moon pub which is through the Skyline Pavillion, just past Splash Waterworld. It looked like a family friendly pub, not too dissimilar to a Brewers Fair with a children's play area outside (though nothing for smaller children). It wasn't too busy and we found a table easily. After locating a highchair and choosing what we wanted to order we went to the bar where we were told there was a 40 minute wait for food! A 40 minute wait for food when you have a hungry 19 month old just isn't going to work so we had no choice but to leave. I couldn't believe how long the wait for food was when the pub was barely half full, I dread to think what it would be like during the school holidays.
We had a similar experience at Firehouse, a Nandos-esque restaurant which actually looked really nice from outside. The queue was out of the door and it just wasn't practical to wait to be seated when the little man was due his tea. There's an Italian restaurant near to the two places we tried but that was closed.
We finally ended up eating at the fish and chip restaurant in Skyline Pavillon which was tasty and reasonably priced, but not an ideal tea for a toddler.
The following day we'd intend on visiting guest services to see if we could pay for one of the dining options but instead we headed along to Tesco in Skegness and spent £50 on food which lasted us for the rest of our stay. Although we'd have liked to have eaten out on an evening, we didn't want to risk waiting round for ages with a tired and hungry little man.
Splash Waterworld
Located just outside the Skyline Pavillion, Splash Waterworld is home too a large selection of pools and slides. The pool has something for all ages but it's VERY busy all of the time. The water smelt very strongly of Chlorine which I believe means its not very clean (yuk) and the three of us had sore eyes by the time we left. Nevertheless, the little man thoroughly enjoyed splashing round. There are three small slides in the shallow children's pool which he was able to go down himself and he absolutely loved it.
We struggled to find family changing rooms in the pool. As the majority of people visiting are likely to be families, I'd expected more family sized changing facilities and child friendly changing options. We struggled to find a baby changing table and none of the changing rooms had child seats where little people can safely sit while their parents get ready.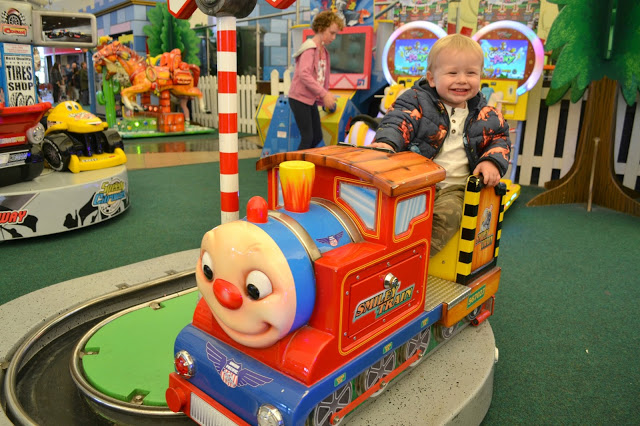 Entertainment
There was quite a good selection of day time entertainment on, particularly for younger guests. The little man enjoyed messy play in the Little Stars Studio which is also home to a room containing a good range of soft play equipment and Little Tikes toys. He thoroughly enjoyed playing with the cars and running in and out of the play houses. Parents must supervise their children whilst they're using the equipment, there are plenty of seats dotted round the room to make this easy.
There are fairground rides for both toddlers and older children. During our visit they started working from around 11am and ran until 5pm. They're a great idea and included with the price of your holiday, so there's nothing extra to pay.
There are various other day time entertainment options available at Butlins, including Quasar Elite, Adventure Golf, Archery and the Spa, some of which incur an additional charge.
Most things are centered round the Skyline Pavilion, its central on the site and home to most of the restaurants and shops, as well as an arcade, and a sweet shop.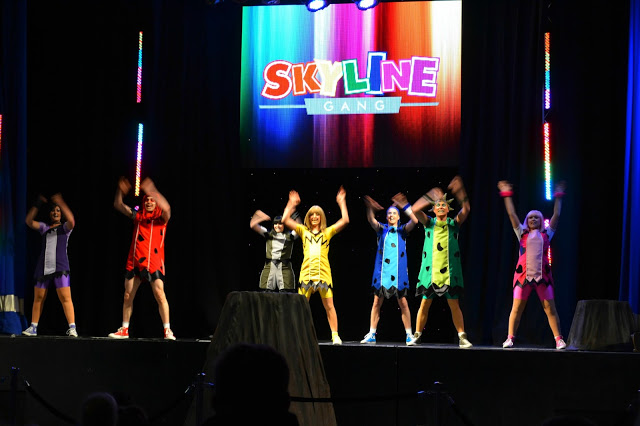 There are different venues on site for the evening entertainment including The Skyline Pavilion, Reds and Hotshots. We only stayed out for the evening entertainment once so I can't comment on the variety of other acts. The night we stayed out, we watched the Skyline Gang do a range of dances and songs which the little man seemed to enjoy, It did start quite late though. We found out on the last night that there was actually a tots disco in a different location but we hadn't realised so we missed it.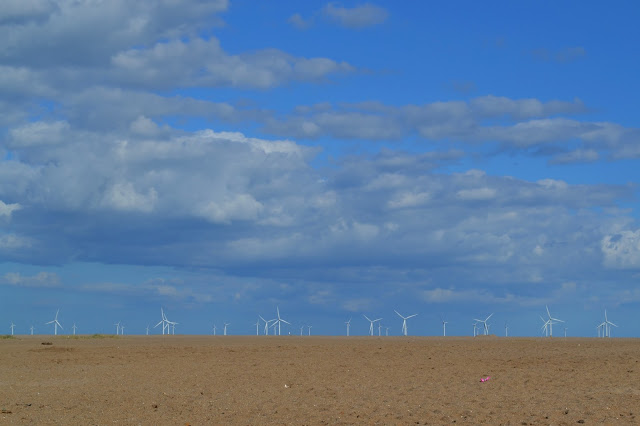 You can access the beach at Skegness from the back of Butlins. The gate is manned by a member of staff who checks you key card when re entering. The beach is great and during our visit was really quiet. It's a long walk to the water but the sand is clean and there was very minimal rubbish. Bare in mind though, the gates are locked at 6pm, meaning you've got a long walk round the perimeter to get back into Butlins.
Other facilities
Butlins has a rather handy hire shop where you can hire various items to use during your stay. seemingly the most popular seems to be the mobility scooter. They were everywhere! You can also hire items like kids trikes and microwaves. The prices didn't seem too bad and it's a handy extra to have.
Unfortunately during out stay the little man was sick so we had cause to wash and dry our towels from home. We knew there was a launderette somewhere on site but it turned out it was actually on the touring caravan side of Butlins which is accessed via a subway under the road from the main site. It was quite a trek on foot from our apartment with a heavy bag of towels. It was also very expensive! A standard wash costs £4 and you'll need to buy washing powder unless you've brought some from home which costs 70p for one wash. If you wish to dry your washed clothes that will cost you even more. In total it costs us £7.70 to wash and dry three towels and a tea towel!
What we liked


The staff were great. From checking in to going home almost every member of staff was friendly, helpful and upbeat. Most made as much effort with the little man as they did with Hubby and I which was a really nice touch.

Nice wide entrance area in the apartment which is perfect for storing a pushchair and selection of shoes.
There's a good amount of space in the Silver apartments, much more than we'd expected. The kitchen area is huge with a table and chairs and plenty of bench and cupboard space.
The good range of things to do for younger children. The Little Stars Studio and the soft play near the fairground were both favourites
The coffee shop in the Skyline Pavilion was great. The service and standard of both food and drinks were great.
What we didn't like


Unloading and loading up your car is difficult, particularly if you have small children. There are a few car spaces close to the apartments but not surprisingly they were already taken when we checked in. We had to park in the main car park and use a luggage trolley (which are free to use) and juggle bags and the little man bag to the apartment.
There's no bath, just a small, compact shower which is quite awkward to wash a small child in who isn't the biggest fan of showers.
The apartment wasn't as clean as I'd have liked. Whist I appreciate the turn around for the cleaners is quite tight (people leaving on the morning and new guests arriving on the afternoon) I don't think there's any excuse for the state the bathroom floor was in.
The constant smell of cigarette smoke. Every entrance to every building or attraction was surrounded by people smoking. It's not ideal for a young child to walk through a thick cloud of smoke. We also found a huge amount of cigarette ends round the perimeter of our apartment where previous people had clearly smoked out of the windows.
Drunk people knocking on your front door at midnight. This happened twice. It is difficult to differentiate between the apartments, and obviously even more so when you've had too much to drink. It's not ideal when your child is woken up by a stranger banging on the door though.
Being in a ground floor apartment is noisy, particularly when the stairs to the upstairs level run right next to the wall of your bedroom. We could hear ever footstep, movement and game of football (yes, really!) from the apartment above.
We found the food choices for self catering guests very limited and quite unhealthy. We didn't want to eat Burger King or fish and chips all time, but due to the waiting times in the other restaurants we we had little other option if we wanted to eat out. The queues were lengthy in the restaurants even from early on, a wait til of 40 minutes for food is no good when you have a toddler.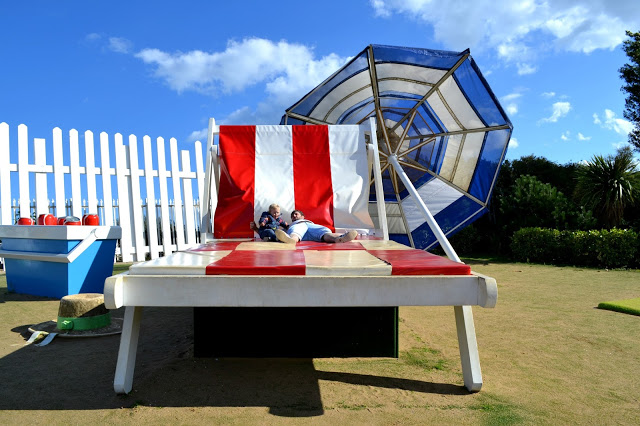 So, would we go again?
Yes, probably. Although I have listed quite a few negatives, the fact the little man enjoyed himself does matter more. The break was very cheap and overall we enjoyed ourselves. There was a lot of the little man do and it is very child orientated.
Staff were friendly and helpful and the customer service was good and that really makes a difference on any kind of break or holiday.
I do think cleanliness is a bit of an issue, I'd like to think we had a one off bad experience, but I'm not sure. If we do return I will definitely upgrade and stay in a gold apartment where I'd like to think the standard of the apartment would be much better.
Have you been to Butlins before?