Yesterday we visited the Maker Faire at the Life Science Centre in Newcastle. The event was held over two days -(Saturday 23 – Sunday 24 April 2016) and brought together over 300 inventors, crafters, DIYers and coders from around the world who wanted to wow the general public with their futuristic gadgets, ingenious designs and fancy robots.
Once we'd collected our wrist bands from the main entrance we headed outside to the front of the Life Science Centre. We were greeted by low flying drones buzzing round our heads and a bubble master creating absolutely huge bubbles. The little man was instantly impressed, as was his Daddy who was just as keen to create his own bubble masterpiece.
One of my favourite parts of the event was the electrifying display from The Lords of Lightning. Two men dressed in chain mail suits who dueled whilst allowing millions of volts of electricity pass between them – an absolutely epic display, which I imagine would have looked even better at dusk.
The stalls inside were just as impressive. There was a great range of things to look at, gasp at and things to get involved in and make, even for our toddler.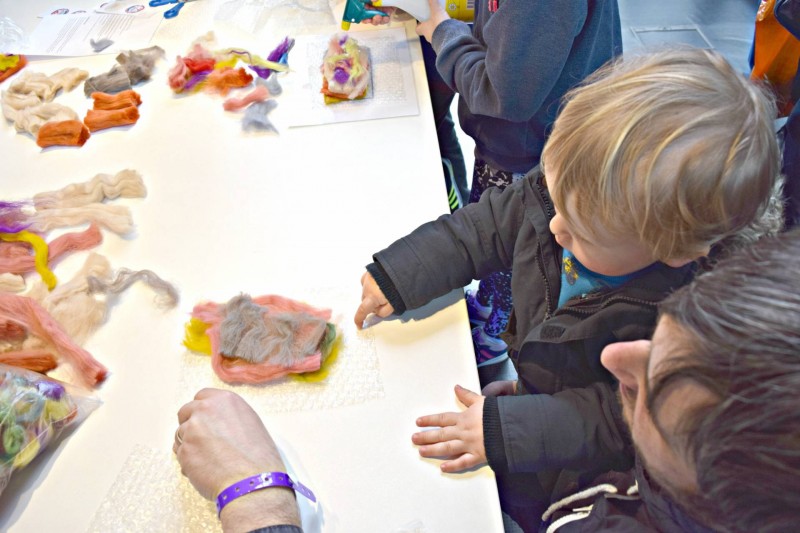 We made felt from individual wool strands that we sprayed and rubbed together and a badge that the little man colored in himself and made by pulling down a lever. It was great that kids could get involved and touch things without the fear of being told off.
There were displays and exhibits all over the Life Science Centre. Everywhere you turned there were machines, gadgets and brightly coloured 'things'.
After some initial hesitation, little man loved this Edward Scissorhands -esque robot with his detailed costume and huge gun.
We found each maker we spoke too, keen to talk and explain their story and the ideas behind their work. It was really interesting to hear more about their thought process as well as being able to see the finished product.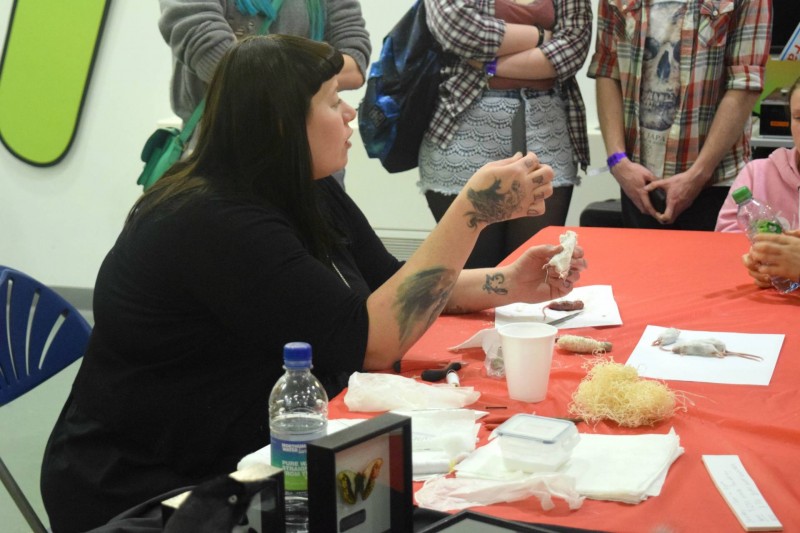 There were so many different things too see, from wooden crafts, to tiny computers created using Raspberry Pi to the rather unexpected, but very busy taxidermy station. There was something for all ages to explore and enjoy.
I thought it was a fantastic way of engaging and inspiring the younger generation to get involved with technology and science and encouraging them to be brave and creative.
We had a fantastic day and we'll definitely be back when Maker Faire UK returns to Newcastle.
You can check out some of our favourite parts of the day by watching the YouTube video below.
*I was provided with entry tickets in return for a review*