When we moved into our house we didn't have a proper kitchen floor. It was an array of old loose tiles, rubble and dust. I knew I had to have a black tiled floor. Fast forward almost three years and that same black tiled floor I so desperately wanted, drives me insane. It's a nightmare to clean and makes every crumb stand out like a sore thumb.
We have a steam mop but it's not always practical to bring it out 5 or 6 times ago (yes I really have to clean the floor that many times). I usually have a lightweight mop not too far away for spillages and the little mans messiness.
I was recently sent the Vileda Magic mop 3 action, a super absorbent lightweight mop with 3D power zones that help remove stubborn dirt and grime. The map costs £9.99 and can be picked up in many shops including Asda and Wilkinsons. The mop needs it's head replaced every three months to ensure effective cleaning and the refills can be picked up in the same places as the mops themselves.
The mop is bright red in colour and it's plastic handle feels quite sturdy.The sponge is thick and absorbent with different texture on either side to aid with cleaning.
The red 3D velour spots are perfect for windows or tiled floors as it won't scratch or cause any damage while you are cleaning, but is tough enough to remove any dirt. This side of the mop helps up pick up hair and particles and is perfect for our kitchen floor.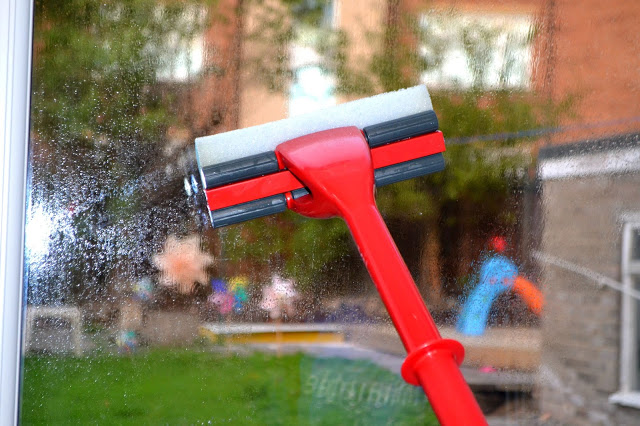 The mop is also really handy for our downstairs windows. The red 3D velour spots cleans them nicely and removes most of the water. I then use a dry cloth to buff them and they look really clean and streak free.
The mop has a 'push pull' wringer system which means you don't need to use a mop bucket with it as you can squeeze and wring out the water as you go.
The mop has been great so far with no issues. It works well, is perfect for quick spills and messy marks and rinses out quickly and easily ready for its next use.