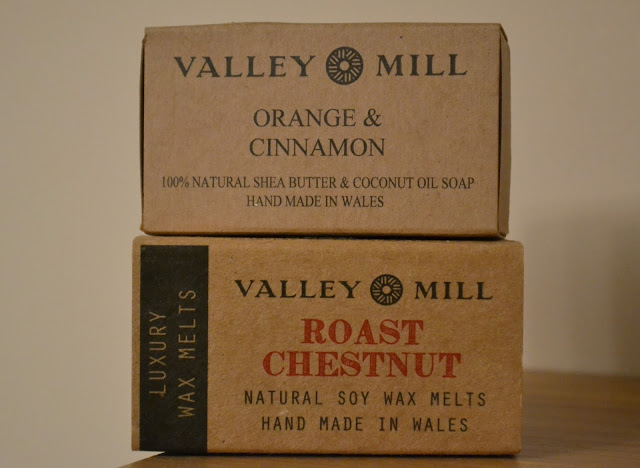 I have a bit of candle and wax melt obsession, I love my house to smell nice and much prefer to do it with candles and melts than nasty cough inducing aerosol air fresheners.
I've recently moved away from Yankee Candles, trying out other brands and scents so was rather excited to try some products from Valley Mill. a Welsh company offering a great range of handmade products, including candles and wax melts, Welsh slate products and even food items. The items are all made in Wales and are hand crafted to the highest quality.
I was kindly sent some of their Roasted Chestnut soy melts and a bar of orange and cinnamon natural soap to try out. I thought their Autumnal scents would compliment each other and I imagined my house would smell like a log cabin with an open fire!
The soy melts have a really strong fragrance which wafts round your home nicely, even after the candle is extinguished, the smell lingers and can be smelt as you enter the room.
I really like the soy melts and will definitely be purchasing some other flavours, the chocolate truffle ones sound amazing!
Orange and Cinnamon natural soap – £4
Valley Mill's natural soaps are 100% natural and handmade in Wales. The orange and cinnamon soap offers natural cleansing and antiseptic properties and comes in 100g size bar which has very similar packaging to the soy melts.
Some fragranced soaps dry out my skin but the Valley Mill soap is completely different. I can feel how soft and smooth my hands are after every use, probably because each bar is jam packed with goodies for your skin such as Shea butter, Coconut Oil and Olive oil.
The smell is amazing too, the bar I was sent it perched on the edge of my bathroom sink and you can smell it when you're about half way up the stairs.
I'm really impressed with the Valley Mill products I've tried, the scents are amazing and I love how soft the soap makes my hands. They're definitely worth considering during your Christmas present buying.