biOrganics believe that animals should not suffer for the sake of beauty, so they adhere to the Humane Cosmetic Standard – www.gocrueltyfree.org. The biOrganics range contains no artificial preservatives, such as carcinogens like sodium lauryl and laureth sulphates (SLS), artificial dyes, fragrances, mineral oils, polyethylene glycol (PEG) and formaldehyde – a chemical banned from personal care products in the European Union.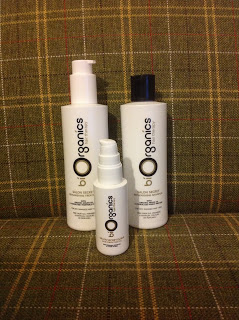 The Replenishing shampoo costs £11.50 for a 250ml bottle or £17.50 for a 500ml bottle. It's aimed at dry or damaged hair and contains nutritional Argan oil, strengthening Wheat protein and smoothing Lavender oil and Ylang Ylang.
You only need to use a small amount of the shampoo which is a clear liquid. The scent of the shampoo is quite strong, It smells quite medicated, and a little like babies! I can imagine the scent won't be to everyone's taste but it doesn't bother me, and it doesn't last on your hair anyway.
I find that the shampoo washes out easily and doesn't leave any product or residue on your hair, leaving it weight-less and very soft! I love the fact it's free of all unnecessary chemicals and yet still makes my hair feel super soft.

The Replenishing Treatment costs £15.50 for 250ml or £23.50 for 500ml bottle.
I've been using this as a normal conditioner – leaving it on for a minute or so before rinsing it out, but this can also be used as a treatment mask, and the bottle suggests leaving it on for 5-10 minutes.
The treatment is designed to help add shine and moisture to your hair and make it more manageable. It also uses Sunflower seed extract to provide UV protection which helps protect colour treated hair!
The treatment comes with a pump action bottle, I use two pumps of the product and find that covers my below shoulder length hair well on the ends and lengths.
The treatment leaves my hair extremely soft and smooth, without any tangles or knots.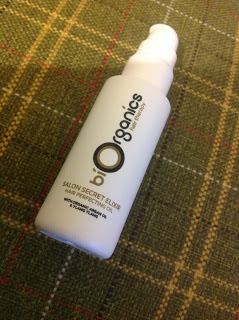 This contains Argan oil and Ylang Ylangmto smooth and improve your hair. It can also speed up blow-drying time and protects from heat styling so is a great multi-tasking product.
I really like this. I use it when my hair is wet after washing, and one tiny pump is enough to coat the ends of my hair. A little goes a very long way! The oil is light and is absorbed easily into dry ends.
This makes my hair extremely soft and shiny, that soft it doesn't like to be tied back in a pony tail. I have seen a noticeable difference to my hair, it looks altogether more healthy.
Overall I am really impressed with the BiOrganics Salon Secret range. The products have made my hair feel so much stronger and healthier and combined with them being free from chemical nasties and cruelty-free I would definitely recommend them and would without a doubt purchase them in future. They've made my frizzy pregnancy hair feel so much better.
Check biOrganics out on Facebook and Twitter
I was sent the samples in return for an honest review.