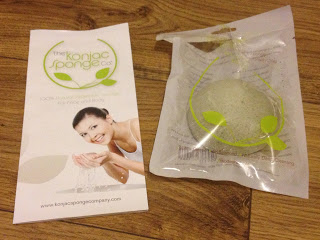 The Konjac Sponge company state that their sponges are "A face and body sponge like no other! Made with 100% natural konjac fibre; from the root of the Amorphohallus konjac plant. A naturally moisture rich plant, which is by nature, alkaline. Its natural alkalinity balances the acidity of the skin and its oils. The unique net like structure of the sponge gently massages the skin and stimulates blood flow and new growth of skin cells, leaving the skin extremely soft, clean and refreshed."
When this dropped through my letterbox, I couldn't wait to give it a go.
Konjac comes from a potato-like plant in Asia and can be both cultivated and grow wild at high altitudes. Konjac has been used by the Japanese for over 1500 years as a food source but in the last century it's also been used in beauty treatments.
The Konjac sponge is made form the vegetable fibre of the Konjac plant and then mixed with French clays and charcoal.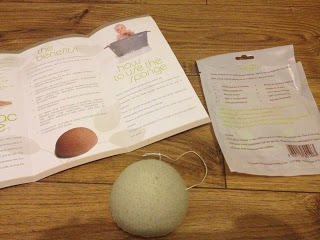 The sponges are 100% natural, 100% colouring and additiive free and are 100% biodegradable. They're naturally sustainable and completely safe from the environment.
The Konjac sponge is available from numerous stockists and can also be purchased online. The sponge that I tried costs £9.99 and can be ordered online.
I was sent the French green clay for normal to oily skin sponge.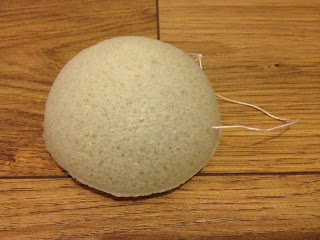 Well it's an odd looking thing. It's really squidgy and makes me think of something that I would have played with as a child. It looks like a sponge with lots of little holes in it, but it's green and semi circular in shape with a thin white string.
To use, you wet it thoroughly and rub it in a circular motion on you face. It removes dead skin and lightly exfoliates your skin.
It feels great to use and feels like you're using a moisturising product on your face. I haven't used a cleanser with mine, I prefer to use it by itself so that it lasts longer (some cleansers can damage the sponge or make it wear very quickly).
After using, you need to hang it to dry. I've been hanging mine on the side of the bathroom mirror, where it dries out a little but not completely.
Pro's
Really easy to use
100% natural
Gentle and exfoliating on your face
It's really simple to use and feels great on your face.
Con's
None so far
It has been a complete pleasure to use this. My skin feels super clean and refreshed and has a bit of a glow. I really enjoy using it and it does feel as though it makes a difference to my skin and complexion.
The sponge should last around three months and is biodegradable so you can get rid of it easily when you have finished with it. I really liked this product and it would be excellent for travelling with, or for taking for weekends away.
I think I will try the one for dry skin next time as I do suffer from dry patches on my face.
Check the company out on Facebook or Twitter
*I was sent the product in return for an honest review.