What the company say


"Alien Essence Absolue is a richly intense
Eau de Parfum.
A fusion of sensual, floral notes enriched
with the deep and mysterious notes of myrrh, cashmeran wood and
the irresistible warm sensuality of vanilla and white amber."



Price and Stockists

Alien Essence Absolue is available in 30ml (£52.50) and 60ml (£69) refillable Eau de Parfum Intense. A 60ml refill bottle (£52) and 100ml Body Balm (£22) are also available.It can be bought from Debenhams or from various sites online. I bought my most recent bottle from The Fragrance Shop

Packaging

Alien Essence Absolue jewel-like bottle which is used for all Alien fragrances.
Thierry Mugler Olfactive Director described the bottle as being "callipyge" which roughly translated means "beautifully shaped buttocks".
The bottle looks expensive and its simple yet very attractive.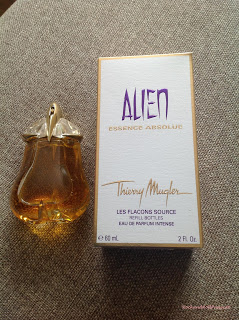 Thoughts

If you've tried the original Alien in the purple bottle, you'll be aware that it's a strong, intense and delicious perfume. The Essence Absolue variety it no different. It is a truely stunning fragrance. It is without a doubt one of my favourite scents … ever!
It is a rich, warm scent, with strong notes of vanilla it is perfect for the autume or winter. It's not a light fragrance, it is quite intense, and I think you do really need to like vanilla, a lot, to appriciate how delicious this is.
The perfume lasts extremely well, two little squirts on my neck, and the scent is still present at the end of the day. I think it's more suited as an evening perfume, but as I don't follow perfume rules – I wear it all the time. I get regular comments about how nice it is, and people always ask what it is.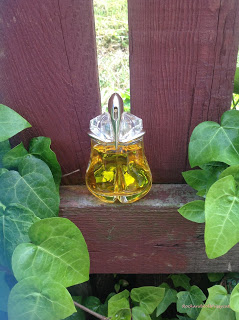 Pro's
Scent lasts for ages
Bottles are refillable
Smells absolutely gorgeous

Con's
It's pretty expensive
Not to everyone's taste
Finally

I really do adore this perfume. It is totally me. I am a massive vanilla fan and I love rich strong scents. This is ideal. It is probably more suited to females 30+ as it is a heavy perfume, it's not for the faint hearted!
Ask for a tester before splashing out on the full sized bottle, I think this perfume will be like marmite, you'll either love it or hate it.
(Personal Purchase)