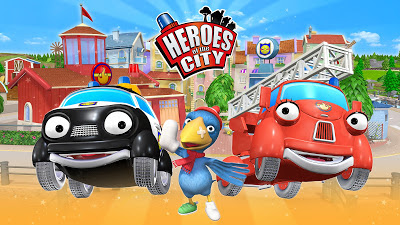 We were recently introduced to Heroes of the City, an animated TV series which is aimed at pre school children. It's based around a group of rescue vehicles in a small town where everyone can be a hero. It's a lovely little programme for children which teaches the importance of friendship and what we can achieve by helping each other.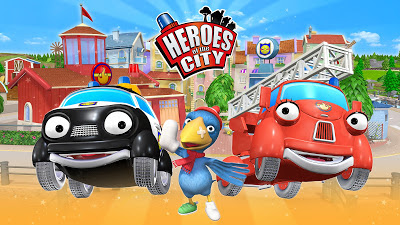 Heroes of the City features a range of characters including Pauli Police Car, Fiona Fire Station and poor Calamity Crow who gets into all kind of trouble. Together, they solve mysteries, catch thieves and fix any problems they come across.
The Heroes of the City You Tube channel contains hours of videos, music and games. There are both short clips and full length episodes, all suitable for younger children. There are 52 episodes on YouTube in 18 languages, all of which are completely free to watch.
Thee little man is transfixed if I put this on the TV or the Ipad. He will happily sit watching while making car noises. He's impressed with the program and so am I. It's bright and eye catching, completely family friendly and sends out a good message for children.
One of my blog readers can also win a Heroes of the City goody bag containing a t shirt, die cast card and DVD containing some episodes from series 2. To enter just complete the rafflecopter form below.
Terms and Conditions
A winner will be chosen randomly via Rafflecopter
The winner will be notified via email and Twitter (if you leave your handle)
ALL entries are checked and if any of your entries are found to be fake ALL of your entries will be disqualified.
Fake entries/automated entries will be disqualified.
You will have 28 days to respond to the winning notification, if you don't a new winner will be chosen.