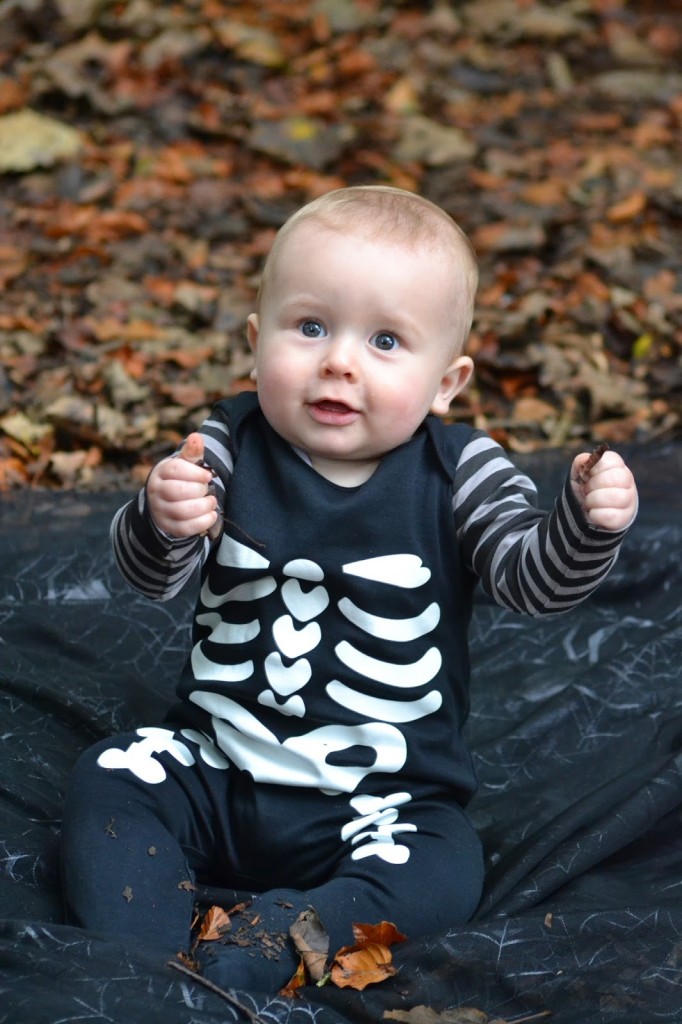 I love this time of the year, I love the weather, the beautiful landscape and of course, Halloween! It's the little mans first Halloween this year so I've gone a little wild with fancy dress outfits for him and bought some Halloween decorative items for the house, oh and not to forget the pumpkins! I wanted to keep Halloween fun for the little man, clearly anything too scary was going to be no good for a baby.
I thought I'd share some of the things we've done for Halloween so far.
We went for a little jaunt to the local woods the other day to get some fun Halloween photos using some of his fancy dress outfits.
I picked up the Skeleton romper suit from Nutmeg at Morrisons for £6.
The little man was sat under a tree from which the leaves kept falling and me and my super speedy fingers managed to catch a leave as it fell onto the top of his head.
Whilst I went for the cute look with the Skeleton outfit, I decided to make something a little less traditional for him too.
Can you remember that awful horror film Child's Play from the late 1980's?
Well here's my very own mini Chucky! Albeit a little less sinister than the real one.
For this outfit I bought an ginger wig from a shop on Ebay for £4 and got a friend of mine to create an iron on 'Good Guys' transfer which I added to the front of a pair of plain dungarees. The dungarees, top and shoes were all items we already had. The dungarees and t shirt were originally from John Lewis but I don't ever remember the little man wearing them.
Oh and the blood stained plastic knife cost £1.49 from another Ebay store. I'm quite impressed with how good he looked, though I'm sure he will hate me in years to come – just wait until he's bringing girlfriends home!
Sainsburys had some fab pumpkins in this year. I bought one big one and then three of their 'munchkins' which are super cute tiny pumpkins!
This year we had some help with the pumpkin carving in the form of OXO Good Grips fruit scoop set*. The double scoop set is perfect for hollowing out your pumpkin!
The scoops are really tough with edges sharp enough to scoop out the flesh of your pumpkin. As well as being perfect for pumpkins the larger of the scoops is ideal for using with watermelon and mangos while the smaller of the two can be used for kiwis or even baked potatoes. The scoops get between the skin and fruit so nothing is wasted, they're much easier to use and more effective than a spoon.
You can pick up the set of two for £10 at House of Fraser and they come with a lifetime guarantee! OXO clearly have faith in their product.
It appears we have a pumpkin fan! The little man thoroughly enjoyed ramming pumpkin into his mouth and rolling it round the floor.
I haven't gone too mad with the decorative items as A – we don't have the space – do you know how much space baby toys take up?! and B – little hands cause mischief! The little man is into EVERYTHING and loves to chew anything he shouldn't so I daren't leave anything lying round that isn't an absolute essential.
I picked up these fab little bits from the Poundshop!
I think they are complete bargains at £1 each. The tea light holders are really good quality and look great when the living room is dark.
I might have also accidentally bought myself a Yankee candle to celebrate the occasion, I told my hubby it's fine though, it's only a small one!
What are you doing for Halloween this year?