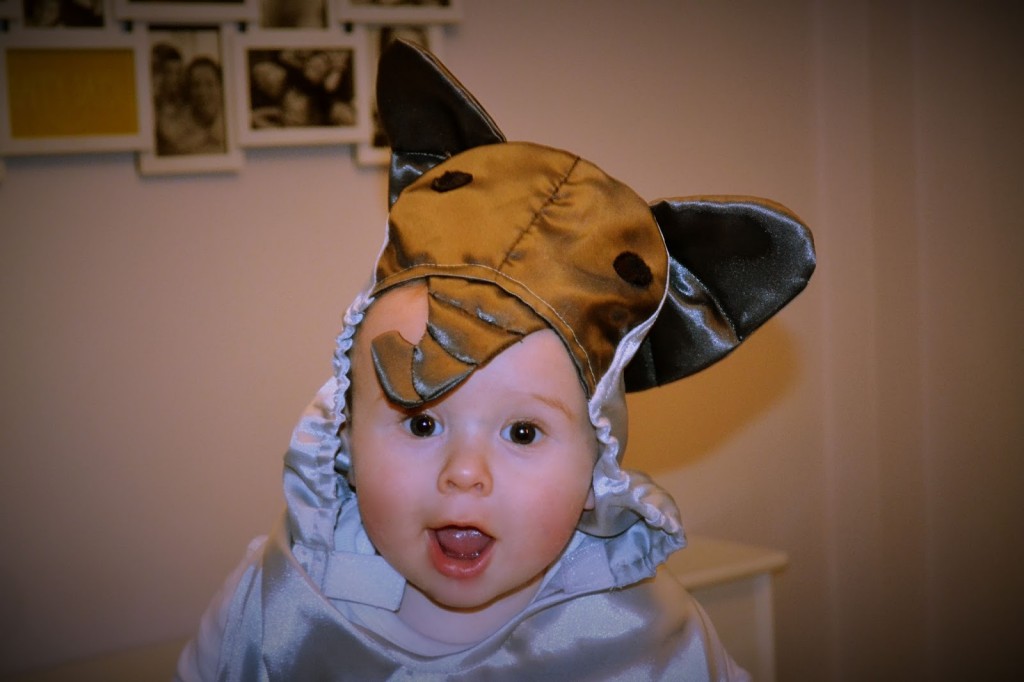 You may have already guessed from my Halloween pictures last month that I love fancy dress for little people. I don't think there's anything cuter than tiny little people dressed up.
The little man is at the age where I can get away with anything, he'll happily crawl round dressed as a chicken or roll round the floor wearing a dragon outfit. So I'm making the most of it, and taking plenty of photos!
I can't wait until he brings his first girlfriend home and I can show her all the photographic evidence!
I was recently asked if I'd like to add another costume to the little mans collection from Lucy Locket, a company selling beautiful dressing up clothes and imaginative gifts for little people. They stock a great variety of fancy dress outfits, ranging from a dinosaur to a baby Father Christmas!
After much deliberation we decided on the Baby/toddler elephant costume*, a satin grey outfit with a super cute trunk and tail at the back. It's suitable from birth due to the design and fuly adjustable with a velcro tab under the neck.
The costume looks great on but is loose enough to prevent any accidents. There's nothing that could get wrapped around the little mans neck or cause any injuries. He can crawl around comfortably and freely whilst still looking rather cute and elephant like!
I'm really impressed with the outfits available at Lucy Locket, they're good quality, look extremely cute and are well designed for little people.
Check out their website for some last minute Christmas gifts for your tiny people.