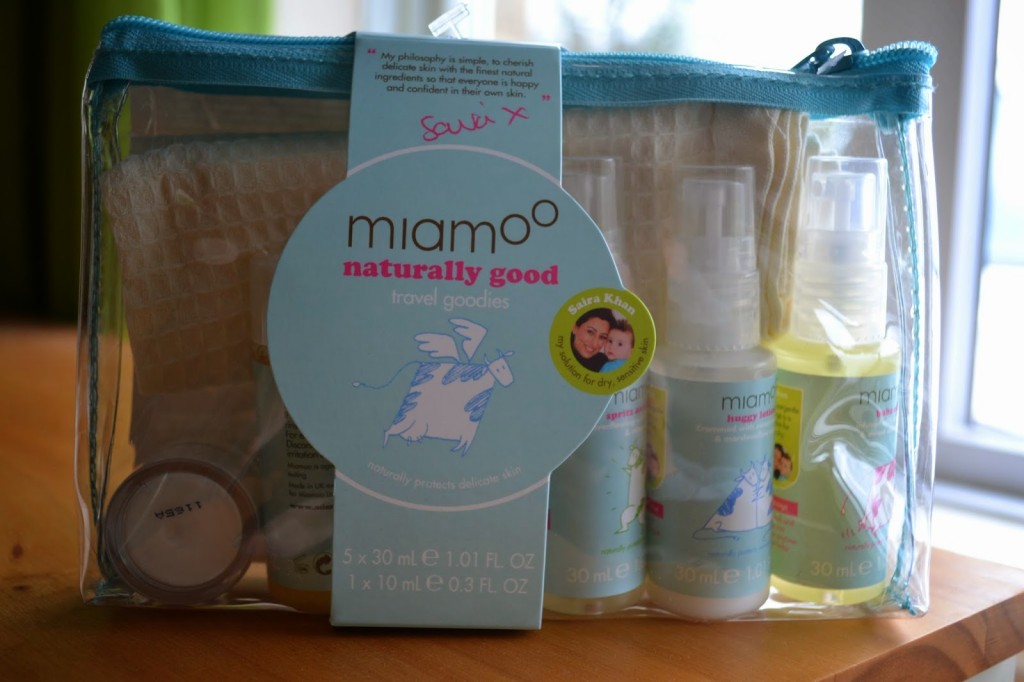 The Little Man and I both suffer from dry skin. Him on his cheeks and me round my nose, mouth, elbows and knees. So we were rather excited to try the maimoo travel goodies set. miamoo products can be used by whole family (even new babies) and all contain at least 98.5% natural ingredients.

miamoo products were created by Saira Khan after she had suffered for many years with dry skin herself. There are six miamoo products, each with many possible uses. The miamoo products are designed for their recommended 3 step skincare routine – wash, moisturise, massage.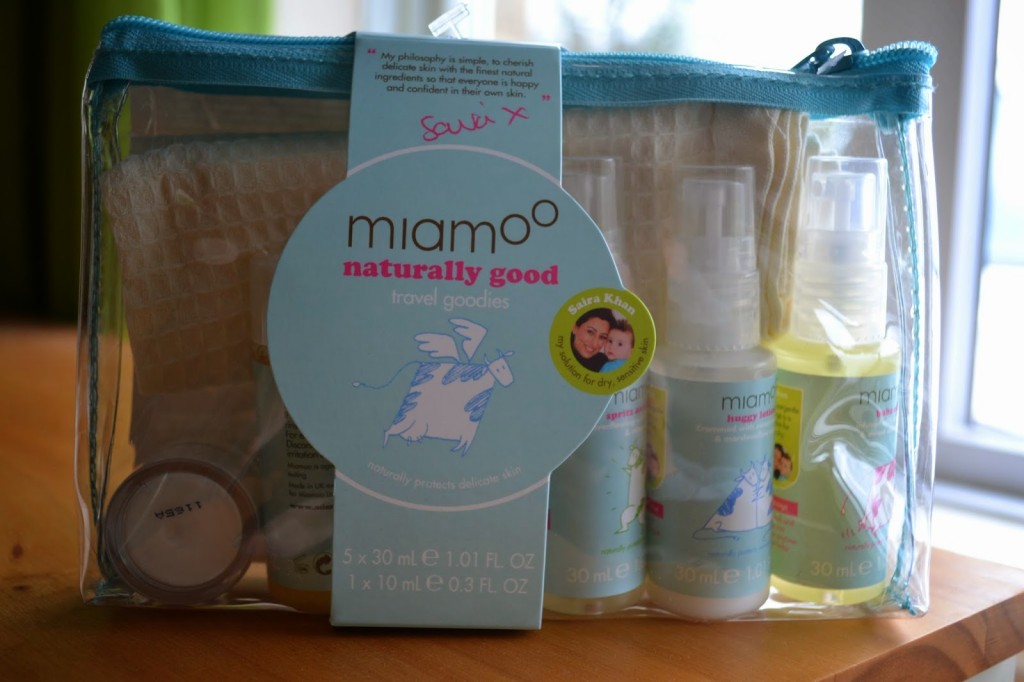 The travel set contains a mini version of each product that Miamoo sell :-
splashy wash 30ml – refreshing citrus shower/body wash
fresh locks 30ml – soothing shampoo for shiny bouncy locks
baba oil 30ml – heavenly oil, great for hair, body and baby massage.
huggy lotion 30ml – a non greasy daily moisturiser
spritz and wipe 30ml – a refreshing citrus spritz packed with minerals that has multi uses
cheeky cream 10ml – a natural barrier cream great for adults and babies.
It comes with a face cloth in a tidy reuseable clear wash bag. Size wise it's ideal to take away with you or fit in your hospital bag when you have a baby and it's even the right size to take on a plane with your hand luggage.
When the set first arrived I'll admit I did a little research online to make sure it would definitely be suitable for The Little Mans new baby skin. I'm always a little wary about what I use on his skin for fear of irritation. I thought the products smelt far to good to be suitable for baby use!

Step 1 – Cleanse
splashy wash (£6)
We ran this under the tap when filling The Little Mans bath, it has quite an oily consistency and creates a nice amount of bubbles. The bubbles don't last too long, but I don't think this is an issue. I found to use as an all over body wash we did have to use quite a bit, but as The Little Man is only 8 weeks old and doesn't really have the ability to get really dirty (other than those hideous nappies) we don't really need to use too much. It smells lovely, and The Little Man smells good enough to eat after his bath.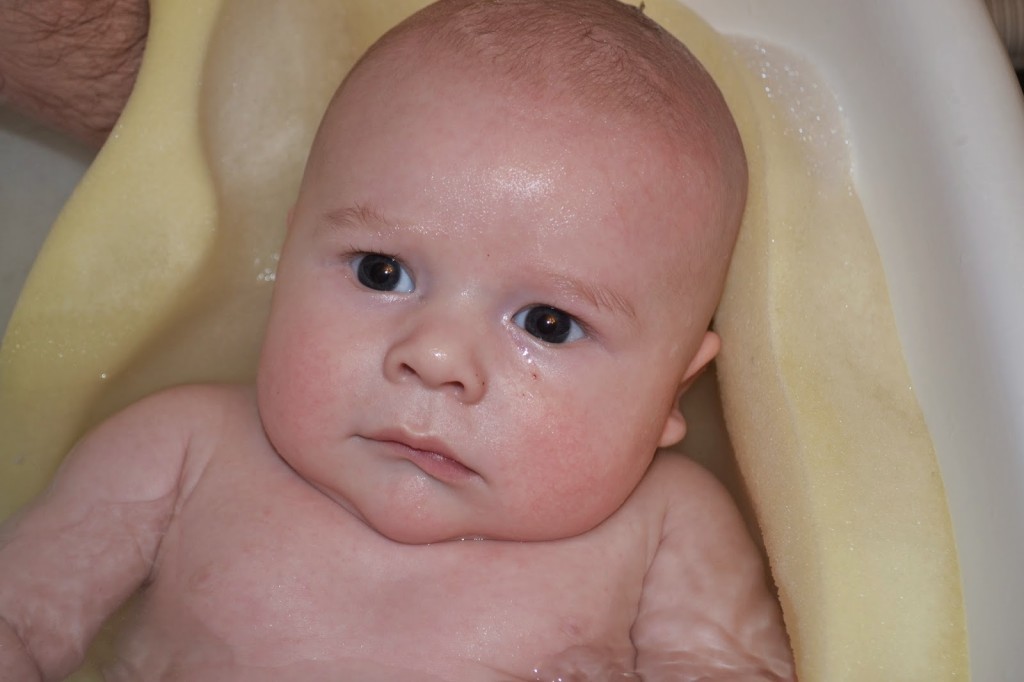 fresh locks (£6)
We really liked the shampoo. A little goes a long way. It lathers up really well and you can smell the amazing blend of ingredients as soon as you open the lid. I was really impressed with how easy it was to rinse off the Little Mans head. He gets a little annoyed sometimes when we repeatedly have to rinse his hair to get rid of our usual brand of shampoo.
spritz and wipe (£5)
This has so many uses – a detangler on hair, a cleanser , a toner and a spritz! We've tried it to freshen up before we leave the house on a morning, as although The Little Man gets a good wash on a morning it's inevitable that he'll have a sicky dribble, so rather than another full wash a little spritz and wipe on some cotton wool works a treat. We've also used it after a particularly dirty nappy, it seems to leave a fresher bum!
Step 2 – Moisturise
huggy lotion (£5)
This is a light weight body lotion with sweet almond oil and marshmallow extract. I love this, both for me and The Little Man. It absorbs into your skin in the blink of an eye, leaving it feeling almost like velvet! It smells beautiful too. After his bath I've been slathering this all over the Little Mans body, paying attention to his dry cheeks. His face felt softer pretty much instantly, and the dry patch has halved in size after about 4 uses.
cheeky cream (£5)
Although this is supposed to be a barrier cream I've been using it as a hand cream. The Little Man doesn't really suffer from a sore bum and I've been suffering from really bad dry skin on my knuckles and fingers (I think I'm allergic to baby wipes) so started using this and within a few days this has cleared it up completely. My hands feel really soft, the dry skin as gone and my nails and cuticles are starting to look much more healthy. This is mine! The Little Man can have the rest of the travel kit but Mammy's stolen this one!
Step 3 – Massage
baba oil (£7.50)
I absolutely love this. I've never done baby massage with the Little Man as I didn't think he'd enjoy it because he's such a wriggler, but we've tried the baba oil twice during no nappy time and he seemed to really enjoy it. He was super relaxed and even kept his wriggly legs still. The oil soaks in nicely and leaves his skin super soft, plus it smells delicious!
Overall I am very impressed by the miamoo products. I've already ordered some baba oil cheeky cream and huggy lotion and I'm hoping the others come back into stock as me and The Little Man need them!
I love it when I get to try a product that'd I'd never have found and love it!
You can get 10% off your order at the moment by visiting www.miamoo.co.uk and quoting 'blog13' at the checkout.

*I was sent the set free of charge to review*