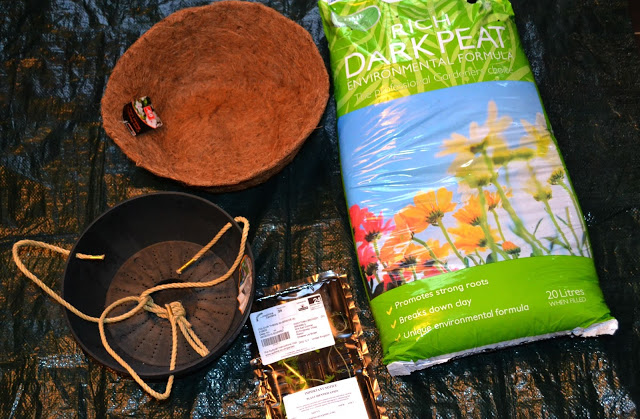 We've recently had out garden revamped and completely overhauled so I've started collecting pretty decorative items to display. I've wanted some hanging baskets for quite a while but didn't really know how to make them.
I thought I'd share an extremely simple guide to making one.
What you'll need


A basket
Moss or wood fibre liner – you can buy it in rolls or pre shaped like the one I bought
Multi-purpose or bedding plant compost
Plants
Depending on where you plan to hang it, you may also need a wall bracket
You can buy a variety of different types of basket, including –
Rattan baskets – they have a plastic liner and are great for water retention
Wire mesh baskets – they have open sides so allow planting at both the top and sides of the basket
Plastic baskets – great insulation baskets, perfect for helping protect your plants during strong winds
My basket is from Suttons and costs £10.99. It's made from a frost proof stone resin and has a built in drainage reservoir.
Once you've decided on your basket, you need to line it. You can buy rolls of hanging basket liner in most gardening or DIY stores or like me, you can buy the pre cut liners Mine cost 99p from Poundstretcher and is called a Coco liner. I still needed to trim down the edges for it to fit into my basket, but once cut it easily sat inside.
Fill your basket with compost. Make sure its not packed too tightly so you can easily plant your flowers. I used some from B&M stores which cost £2.99 for a huge bag.
Once your basket is prepped, you're ready to start planting. You can pick up hanging basket plants from your local garden centre for a couple of pounds or order online from a company like Suttons.
My plants are from Suttons and are the Riverside collection which contain lobelia, verbena and bidens. There were 6 plug plants in total, but sadly 2 had gone mouldy so I was left with only three when they arrived. Use your thumb to create some holes and simply push your plants in.
Once they were planted and had been lightky watered hubby attached the basket to the side of our garage and we waited for the plants to bloom and bring some colour to the garden.
A couple of weeks later and we're greeted with this sight every time we go out of the back door. I'm pretty impressed with my pretty hanging basket. It's perfect for brightened up the dull side of the garage.
*Basket and bulbs were sent from Suttons for inclusion in blog post*