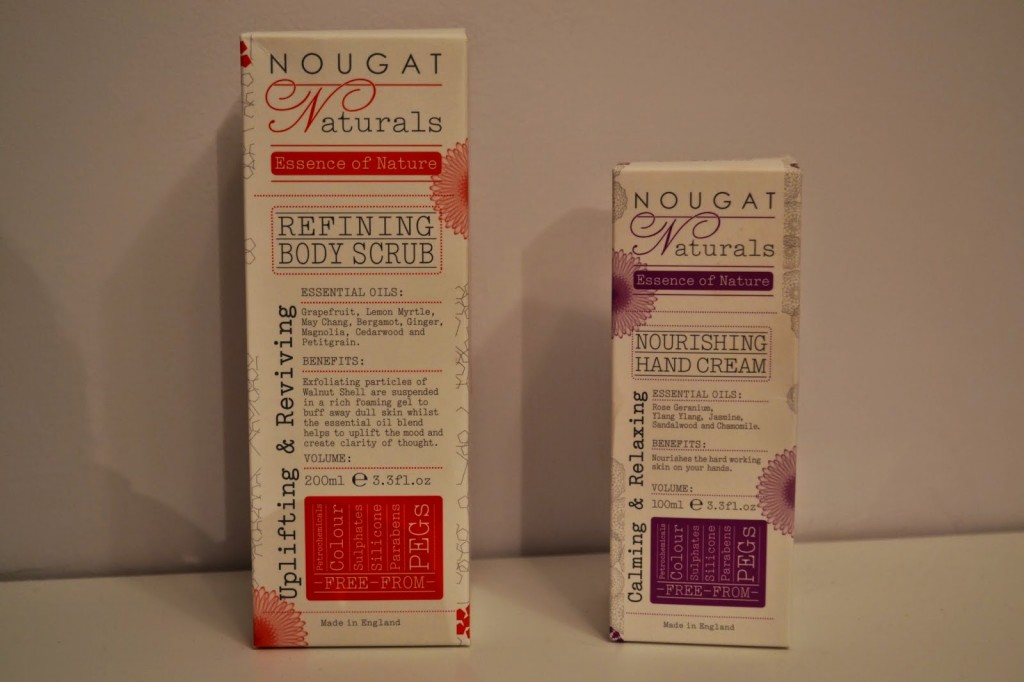 I've written about Nougat Naturals products on my blog before and and told you how impressed I was by the quality of the products.
Nougat Naturals are part of the luxury Nougat London brand and every product is free from Parabens, Sulphates, Petrochemicals, Glycol, PEGs and colour and not tested on animals.
I was kindly sent some other products from their range to try out recently.
Refining Body Scrub Uplift and Revive
The body scrub contains essential oils of Bergamot, Lemon, Grapefruit, Ginger and Lemongrass. The scent is absolutely amazing. It has such a fresh citrus scent which clears your head and lifts your mood.
It contains tiny Olive Seed particles which exfoliate and help get rid of loose dead skin. The Olive Seed particles aren't rough or harsh on your skin and lathers up really well into a luxurious creamy lather. Despite the fact the Olive Seeds don't feel very abrasive they do exfoliate really well. My legs and arms feel much softer and smoother since I started using the body scrub.
I really like the fact that the body scrub comes in a flip lid tube too, I hate bath and shower products that come in tubs with screw lids so this is perfect.
Overall I'm really impressed, the smell is divine and it feels like a right treat for my skin. At £18 it's not cheap but as a very small amount goes a long way so although it's expensive the 200ml tube will last you quite a while.
Nougat Naturals Nourishing hand cream
The hand cream contains Sandalwood, Chamomile, Jasmine and Lavender essential oils and is Sweet Almond Oil and Shea butter to help moisturise your skin.
The scent is much more relaxing and less intense than that of the body scrub. The Lavender is very apparent but seems quite musky and soothing. Thankfully it doesn't make me think of old ladies as some lavender scents do.
The hand cream has quite a runny consistency and doesn't feel very thick when you apply it. I do like the cream, it soaks in quickly and does soften my hands but I think I'd prefer it if it was a little thicker and felt a little more luxurious.
It costs £14 for a 100ml tub. Again, it's not the cheapest hand cream you'll ever use but I don't think the price is too bad when you realise how little you need to use during each application.
Out of the two products I preferred the body scrub. I'll without a doubt buy it again as it's become an essential addition to my bath time regime. It's made an almost instant difference to my skin and is a pleasure to use.
*PR Sample*