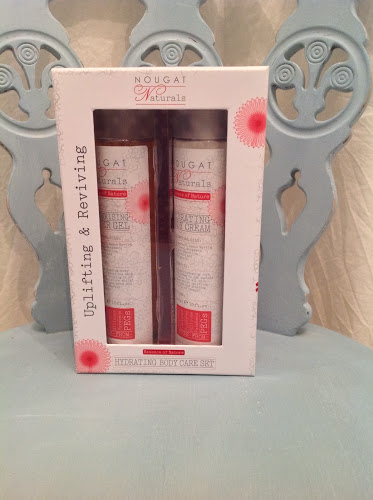 I was lucky enough to be sent a body care duo set from Nougat Naturals to trial and review on my blog.
Nougat London was established in 1990 as a fashion label in London's West End, then in 2000 Nougat London launched the Bath & Body range.
Nougat Bath & Body range is stocked in stores such as Harrods and John Lewis through to independent fashion and gift boutiques throughout the UK.
The range contains ingredients that are kind to skin and also offer effective and beneficial treatments. The products harness the properties of essential oils to balance the body and mind without over powering or costing the Earth.
The set that I was sent to try is Nougat Naturals Hydrating body care set and contains 300ml Moisturising Shower Gel and 300ml Hydrating Body Cream. The set costs £35 or the products can be bought individually for £18 each. The products can be ordered online, UK Standard Delivery (3-5 working days) costs £5.00, if you place an order over £50, delivery is free.
Both the shower gel and the body cream have an invigorating fragrance which combines essential oils Bergamot, Lemon Myrtle, Grapefruit, Ginger and Lemongrass. The fragrance is delicious and warming, and because of the citrus ingredients both the shower gel and body cream really awaken your mind and senses. They're a perfect combination especially for a dark early morning shower.
The products feel luxurious, and the shower gel creates a soft soapy lather on your skin. After getting out of the shower the body cream slathered all over you skin feels soft and smoothing and the gorgeous scent lasts for hours. I keep sniffing myself!
Pro's
Smells delicious
Good quality products
Perfect Christmas present
High end luxury
Con's
Quite pricy to use every day
Overall
I really like these products. The scent is addictive and the products feel like such a treat on your skin. Once these are used up I'll be asking Santa for some more.
(PR Sample)